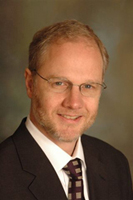 Biography
Grant D. H. Oliphant
President and Chief Executive Officer

Grant Oliphant is President and Chief Executive Officer of The Pittsburgh Foundation, one of the largest and oldest community foundations in the United States. He moved to the region's community foundation in March 2008 from The Heinz Endowments, one of the nation's leading private family foundations.
Grant, who is the Foundation's fourth head in its 66-year history, has led a major transformation in the organization's engagement of key constituents, its efficient stewardship of its assets and the development of ground-breaking initiatives to enhance services for donors and maximize grantmaking impact in the regional community.
This has included the launch of the Pittsburgh Promise scholarship program for the students of the Pittsburgh Public Schools, and the development of PittsburghGives, an on-line giving and research portal that has raised $13.5 million in two years for local nonprofits with special Day of Giving events.
Both of these programs have become national models for similar initiatives by other community foundations and fundraising organizations across the U.S.
In 2009, the Foundation achieved a landmark in its history under Grant's leadership with the formation of the Legacy Fund, creating for the first time the vehicle for the Foundation to invest its own assets. Until that time the Foundation had delegated its asset management to outside organizations.
In less than four years since Grant's appointment, the Foundation and its supporting organizations have received new funds, gifts to existing funds and other charitable donations of more than $150 million. The number of funds have grown by nearly 50 percent, and currently the Foundation has more than 1,600 donor funds and assets of over $820 million.
Strategic development has also included the realignment of the Foundation's grantmaking and the merger with the Foundation by the Community Foundation of Westmoreland County in 2010. Grant frequently leads community conversations around critical issues such as public school reform, civic design, the on-going sustainability of Carnegie Library, domestic violence, riverfront development and various socio-economic concerns.
Grant has taken a prominent role in building advocacy programs to support the work of local nonprofits and the families and individuals they serve, and he serves extensively on the boards of local nonprofit and national sector organizations, including Grantmakers for Effective Organizations, the Council on Foundations' Community Foundation Leadership Team (CFLT) which focuses on developing leadership in the sector, and Grantmakers of Western Pennsylvania.
He is also Chair of the Board of Riverlife, which is working to transform Pittsburgh's riverfronts, and is a member of the boards of Pittsburgh Cultural Trust, which oversees Pittsburgh's celebrated Cultural District, The Allegheny Conference on Community Development (ACCD), The Mentoring Partnership of Southwestern Pennsylvania and the Pittsburgh Advisory Board of the Federal Reserve Bank of Cleveland. 
In addition, Grant has served on the boards of Grantmakers Evaluation Network, Pennsylvania Partnership for Children and the National Children's Book and Literacy Alliance and as Chair of Board of the Communications Network, a nonprofit membership organization that promotes strategic use of communications as part of effective philanthropy.
Grant joined The Heinz Endowments in 1993 as Director of Communications for the organization, together with the Heinz Family Philanthropies and Teresa Heinz. He held a number of senior positions there, most recently as Vice President of Programs and Planning, responsible for managing the Endowments' $70-plus million annual grantmaking portfolio, and undertaking a leadership role in guiding special task forces promoting civic design, school reform and stronger links between environmental stewardship and economic development.
He was also responsible for strategic planning, and led the organization's Board and staff through a major review and refocus of its strategic orientation and grantmaking priorities. As a corporate officer, he served on The Heinz Endowments' Investment and Budget committees, which guided management of the organization's assets and expenditures.
Previously, he served as Press Secretary to U.S. Sen. John Heinz from 1988 until the senator's untimely death in 1991. Prior to his service with Sen. Heinz, Grant was founding editor of American Politics, a monthly political magazine.
Grant received a Masters of Science Degree in Organizational Development from Pepperdine University's Graziadio School of Business and a Bachelor of Arts from Swarthmore College. He lectures frequently on communications, leadership and organizational dynamics.