Building Equity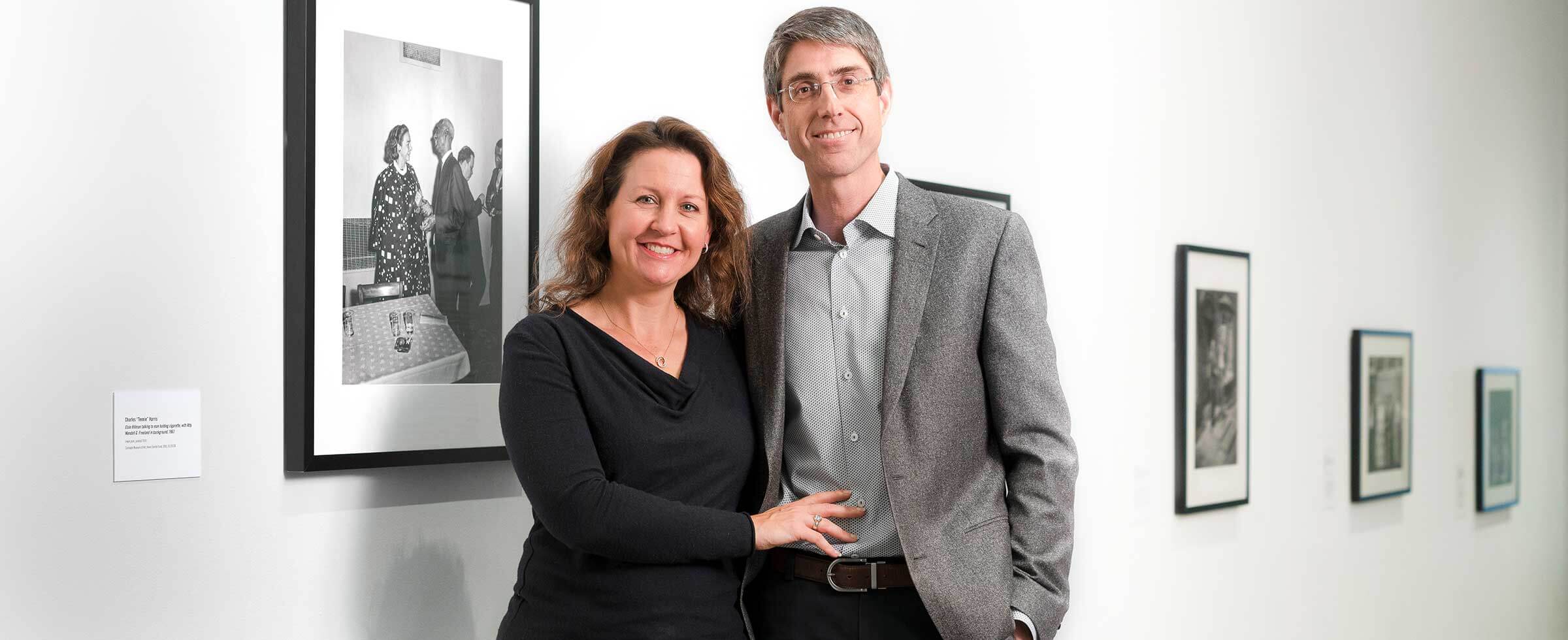 THEIRS IS A QUINTESSENTIAL Pittsburgh boomerang story. Initially drawn back from Southern California to be closer to his parents, Christopher and Dawn Fleischner soon found themselves feeling very much at home, especially in the city's arts and cultural community. When the couple found themselves seated next to Carnegie Museum of Art Director Lynn Zelevansky at an event, they realized they had all relocated to Pittsburgh from Los Angeles at the same time.
"Pittsburgh has this way of just welcoming you in," says Dawn. "It was immediately apparent that we could jump in feet first and get engaged in the things we care about much more easily than in Los Angeles."
Intellectually curious people, the Fleischners began soaking up the city's arts and cultural offerings as a way to get reacquainted with Christopher's hometown. As welcoming as the city was, the two believe the city's arts community must become more inclusive. As co-owners of CalWest Educators Placement, they have dedicated their professional lives to recruiting diverse faculty and leaders for independent schools to ensure that students see themselves in their teachers and administrators.
"Embracing diversity means pushing ourselves to look beyond what the conventional canon has taught us," says Dawn. Arts organizations, the Fleischners believe, have the opportunity to do more — much more — to reflect the diversity of the city in programming, staffing and board leadership. They're dedicating their donor-advised fund at The Pittsburgh Foundation to supporting equity and inclusion in the arts and education.
They initially learned of the Foundation from Christopher's parents who already had a fund here. As they got to know the Foundation's staff, they became increasingly enthusiastic about the possibility of starting their own philanthropy.
"We had access to outstanding programming and to organizations that were new to us. It is really a virtuous circle of involvement," says Christopher.
They attended Center for Philanthropy events as an intergenerational family activity that included children, Andrew, 12, and Katharine, 14, who have made a year-end tradition of picking projects from the Foundation's annual Wish Book to support with their grandparents, Hans and Leslie Fleischner.
Volunteer service is also part of the family's philanthropic mix. Christopher joined the Museum of Art Board, where he's been a champion for opportunities to share and support the Teenie Harris photography collection. Dawn recently signed on for her second term on the board of Pittsburgh Ballet Theatre, which has a commitment to equity and diversity.
"Pittsburgh Ballet Theatre is working to lower the barrier of entry for dancers of color in its school, graduate programs and on staff. The ballet is dedicated to the idea that the company and audience must reflect the population of the community because it's our ballet and our city," she says.
Through Operation Better Block, they've also supported author and activist Kilolo Luckett's "Naomi Sims Project" and the "By Any Means" contemporary art summit, both of which focus on African American artistic experience and identity.
They've also given to the School 2 Career Program of Oakland Planning and Development Corporation, which offers high school students mentorships and paid internships to guide them toward college and careers.
As their fund grows, the Fleischners intend to extend their commitment to educational organizations that address intergenerational poverty and basic needs, such as fresh food in communities that lack farmers markets or grocery stores.
Their advice to others considering starting a fund: Don't put it off. Instead, start small and grow along with your fund.
"The Pittsburgh Foundation teaches you how to be philanthropically engaged so that later, when you have more resources, you've learned how to be engaged in the community," says Dawn.
Original story appeared in Forum Quarterly - Winter 2016