Quiet Distinction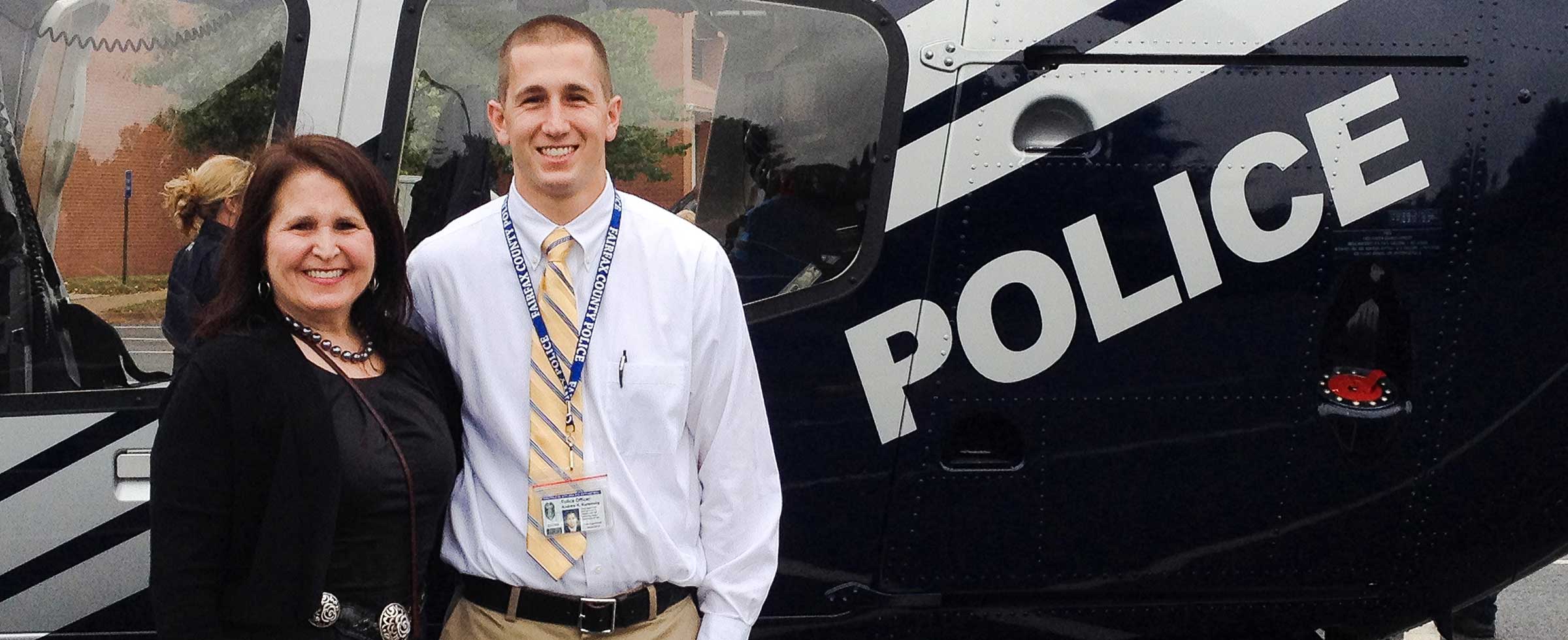 ANDREW KUREMSKY'S LIFE was one of service. As an officer in the Fairfax County (Va.) Police Department for only two years, Kuremsky, 25, was decorated for heroics, but he was not one to wear the honor on his sleeve. His way, friends and family members say, was to do his work quietly, in the background.
It wasn't until he and his girlfriend, Melanie Wetzel, lost their lives in a car accident in Somerset County last August that the distinct nature of his life of service became clear.
"Andrew saw life as being full," says his mother, Jean Ahwesh. "He had acceptance, order and clarity. At Andrew's home, there was always a feast with family and friends. He was making his house into a home. There were no strangers, only friends."
After his sudden passing, his mother, along with father, Larry, and brother, Connor, established the Andrew K. Kuremsky Fund. Distributions are used to support five causes close to Kuremsky's heart: The Boy Scouts of America, Laurel Highlands Council; Police Canine Unit of Fairfax County (Va.) Police Department; the Law Enforcement Explorers program of Fauquier County, Va.; scholarship assistance for criminal justice majors at the Pennsylvania State University; Franklin Park Volunteer Fire Company, Sewickley, Pa.
"Our family's hopes for the fund are to in some small way carry on Andrew's work," Ahwesh says. "By doing so, we honor him. Because of his values of service above self, faith, family and hope, he made a difference everywhere he went, personally and professionally. He touched many people along the way, and he will be sorely missed."
Raised in Wexford, Allegheny County, Kuremsky's myriad skills were obvious at a young age. Kuremsky didn't just mow lawns and shovel driveways; he made his entrepreneurship into an LLC. Kuremsky didn't just join the Boy Scouts; he became an Eagle Scout with the most involved project in the troop's history. He didn't just save his money in the bank; he created an investment portfolio at the age of 12. He also volunteered with Wexford's Orchard Hill Church, and two years later, as a precocious teenager, he joined the Franklin Park Volunteer Fire Company.
"He was the oil in the machinery. He made things go. That's who Andrew was," Glenn Sinko, Kuremsky's Boy Scout leader, told the Pittsburgh Tribune-Review.
"Andrew was always a curious little boy who developed into a compassionate, hardworking and respectful young man. He woke up every day with a purpose and a plan," Ahwesh says. "He was always the one who solved problems and helped around our home. Maintaining our automobiles, lighting, lawnmowers; [doing] household repairs and renovations; he was the family videographer, photographer, landscaper, to name a few."
It's difficult for those who knew Kuremsky best to pinpoint what led him to develop such maturity at a young age, but the effect of it was remarkable. As a student in the Criminal Justice Program at Penn State, he was a regular on the Dean's List. As a cadet in the Fairfax County (Va.), Criminal Justice Academy, he graduated at the top of his class.
"Giving back through service and philanthropy is part of what our family does," Ahwesh says. "Andrew always thought beyond the moment and acted in the best interests of everyone and beyond himself. He was a quiet leader, a visionary with a spiritual grounding.
"One of our family's favorite lessons, one that we learned at church, is that, at the end of the day, a person's values can be summed up by how that person spends time and money. Andrew's time — both on and off the job — was spent helping others, and his money was spent building a future for his family and the charities where he volunteered."
Original story appeared in Forum Quarterly - Winter 2016