Fundraisers to help the homeless are only half the tale of effective philanthropy
Anyone who knows me also knows that I love a great story.
The one that I've been telling and re-telling to illustrate what The Pittsburgh Foundation does for our community is centered on a public appeal we launched during last year's holiday period to address homelessness and housing insecurity in Allegheny County. It was a classic fundraising campaign with a modern twist: the Foundation promised to match every contribution dollar for dollar – up to $100,000.
We expected this event would require a few weeks to exhaust the match, but barely an hour into the run, public donations already had reached the $100,000 mark. It was a wonderful problem: Pittsburghers were responding at an extraordinary level, and thanks to added contributions to the match pool from our caring donors, we were able to keep the campaign rolling until nearly $1 million was raised.
For myself, the staff and board, the event was one of the triumphs of last year's work. I have enjoyed – really enjoyed – telling the story at every opportunity to give people an immediate understanding of Pittsburgh as a community of remarkable generosity – as much from work-a-day residents as the wealthy who run big foundations.
But my excitement in telling it started to diminish when a long-simmering public policy debate about whether to raise the minimum wage began to boil over in town squares, corporate board rooms and legislative offices.
Reacting to it, I realized the story I had been telling was not as complete as I had assumed. There is the potential for it to be much broader, especially in validating the leadership role our community foundation is supposed to play in the civic life of this city.
So what does a hike in the base hourly wage for workers have to do with telling a better story about a foundation's work to help the homeless?
For me, the first uncomfortable link happened at a lunch-hour public demonstration on April 15, Tax Day, in Market Square, Downtown, just across PPG plaza from our offices. Scores of Pittsburghers – fast food workers, security guards, adjunct teachers, students, nurse aides and union members among them – were joining the event known as "Fight For $15," which is also the name for the movement calling for a more-than-doubling of the minimum wage to $15.15 an hour. A similar protest that day crowded the streets of Oakland near the University of Pittsburgh's Cathedral of Learning.
And news stories of these events had demonstrators describing how difficult it is for them to maintain a basic standard of living on the current $7.25-per-hour federal minimum wage, especially in finding housing that is habitable and still affordable.
The second link came just a few weeks ago in a study by the National Low-Income Housing Coalition that determined there is no community in Pittsburgh, or Allegheny County, or Pennsylvania where a full-time, minimum-wage worker can rent a one-bedroom apartment for 30 percent of his or her total income, the standard yardstick of affordability.
In fact, the survey report shows that there is no community in the country that can offer a decent one-bedroom apartment to a full-time worker receiving the current minimum wage and abide by the 30 percent-of-total-income rule. To drive the point home, the report includes a map showing how many hours a minimum-wage-earning employee would have to work each week to afford a decent one-bedroom apartment. In Pennsylvania, the tally is 78 hours.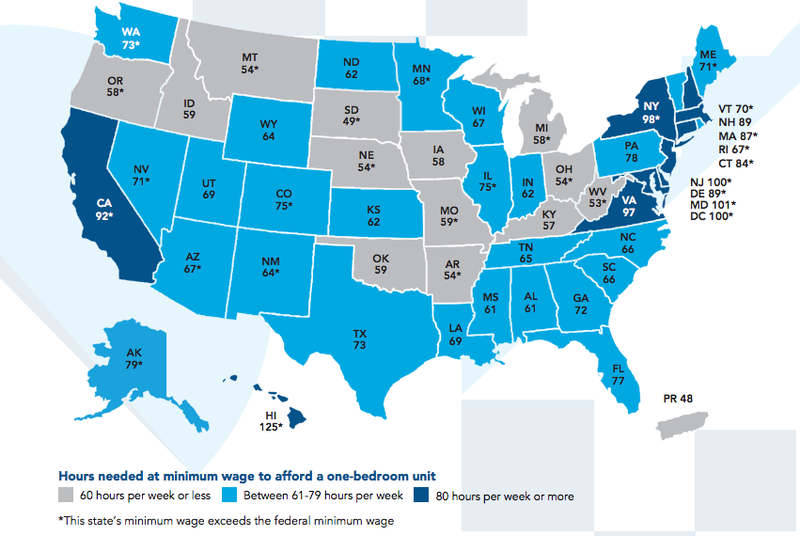 All this leads me to the conclusion that if a community foundation is going to be honest about taking on a basic quality-of-life issue such as homelessness, it must be willing to do the fuller job of identifying the financial pressure points that lead to chronic housing insecurity, and then be unrelenting in searching for systemic solutions.
That's why we at The Pittsburgh Foundation will be carefully examining the various proposals to raise the minimum wage in Pennsylvania – in the Legislature alone there are no fewer than five bills floating right now. And we'll be having conversations with people who stand to be most affected by a minimum wage increase. We'll be sharing that information with other public- and private-sector leaders in determining the best minimum-wage policy to advocate for in the coming months.
And we may have arrived at a point where we can deliberate based on economic evidence and not poisoned politics. Yes, the issue continues to be held hostage in the partisan wars raging in Washington, but some state governments and large cities have been falling into line to increase the minimum wage. And major companies such as Walmart, Aetna and McDonald's also have joined the ranks in raising wages for lowest-level employees.
A range of conservative voices also are beginning to sound downright progressive on the issue, some of them economists who are paying attention to studies showing that a $9, $10, or even a $15-per-hour minimum wage increase will not result in major job losses because it will put money in the pockets of millions of low-wage workers who will spend it – thereby giving working families and the overall economy a boost, and creating jobs.
So, in my future telling of the story of what Pittsburgh's community foundation did to eradicate the scourge of homelessness and housing insecurity, I will continue to point proudly to the helping-the-homeless fundraising, but I also want to relate how our community foundation, in a period where 95 percent of all economic gains in this country are going to the top 1 percent, stood up for systemic change that makes a difference.
Maxwell King is president and CEO of The Pittsburgh Foundation