New philanthropic leaders fund pitch party
Wednesday, October 23, 2019 6:30 pm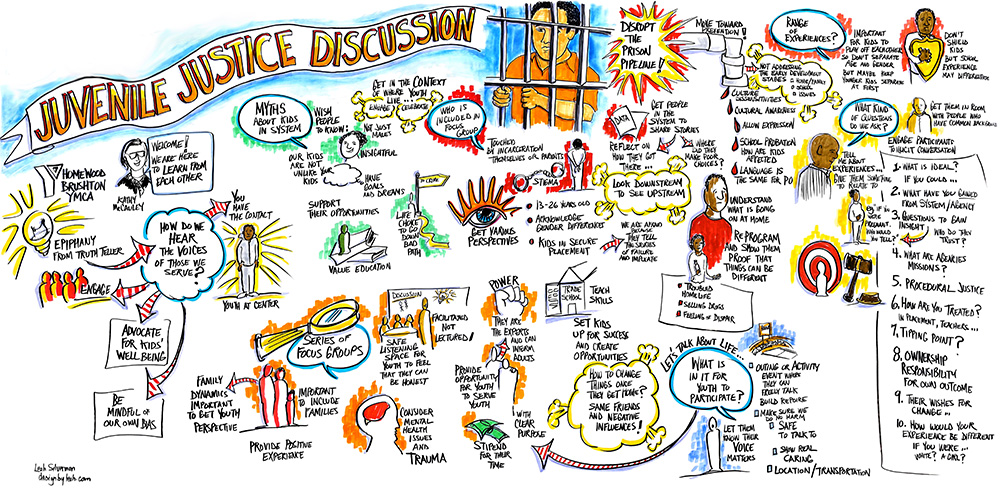 Above: An artist's real-time notes detail the experiences shared by young people during a Foundation-sponsored discussion on juvenile justice.
Attend a pitch party to support organizations empowering youth by disrupting the school-to-prison pipeline.
NOTE: Later start time of 6:30 p.m. due to President Trump's visit to downtown Pittsburgh.
WHEN: Wed., Oct. 23, 2019, from 6:30 to 8 p.m.
WHERE: The Energy Innovation Center, Covestro Brightspace, 1435 Bedford Ave., Pittsburgh, PA 15219
On Oct. 23, you will have the opportunity to celebrate three nonprofit organizations receiving New Philanthropic Leaders grants for innovative programs that disrupt the school-to-prison pipeline. Join The New Philanthropic Leaders when staff from Amachi Pittsburgh, CASA of Allegheny County and Youth Enrichment Services, Inc. share their stories of service. Then, you pitch in by voting to determine which organization will receive the largest grant. Two nonprofits will be awarded $9,000. Your $20 vote will go directly to the organization you choose and will determine which nonprofit will receive a $15,000 grant.
This pitch party is the culmination of The Pittsburgh Foundation's second New Philanthropic Leaders program, a group of young and mid-career professionals who have spent the last year exploring crucial issues affecting our region.
This event is open to the public and includes appetizers and two drink tickets:
$5 general admission (no voting rights – votes (a donation to the organizations) may be purchased at the event)**

$25 for admission + vote *
LOCATION, CHILD CARE AND PARKING INFORMATION
The Energy Innovation Center, Covestro Brightspace, 1435 Bedford Ave., Pittsburgh, PA 15212.
On-site child care will be provided by Flexable for children two years and older. Please note: You must register for child care ahead of the event. After you register for tickets, you will receive a link on the confirmation page to sign up for child care. If you have any questions about Flexable's child care service, please email events@flexablecare.com.
There is free parking in the EIC lot after 5:30 p.m., as well as free street parking available along Bedford Avenue.
Thank you to the 2019 New Philanthropic Leaders cohort:
Clara Bahan
Bethany Barefoot
Katie Conaway
Gina Fisher
Christine Gallagher
Nina Fisher Hamilton
Eric Huntermark
Lauren Julius
Liz McFarlin-Marciak
Liz McMahon
Casey Mindlin
Brian Phelps
Rachel Schmidhofer
Miriam Shapira
Francisco Souki
Kevin Tooke
Kate Vander Wiede
Dwayne Waite Jr.
And NPL Alumni Contributors:
Mike Aroesty
Michael Quatrini
Questions?
Contact Emmie Calland from the Foundation's Center for Philanthropy at callande@pghfdn.org.
*100 percent of proceeds from votes will go directly to the selected organization. General admission covers the costs of the event.
** Please reach out to us if you would like to attend and the general admission cost may prevent you from doing so. We will accommodate.