Promotions Announced in Foundation's LeadershipStaff Profile: Recognition of expanded roles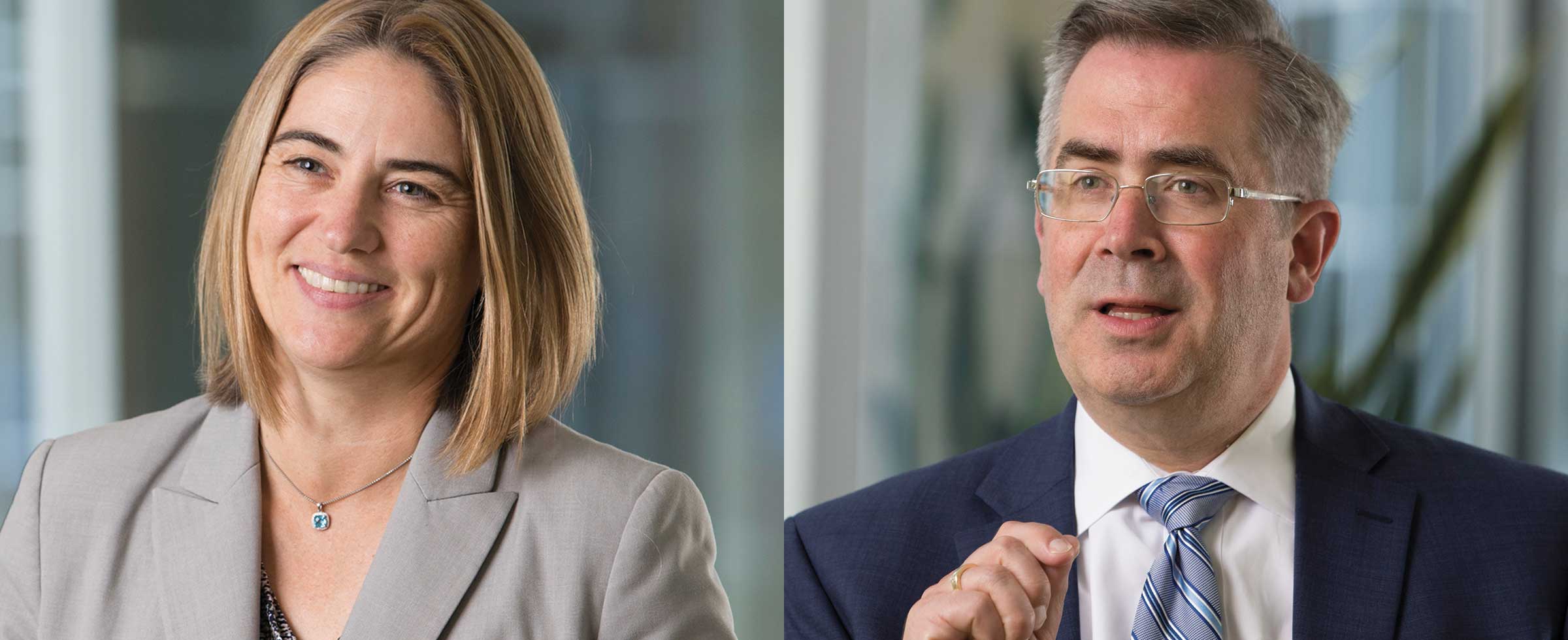 IT'S IN WITH THE NEW RESPONSIBILITIES, but not out with the old for Development and Donor Services head Yvonne Maher, and Finance–Investments head Jonathan Brelsford. Foundation President and CEO Maxwell King announced their promotions earlier this fall, and both already are working on projects connected to their new roles.
Maher has moved into the newly created position of executive vice president for her section, a recognition, King says, of a "superb job over many years" managing the Development and Donor Services team, and of her taking on new duties involving strategic planning and representing the Foundation to outside partners and affinity groups.
Brelsford is now senior vice president of Finance and Investments in recognition of his successful management in the past two years of five critically important operation areas along with expert implementation of several significant projects, including the recent renovation of the Foundation's offices. "In his 14 years at the Foundation, Jonathan has excelled in several demanding work areas, especially in oversight of an increasingly complex investment portfolio," says King.
Maher will continue managing the Foundation's fundraising activities, donor stewardship and outreach with professional advisors, but adds a greater role in representing the Foundation in the community. In addition, she will assist King in an in-depth process to update the Foundation's strategic plan.
A native of Ireland, Maher joined the Foundation in 2006 and has led the Foundation to reach historic levels of giving. She led the development and launch of the Foundation's online giving program, the Center for Philanthropy, and assisted in The Community Foundation of Westmoreland County's merger with The Pittsburgh Foundation.
"The strategy going forward is less about defining who we are and what we do, and more about how the Foundation is preparing for the future," Maher says. "Technology and communications are changing every day, and we need to stay innovative, take risks, and most of all, ensure that the needs of our donors, advisors and the community are being met."
A Maryland native and longtime Pittsburgher, Brelsford started as an IT consultant for the Foundation and left to pursue a passion for finance and investment. His nearly 20-year career in the finance industry included a stint with Mellon Global Securities Lending, where he focused on European financial institutions. He also served as a mortgage underwriter for NVR Mortgage and in commercial and retail banking for Century National Bank.
"There are a number of avenues for growth, and we are really at the forefront of new investment opportunities," says Brelsford. "We've done a lot of good work laying the base to better engage our donors and the community — especially with 100 Percent Pittsburgh, which has positioned us to continue to grow the Foundation and increase its contributions to the Pittsburgh region for years to come."
Original story appeared in Forum Quarterly - Fall 2017