Character study: honoring Susan Brownlee's legacy of charity and duty
Over the years, I've witnessed it many times. Susan Brownlee speaks and people pay attention. It's not because she's the loudest voice. Rather, it is her intellectual elegance and moral clarity that command attention.

Susan, who is leaving her post as founding executive director of The Fine Foundation, believes fiercely that adults have a duty to protect and care for children. This compassion is what makes her such a formidable advocate for social change on many fronts. There is a sophisticated steeliness to her work. The combination of caring and incisiveness has made all of us who served with her better people.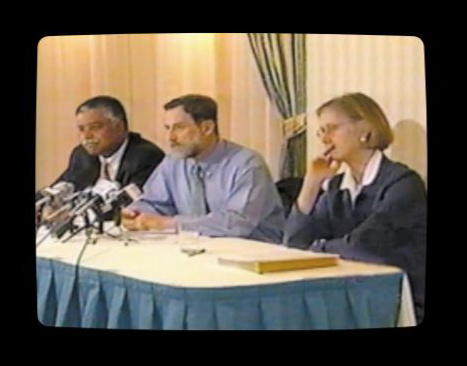 L to R: Bill Trueheart, Maxwell King and Susan Brownlee at a 2002 news conference announcing that The Pittsburgh Foundation, The Heinz Endowments and The Grable Foundation were cutting funding to the Pittsburgh Public Schools.
I got to know Susan well when she was running the Grable Foundation, an organization dedicated to helping children and youth become independent, caring, contributing members of society. I was at The Heinz Endowments then, which, along with Grable and The Pittsburgh Foundation, were providing millions of dollars in funding to Pittsburgh Public Schools. One afternoon, in an elevator on the way to a meeting in the Oliver Building, Susan turned to me and said, "We've got to cut the school board off. It's terrible. The directors aren't paying any attention to children. All the foundations should cut off their funding until the school board starts paying attention to children again."
It was a stunningly bold idea. To be honest, I was a little disappointed I hadn't thought of it first. Susan, with razor-sharp clarity and elegance, catalyzed the three foundations to pull their funding, which led then-mayor Tom Murphy to establish the Mayor's Task Force on Public Education in 2002.
I relate this to illustrate Susan's style. If she felt you were focusing on the wrong aspect of an issue, she would, in her sharp and unambiguous manner, tell you so. It's no wonder Sheila and Milton Fine tapped her in 2007 to run their foundation. They knew she would manage that philanthropy to become a leader in fostering the arts, Jewish culture, and medical and scientific research.
The Fines recognized that Susan has always been ahead of her time. In 2013, for example, when she heard I was coming back to Pittsburgh, she insisted that I pay attention to legislative redistricting, arguing that gerrymandering was poisoning good government in Pennsylvania and trampling on the one-person-one-vote bedrock on which our democratic process is built. It was prescient advice: In October, the U.S. Supreme Court began to hear oral arguments about constitutional limits on gerrymandering for political reasons, and the Pennsylvania Supreme Court will take up the matter this month. One of the reasons I've been focused on gerrymandering from the beginning is because of Susan.
But what has made her such an exceptional colleague is her thoughtfulness and caring. She deeply values people and relationships, which makes her a true partner in arts and culture as well as in advocacy. A perfect example is Ron Donoughe's "90 Pittsburgh Neighborhoods" series, which were painted one at a time in alphabetical order as a love letter to the city's diversity and beauty. When I learned that the collection might be broken up, I contacted Susan, and The Heinz Endowments' Vice President for Creativity, Janet Sarbaugh to say what a tragedy it would be for these works to not remain together. Though Susan recognized that Donoughe's work is not what the Fine Foundation would typically support, she recognized its value to our city and provided funding. Janet did, too, and the "90 Neighborhoods" series is now in The Heinz History Center's permanent collection, where it will be appreciated and cared for in perpetuity.
Even as Susan moves into this new phase of her life - enjoying more time with her husband, David; her daughters, Anne and Kate; and her grandchildren, Adah, David, Hannah, Matthew and Sarah - she will continue to serve on the boards of the Fine, Grable and Staunton Farms foundations as well as the Eben Demarest Trust.
In these ways and many others, Susan's career as an advocate, an educator and a philanthropist exemplifies tzedakah, the Hebrew word for charity. Tzedakah is much more than giving money: it is the idea that being charitable demands sharing not just one's monetary wealth with others, but also one's empathy and humanity. Practiced in this way, tzedakah is meant to provide as many benefits for those who give as to those who receive. Those of us lucky enough to have worked alongside Susan now have the opportunity to honor her by stepping up our own efforts to provide others - including her capable and respected successor, Kathy Lachenauer - with the same wise and fearless counsel Susan has provided us for so many years.