Donor Event - Explore Series: The Power to Help Immigrants Flourish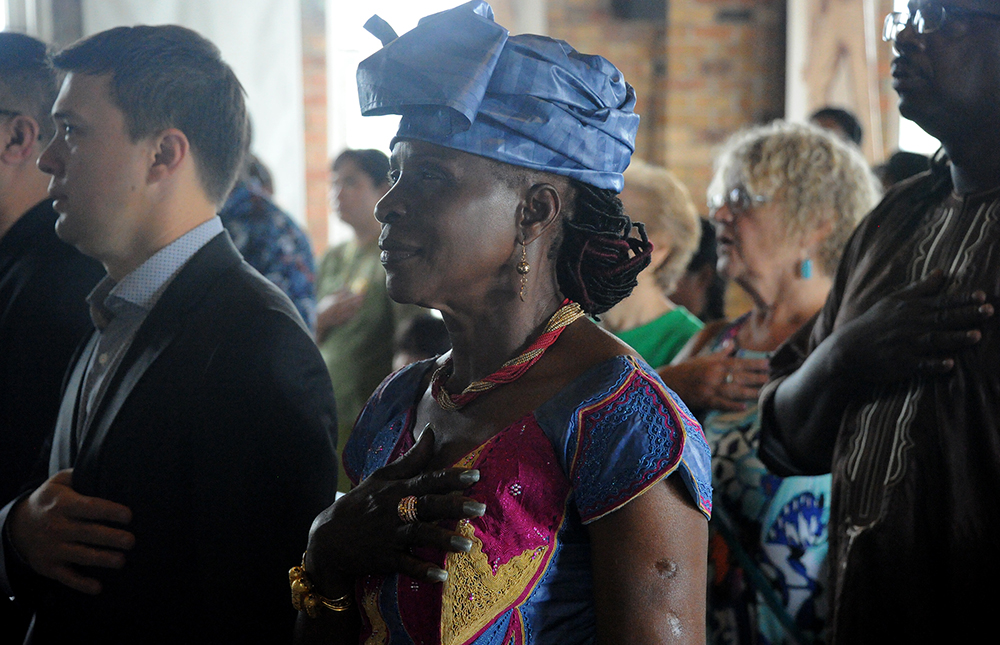 Guinea native Kadiatou Conte-Forte participates in the Pledge of Allegiance during the Naturalization Ceremony at the Pump House in Munhall on Sept. 7, 2016. (Lake Fong/Post-Gazette) Copyright Pittsburgh Post-Gazette, 2017, all rights reserved. Reprinted with permission.
When: Tuesday, July 11, 2017, 4 – 6 p.m.
Where: Carnegie Library of Pittsburgh-Squirrel Hill
By invitation
How does Pittsburgh grade as a truly welcoming city? What challenges do newly arriving refugees face? And how has the federal government's immigration policy impacted those who have resettled in or migrated to the Pittsburgh region? Our region has garnered national acclaim for its recent efforts, but questions remain.
One in 20 Allegheny County residents was born outside of the United States. Of the county's 75,000 foreign-born residents, 27 percent arrived within the last decade. To welcome and assist these new Pittsburghers, 173 immigrants, refugees and leaders from government, nonprofit, and philanthropy collaborated to build upon other local initiatives. The result: the Immigrant Community Blueprint, a comprehensive plan published last year to drive community-wide change.
Foundation donors are invited to the second of this year's Explore Series to learn about the growing, vibrant immigrant and refugee communities that were instrumental in creating the Blueprint and their plans for helping Pittsburgh become a city where all our neighbors thrive.
For information, call 412-394-4294 or email event@pghfdn.org.