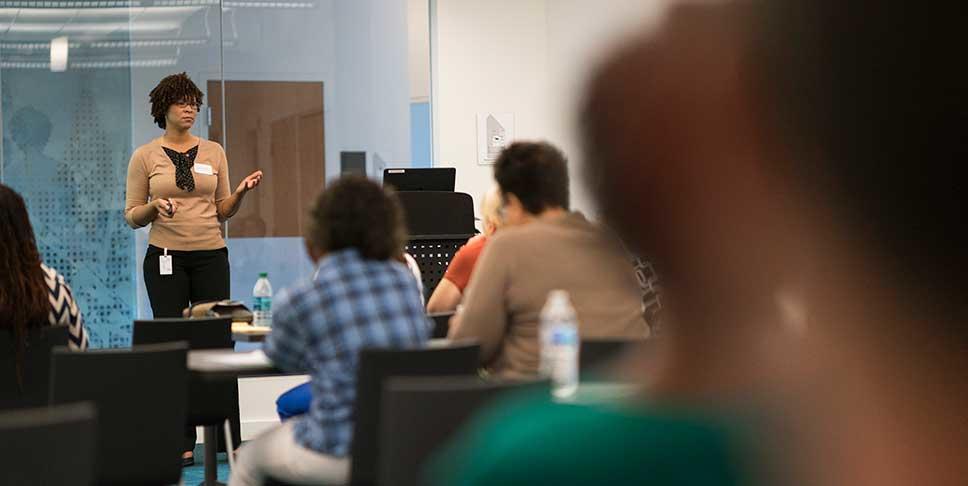 Small nonprofits — that is, organizations with annual budgets under $600,000 — account for two-thirds of the Pittsburgh region's nonprofit sector, and serve our community's most vulnerable populations and neighborhoods. Though their size may limit their visibility, many of these organizations have worked behind the scenes for years, building relationships with the communities they serve, hiring staff members and volunteers who reflect their constituents, and keeping the doors open and lights on through tough financial times.
Consistently asked to do more with less, small nonprofits often lack opportunities to build organizational capacity, work toward financial sustainability or expand the depth and scope of the critical services they provide. They may be unfamiliar to funders and foundations, and therefore less successful when it comes to grantseeking. Unfortunately, we have found that this is especially true for organizations led by and serving communities of color.
To address this, we have launched the Small and Mighty grants program — The Pittsburgh Foundation's targeted effort to bridge the gap between our grantmaking and the neighborhood-based nonprofits that work to better our region. With a 60-day response window, opportunities to provide final reports in person or in writing, no deadline for grant requests and no need for a Letter of Inquiry, the program offers a streamlined grant-seeking process designed with input from small nonprofits and their staffs. Our hope is that Small and Mighty grants will strengthen the vital organizations that offer much-needed services to Allegheny County's communities.
The Small and Mighty grants program is part of the Foundation's new 100 Percent Pittsburgh operating principle, which seeks to ensure that Pittsburgh residents who live at or near the federal poverty line have access to opportunities for participation in the region's revitalized economy. 100 Percent Pittsburgh places special emphasis on those who are most impacted by poverty in our region: youth ages 12 to 24 and single women raising children.
Small and Mighty grants provide up to $15,000 in three categories: unrestricted operating support, capacity-building support, and program-specific support.
Which organizations may apply?
Organizations certified as tax exempt under Section 501(c)(3) of the U.S. Internal Revenue Code may apply. Groups without official nonprofit status can also apply, but will need to partner with a 501(c)(3) organization that will serve as the fiscal sponsor for their request.
Organizations must provide direct services to residents of Allegheny County.
Organizations must provide services that address a basic need such as food, clothing, shelter, health, education, safety, or employment.
Organizations applying for operating support must have at least two years of operating history in Allegheny County.
What types of grants can my organization apply for?
Small and Mighty provides three types of support: unrestricted operating support, capacity-building support, and program-specific support. Requests for organizational startup support will not be considered.
Unrestricted Operating Support: funding that enables an organization to carry out its mission. For example, operating support can underwrite administrative infrastructure, implement a strategic plan and/or maintain core programs and essential staff.
Capacity-Building Support: funding for specific activities or projects designed to strengthen an organization's governance, leadership, programmatic or administrative capacity. Some examples of allowable capacity building activities include program evaluation, staff professional development, technology improvements and best-practice implementation. Requests for strategic plan development, exploration of mergers or other strategic alliances, real estate assessments, and capital expenses will not be considered.
Program-Specific Support: funding intended to keep good programs going at their current level of service or to test new ideas or partnerships that improve access to services. Program-specific support is designed for time-sensitive requests to help program participants meet basic needs that cannot be easily secured through other public resources.
How large are Small and Mighty grants?                                                                                                             
The Small and Mighty grants program's total budget for 2016 is $250,000.
Applicants may apply for grant awards between $2,500 and $15,000.
All grants will be for a period of no more than 12 months.
Operating support may be renewable for up to three years.
Grantees may only have one open grant with the Foundation in any 12-month period. Therefore, organizations that already have a grant through another program of the Foundation are not eligible to apply.
Which organizations are most likely to receive Small and Mighty grants?
Highest priority will be given to organizations that are:
Located in (or primarily serve) economically distressed and/or underserved neighborhoods.
Serving a racial or ethnic group disproportionately impacted by poverty.
Inclusive of the communities they serves when setting organizational and/or programmatic priorities.
Specifically addressing the needs of youths aged 12 to 24 or single women with children.
In general, we do not fund one-time events or short-term programs consisting of just a few interactions with participants.
How can my organization apply?
Before submitting an application, organizations are required to attend a grant-seeker information session and/or meet with a program officer to discuss their request. During this session, we will walk through the application with you, discuss deadlines and answer any questions you may have regarding the application process or the program guidelines.
After attending an information session, organizations receive an access code for the Small and Mighty grant application. 
Currently, due to an overwhelming response to the Small and Mighty Grants Program we have distributed all the funding available for the first cycle of this program. Thus, we are not accepting any new applications at this time. Once the official dates for the next review cycle have been determined, we will post the schedule of information sessions.
Information Sessions: Notify Me
To be notified when the next information sessions will be held, please complete the form below.