StoryCorps: Why We Do What We DoThe Pittsburgh Foundation partners with the renowned StoryCorps program to explore the past, present and future of  Pittsburgh philanthropy.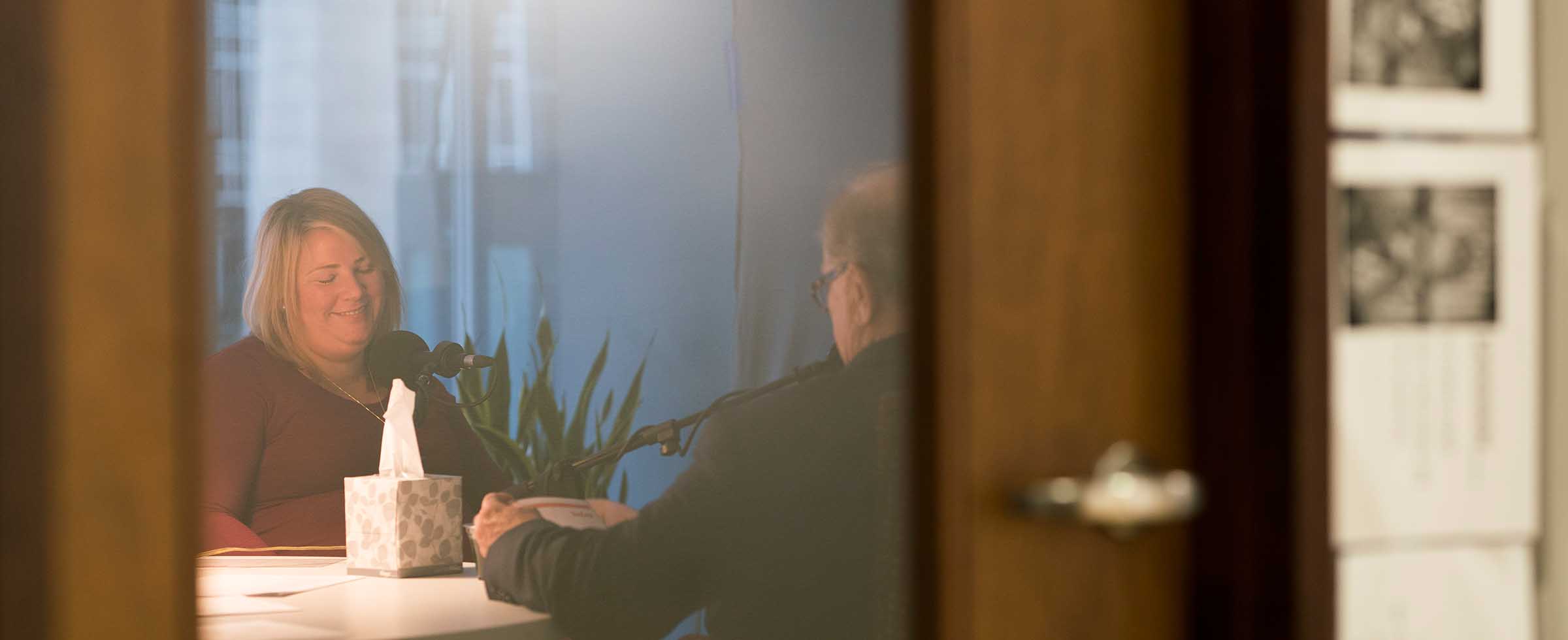 "IT'S A BEAUTIFUL THING," SAYS VANESSA GONZALES-BLOCK, "to hear the stories of people giving back to those around them. What drives someone to get involved? It's interesting to see how different people all get to this place where they want to give." A mobile interview facilitator for StoryCorps — a national nonprofit that records, preserves and shares conversations between everyday Americans — Gonzales-Block and her colleague, Carolina Escobar, arrived at The Pittsburgh Foundation in mid-April with one goal: to gather the stories of Pittsburgh's diverse philanthropic community.
For three days, donors, family members, advisors, board members and Foundation staff gathered to share personal recollections, reflections on Pittsburgh's past, and the experiences that inspired their life's work and philanthropy.
Recorded in the Center for Philanthropy's pop-up StoryCorps studio, these conversations will be archived at the American Folklife Center at the Library of Congress in Washington, D.C., creating a lasting testament to the Pittsburgh region's legendary generosity.
Kelly Uranker, director of the Center for Philanthropy, says that StoryCorps creates an opportunity to document the transformative work being done in the region while introducing future generations to philanthropy. "We have parents talking to their sons and daughters, grandparents talking to grandkids, and longtime staff members talking to new ones. These conversations tell the story of where we've been as a community and as a Foundation, and they help us understand where we're headed next."
Beyond that, Escobar adds, something special happens in a StoryCorps studio. "It's a time you can sit without distraction, without a phone, and actually listen to someone," she says. "You get to be curious about someone who matters to you. StoryCorps helps us take the time that we don't always take to reflect on why we do what we do."
The Foundation plans to create even more such time in the future, with additional rounds of recording to be announced later this year. To learn more about StoryCorps and to hear clips from the Foundation's sessions, visit
pittsburghfoundation.org/StoryCorps.
Original story appeared in Forum Quarterly - Summer 2016