Giving Done Right: Discussion and Book Signing
Thursday, September 26, 2019
Pittsburgh Playhouse Theatre, 350 Forbes Avenue, Pittsburgh, PA 15222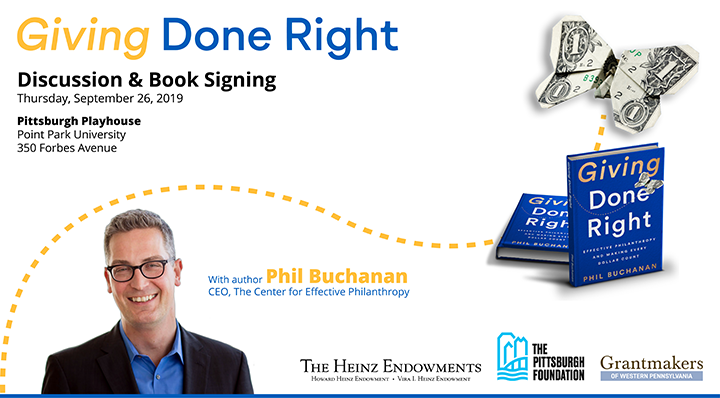 DATE: Thursday, Sept. 26, 2019, 4 to 6:30 p.m.

LOCATION: Pittsburgh Playhouse Theatre, Point Park University, 350 Forbes Avenue, Pittsburgh, PA 15222
We encourage you to join us for this special event for funders, nonprofits and community members as we feature the recently released book Giving Done Right: Effective Philanthropy and Making Every Dollar Count by Phil Buchanan, president of The Center for Effective Philanthropy. Buchanan will be in conversation with Grant Oliphant of The Heinz Endowments.

Giving Done Right is a practical guide to philanthropy at all levels of giving that seeks to educate and inspire.This crucial book will reveal the secrets and lessons learned from some of the biggest givers, busting commonly held myths and challenging the idea that "business thinking" holds the answer to effective philanthropy. It offers the intellectual frameworks, data-driven insights and practical examples to allow readers to understand exactly what it takes to make a difference.

A book signing and reception will follow the program. All attendees will receive a free copy of the book.
Please RSVP by contacting Taren Lumley at 412-394-4294 or event@pghfdn.org. You may also register online.
---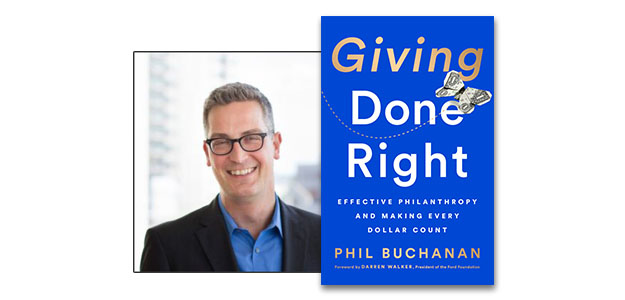 ABOUT THE AUTHOR
Phil Buchanan is president of the Center for Effective Philanthropy and a passionate advocate for the importance of philanthropy and the nonprofit sector. Hired in 2001 as the organization's first chief executive, Phil has led the growth of CEP into the leading provider of data and insight on philanthropic effectiveness. Phil is also co-founder of YouthTruth, an initiative of CEP's designed to harness student perceptions to help educators accelerate improvements in their K-12 schools and classrooms.
He holds an MBA from Harvard University and received his undergraduate degree in Government from Wesleyan University. He has been recognized seven times as among the Nonprofit Times "power and influence top 50" - most recently in 2018. In 2016, he was named the Nonprofit Times "influencer of the year." He blogs frequently on the CEP blog, is a columnist for the Chronicle of Philanthropy, and is a frequent speaker at national and international conferences.