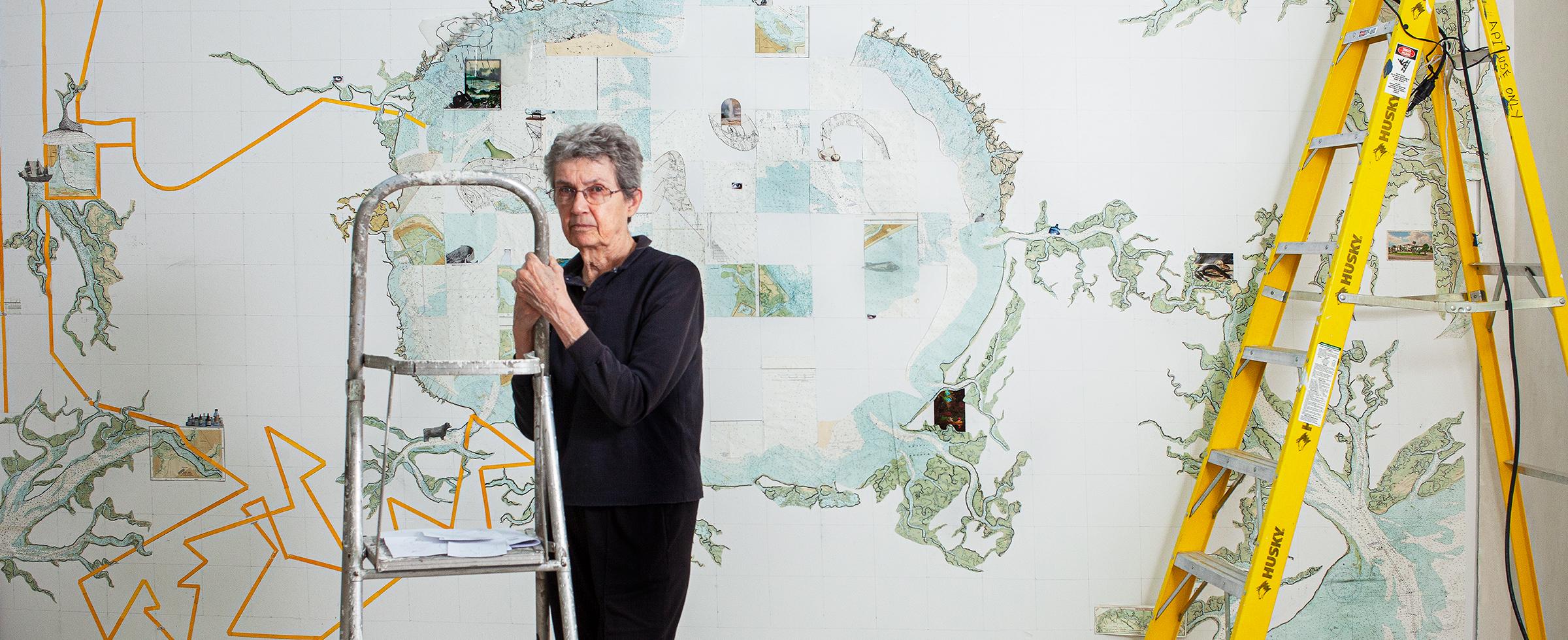 The Eben Demarest Fund supports the work of independent creative artists and archaeologists from across the United States.
The fund was established by Miss Elizabeth B. Demarest in 1939 in the name of her father as an expression of their shared interest in the arts and world cultures. For many years, Miss Demarest taught a course on the History of Civilization at the institution that has become Carnegie Mellon University in Pittsburgh, Pennsylvania. She envisioned the fund as a means of providing financial freedom for individuals to devote themselves to continued work in the arts and archeology. 
Recipients must have produced significant work in their chosen fields and demonstrate special promise for future achievement. Each year, trustees accept nominations from a rotating pool of nominators from archaeology programs and established nonprofit arts and cultural organizations.

Since its establishment, over 50 individuals have been supported by the Eben Demarest Fund.
2021 Nomination and Artist Submission Schedule
This year, the Eben Demarest Fund will award one grant in the amount of up to $20,000 to an artist or archeologist to support creative and intellectual independence. 
The Fund does not consider unsolicited proposals; each year the committee accepts nominations from a rotating pool of nominators from archaeology programs and established nonprofit arts and cultural organizations. If you work within these disciplines and would like to nominate an artist, please read the application guidelines. Nomination is required.
| | |
| --- | --- |
| Nomination Deadline (for nominators) | Thursday, Feb. 5, 2021 at 11:59 p.m. EST |
| Application Deadline (for artists) | Thursday, March 5, 2021 at 11:59 p.m. EST |
Upon receipt of nomination submission, application guidelines will be emailed to you.
For questions or more information, please contact Taren Lumley, Research Association, Center for Philanthropy, at lumleyt [at] pghfdn.org or 412.394.2622. 
---
Past awardees include:
 
Terrence Boyd (2014)
Born in Pittsburgh, Boyd's early start as an artist began with lessons through the Carnegie Mellon Pre-College Art Program and the Pennsylvania Governor's School for the Arts. He then attended Carnegie Mellon University where he received his Bachelor of Fine Arts, completing a triple-focus in painting/drawing, contextual practice and electronic time-based media, going on to also earn a Master of Arts Management. In 2008, he was awarded an artist assistantship through the Carnegie Museum of Art for their International Exhibition. Boyd creates drawings and embroideries full-time while experimenting with large-scale sewing installations using his bow and yarn tethered arrows as an unconventional and masculinized needle and thread.
Tameka Cage Conley (2013)
Beginning a writing career at an early age, Tameka Cage Conley won the competitive Times journalism scholarship. She completed her Bachelor of Arts degree in English at Dillard University, a historically Black college before going on to complete a doctoral degree in the same field at Louisiana State University. Her dissertation, Painful Discourses: Borders, Regions, and Representations of Female Circumcision from Africa to America, won the Lewis Simpson Distinguished Dissertation Award. A 2012 nominee for the Pushcart Prize for Poetry, Dr. Cage Conley's work has been published in Huizache: The Magazine of Latino Literature, Fledgling Rag, Chapter & Verse and Callaloo.  Her first play, "Testimony," was produced by The August Wilson Center for African American Culture in Pittsburgh, while subsequent plays have been performed in Pittsburgh, Los Angeles and Sydney, Australia.
Kyle Abraham (2012)
Kyle Abraham began his dance training at the Civic Light Opera Academy and the Creative and Performing Arts High School in his hometown of Pittsburgh. He furthered his studies in New York, earning a Bachelor in Fine Arts from the State University of New York at Purchase followed by a Master of Fine Arts from New York University. After receiving the Demarest Award, Abraham went on to be named a 2013 MacArthur Fellow, as well as receiving awards that include being named a 2012 USA Ford Fellow, a Creative Capital grantee, and receiving a 2012 Jacob's Pillow Dance Award. In 2010, Abraham received a prestigious Bessie Award for Outstanding Performance in Dance for his work and a Princess Grace Award for Choreography in 2010. The previous year, he was selected as one of Dance Magazine's 25 To Watch for 2009. He established his company, Abraham.In.Motion, in 2006.
Previous awardees also include:
 
Aldwyth
Suzanne Olmsted
Glendinning Keeble
Adolph Dioda
Aldwyth
Angelo W. Frudakis
Helen  Hougham Ham
William Kent
Eleanor McClintock Williams
Ralph Hodgson
Marcela Kozikova
Ernest O. Brown
Carol Rubenstein
Margaret Spillane
Soye Kim
David Walton
Christopher Priore
Judith Rebecca Troy
Maxine Richard
Gregg Liberi
Cynthia Coulter
Patti Cudd
Beth Solin
Justin Morgan Kennedy
Brendan O'Connell
Jeff Perrott
Terri Moore
Fabrizio Gerbino
Latasha Nevada Diggs
Benjamin Sota
Judy James
Kevin Kutz
Alex Ketley
Rebecca Campbell
Sol Crespo
Other notable awardees:
 
Robert Duncan
An American poet born in Oakland, California, as Edward Howard Duncan, Jr., Robert Duncan spent most of his career in San Francisco, adding his voice to the bohemian communities in the 1930s and 1940s, the Beat Generation and the cultural and political upheaval of the 1960s, including being prominent in pre-Stonewall gay culture. Influenced by Hilda "H.D." Doolittle, an imagist poet associated with Ezra Pound, his early work was a collection of poetry dedicated to her. His impact as a poet is still evident in both mainstream and avant-garde writing.
Jackson Pollock
Pollock became an influential American painter and a major figure in the abstract expressionist movement, using a technique of pouring, dripping and splattering paint, thought to be one of the origins of the term action painting. He added a new dimension to his work by being able to view and apply paint to the canvas from all directions. His work was honored with large scale retrospective exhibitions at MoMA in New York City (1998) and at The Tate in London (1999).
Rikki Ducornet
Rikki Ducornet is an American postmodernist writer, poet and artist. After earning a Bachelor of Fine Arts from Bard College, she spent time in France writing before returning to the U.S. after receiving the Bunting Institute fellowship at Radcliffe. The author of nine novels, three collections of short fiction, two books of essays and five books of poetry, she has received both a Lannan Literary Fellowship and the Lannan Literary Award For Fiction.