Inspired ResponseArt sustains during time of COVID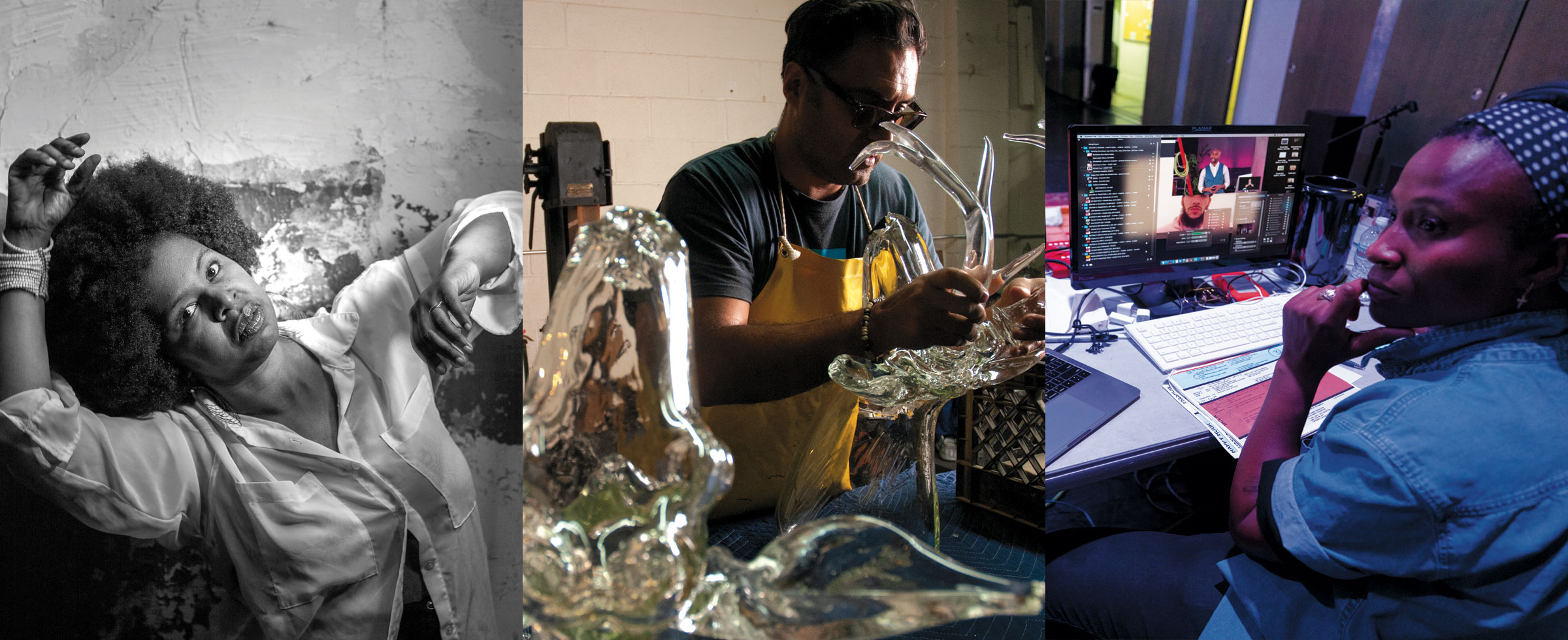 The impact of COVID-19 moved through the region's arts and culture community slowly, softly like the opening notes of Billy Strayhorn's "Take the A Train," and then, like that train, quickly picked up speed and momentum. Studios and workshops shut down; theaters, museums and galleries closed; and performances and productions were postponed or canceled.
There was no simple work-from-home option for thousands of creative workers in the region who depend on auditoriums and audiences. There was no simple way to replace lost revenue from ticket sales, canceled events and postponed exhibitions.  There was no simple way to conduct galas and other in-person fundraising events. Then, to make matters worse, both the Regional Asset District and the Pennsylvania Council on the Arts were forced by the pandemic to cut funding to artists and art groups.
Still, COVID couldn't stop art. Creative people innovated. They found ways to continue performing and  producing and presenting, including online events. They invented new ways to raise money. They sustained the experience, power and beauty of art. Celeste Smith, The Pittsburgh Foundation's program officer for Arts and Culture, says art can't be stopped because "art is essential; it helps us navigate life."
One place artists and arts groups could turn to for help was the foundation community in western  Pennsylvania. Four foundations, including The Pittsburgh Foundation, formed the Emergency Action Fund early during the crisis, and grants from the fund, as well as traditional arts grants from the Foundation, helped support creative workers.
Three artists and creative leaders who received grants talk about how they've navigated, created, rested and worked through this turbulent time.
Staycee Pearl
Staycee Pearl, choreographer and founder of STAYCEE PEARL Dance Project and Artist in Residence at Pittsburgh Ballet Theater (PBT), was in the last days of rehearsal for the show "Here and Now" with the PBT when the governor issued the COVID shutdown order. She is using a $25,000 grant from the Emergency Action Fund to maintain payroll for dancers, instructors and staff. The show's opening is postponed until April 2021.
 
The Initial Impact
"We had a whole list of things to do, workshops, travel, and we also had the Ballet. And it was March. Everything was still on and popping in March … It was literally the week before the show … I walk into the studio. The dancers are standing with PBT Board members, staff, and we were like, 'No rehearsal.' … We have not been back since.
It was this shock and intense fear. I was more concerned for health and wellness. Had we been exposed? Then I was about the piece not being done right away. Then I realized, 'Oh my god, all of this stuff! We had built up all of this national and international momentum … It all just went away, everything!' Literally, our whole world dropped out from under us."
Creative Response to COVID
"With dancers, we ave to dance. We have to make the art. Art is primary, and we can do that as we hang on by a thread … We can make it happen, but we also deserve to eat … It is a really tough place to be right now … Sometimes I cannot see how it is supposed to continue, and sometimes I cannot imagine that it would stop."
---
Jaime Guerrero
Jaime Guerrero is a glass artist who received a grant from the Foundation's Investing in Professional Artists program. He produces life-sized sculptures at the Pittsburgh Glass Center workshop, and, before COVID, six to eight people would help him form a large sculpture.
 
Internal Process and New Work
"For the first several months, the Pittsburgh Glass Center was closed. So I had no way to produce glass sculptures during that time, and just recently, in August, they started to allow for minimal glass blowing where you can go in with one person. Only two people can work in the whole studio.
Navigating through things as they come and, to some degree, COVID, has allowed me to go inward and really question what I want to do and what direction I want to go in. Even now, I am a little hesitant because I don't want to create a risk factor for people who are helping me, for myself or my family. So I am trying to lessen that risk factor by only going to blow glass if I have a solid idea and am ready to move forward."
Rethinking the Art
"I feel confident that I can produce a significant body of work in three, four, five months … I am taking my time … trying to remain hopeful and just be patient and in the time do whatever I can."
---
Joseph Hall
Joseph Hall, Executive Director, Kelly Strayhorn Theater, led an innovative virtual fundraising event in July called Hotline Ring, which replaced the annual spring fundraiser, Full Bloom, and launched a new fundraising model. He collaborated with six organizations that are led by or that work with LGBTQ+ people and people of color, including Staycee Pearl, creating an enduring relationship among them.
 
Creating Community
"When COVID happened, I realized there were other organizations that are in community with different artists than who KST is in community with, so how can we partner with other arts organizations to do a shared fundraiser? Also, this idea is sort of taboo — we partner in so many different ways but money. Money, when we talk about equity, people do not want to talk about money. I was thinking, KST is small … We are run by a lot of people of color; however, I recognize that we have power and privilege within the community of severely under-resourced financially arts organizations by and for people of color in Pittsburgh … I wanted to get into the guts of equity, which I think is money."
Collaborating
"The dream version of how I want to work: I have ideas; they may not be the best ideas; they may not be the final ideas. The group will actually make the best ideas and the final ideas together."

Original story appeared in the 2019-20 Annual Report.