Jacob Weiland Memorial Fund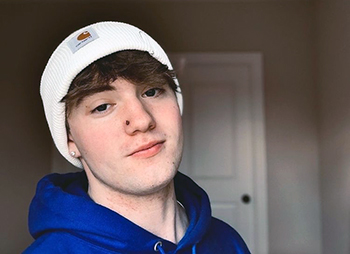 The Jacob Weiland Memorial Fund was created by the City of Bridges High School community to honor a student who was much loved and will be deeply missed.
Jacob walked in the door each morning with a smile and often with a new piece of clothing that he had designed as part of his senior capstone project. Jacob always wanted to explore new solutions to problems, especially when he collaborated with his friends and classmates. Often those were serious problems that affected the well-being of our communities, our environment and our planet. Sometimes the problem was a Mylar balloon stuck twenty feet up on the ceiling. Jacob had creative solutions to both types of problems.
When Jacob was excited about something like a T-shirt design or solving an engineering problem or writing an essay about one of his classmates, he jumped in with both feet and always found creative and unique ways to express his brilliance and his talents. He was always drawing and making art and working on how he could turn his passion into a future for himself after high school.
Jacob cared deeply about his friends, classmates and the world at large. He was considering the Peace Corps. after graduation so that he could help others around the world.
Jacob explored his passions and dedicated himself to the experiences that would help him to chart his path in life. He was building that path every day with joy, curiosity, creativity, compassion and a great sense of humor.