Alice McCaffrey Scholarship Fund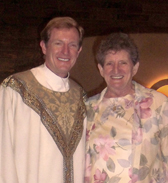 The Alice McCaffrey Scholarship Fund was established on October 4, 2013 by the parishioners of Saints John and Paul as a gift to their pastor, Father Joseph McCaffrey, honoring his 25th anniversary as a priest.
His mother, Alice, was born on September 8, 1937 in Avella, PA. She married John J. McCaffrey in 1956 and had three sons, Paul J., Rev. Joseph R., and Peter J. On August 8, 2011, surrounded by her family, Alice passed on to the loving arms of God. She had always been a woman of tremendous character, courage, and faith. It was her faith that inspired her son, Joseph, in his vocation to the priesthood.
Because during Alice's life she was such an inspiration not only to her son, but to the entire community, it was fitting to allow her life to continue to inspire others. The Alice McCaffrey Fund will provide scholarships for seminarians enrolled in a major Catholic Seminary in the United States who are pursuing a pastoral experience outside of required seminary training.
Father McCaffrey, during his studies, did a mission trip to Alaska. He found this to be an experience that has enriched his life in service to his parishioners, even to this day. Our hope is that this scholarship will strengthen future priests and enable them to serve God's people with even greater zeal and expertise.
"I have my Mother to thank for what I have become, and the way that I got there!"--St Augustine