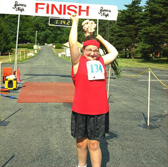 At 22 months of age, Elora Geier was struck by an automobile, forever changing her life and the lives of those who knew her. In a coma for nearly 4 months, she slowly recovered and exceeded the predictions of the medical staff who cared for her. She worked hard to overgain the initial paralysis and was able to regain function and attend school. Undaunted by her physical and mental limitations, she always strove to do her best. She was cheerful and most appreciative of the slightest act of kindness directed towards her, and would always focus on the good in people and acknowledge their worth.
When she was ten, Elora decided to "run" a 5k race with her family. She started an hour early and was the last of nearly 800 participants to finish. She put forth an effort unlike any she had ever done, in spite of her balance and strength impairments. Throughout the race, she shouted out words of encouragement to those who were passing her by. Elora crossed the finish line noticeably tired, but with her hands raised high in jubilation, celebrating the champion she had become.
While continuing to improve, Elora was diagnosed with a rare form of Leukemia at the age of 13. Her journey through chemotherapy and radiation treatments mirrored her first 5k race. She remained cheerful and was a source of encouragement to others. Elora inspired those who knew her to reach a little higher and love a little deeper. However, nine months after her initial diagnosis, she succumbed to the disease.
Elora's family started the Elorapalooza 5K race, which is held in North Park each September. Over the past nine years, the race has raised over $140,000. These funds have gone to support blood cancer research and the Elora's HOPE (Helping Others Persevere and Endure) scholarship fund for college students pursuing degrees in Special Education.
By aligning with the Pittsburgh Foundation, Elora's HOPE continues provide funds to these causes. Additionally her parents have founded the Patient Life Committee at West Penn Hospital's T7 Oncology Floor and proceeds from the fundraising efforts will also be directed there in hopes of providing non-medical support of patients suffering blood cancers.
To learn more about Elora's life and legacy, visit:
http://wqed.org/tv/watch/?sid=284&series=4