Emily Violet Kay Memorial Fund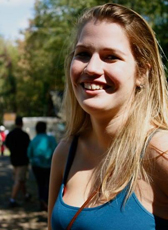 "Some people die when they're 96. Some people die when they're 23. All we leave behind are the connections we had with others and the positive impacts we make during our lives. In her 23 years, Emily formed connections with countless people and continues to impact the people she knew. The Emily Violet Kay Memorial Fund honors those connections and sustains my daughter's positive influence on the world."
—Holly Kay, Emily's Mother
The Emily Violet Kay Memorial Fund celebrates the life of Emily Kay, a bright, energetic young woman who passed away on June 2, 2014 at the age of 23.
When Emily was in kindergarten, she and her mother, Holly, moved to Pittsburgh's Squirrel Hill neighborhood. Growing up in the area's schools, Emily developed a deep passion for music, band, and sports, and she loved to visit nearby Frick Park after school to play basketball and spend time with friends. Emily enrolled at the University of Pittsburgh in 2010, where she expanded her interests to include issues of social justice and diversity. She graduated with honors four years later, receiving a degree in Health Information Management.
Grants from the Emily Violet Kay Memorial Fund reflect Emily's passions and interests. Established in April 2015, the fund honors Emily's life by emulating the positive impacts that she had—and continues to have—on her friends, family, community, and world.