Pittsburgh Foundation issues public comment against changes to SNAP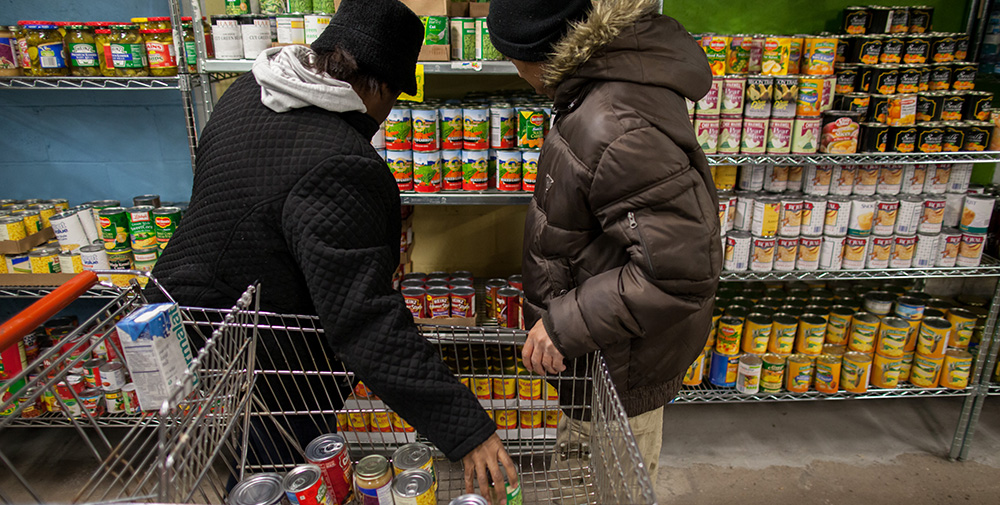 A proposed rule change to the SNAP food stamp program would result in 34,000 people in our seven-county region losing food stamp benefits. The changes would affect the most vulnerable: seniors, children, single mothers and people with disabilities. The rule change could also affect free school lunch eligibility. The following comments were submitted by Lisa Schroeder, President and CEO, The Pittsburgh Foundation, in response to the United States Department of Agriculture's (USDA) proposed rule on making revision of categorical eligibility in the Supplemental Nutrition Assistance Program (SNAP).
The deadline to comment is midnight on Sept. 23. Learn how to submit your own comment to the U.S. Department of Agriculture.
September 9, 2019
The Honorable Sonny Perdue
United States Secretary of Agriculture
C/O Program Design Branch
Program Development Division, Food and Nutrition Service, USDA
3101 Park Center Dr.
Alexandria, VA 22302
Re: Notice of Proposed Rule Making Revision of Categorical Eligibility in the Supplemental Nutrition Assistance Program (SNAP) RIN 0584-AE62
Dear Secretary Perdue:
The Pittsburgh Foundation appreciates the opportunity to comment on the proposed rule change to the categorical eligibility for the Supplemental Nutrition Assistance Program (SNAP)[1].
Established in 1945, The Pittsburgh Foundation works to improve the quality of life in the Pittsburgh region by evaluating and addressing community issues, promoting responsible philanthropy and connecting donors to critical needs of the community. Throughout our 74-year history, one of our highest priorities has been meeting the basic needs of vulnerable populations. Over the past five years, we have strengthened our commitment to supporting individuals and families who face economic and social challenges that are difficult for them to overcome on their own. The number of people in this situation remains high, despite the fact that the Pittsburgh region is experiencing a period of great economic growth. Our research reveals that about 30% of the regional population is affected. Wages have stagnated as the costs of housing, education and child care continue to rise, making it harder and harder for families to get by.
Food insecurity is one of the toughest barriers facing families trying to move from poverty to economic security. SNAP provides critically important food support to children in these families, assuring they have sufficient food to grow, to thrive, to excel in school and to live strong and healthy lives. It is out of respect for this program and our experience and knowledge dealing with families in poverty that we urge you to withdraw the proposed rule to limit state options for broad-based categorical eligibility (BBCE).
We firmly believe that this proposed rule will cause harm to families least able to make up for the loss of vital food assistance. The revised policy will jeopardize their food security and economic stability.
Though the United States has experienced significant economic growth since the recession of 2008, there are still many families struggling to afford enough food. SNAP, the nation's largest nutrition assistance program, has been a vital safety net for these households, providing monthly support to purchase nutritious food. SNAP is a short-term lifeline for 40 million Americans who, because of limited incomes, are often forced to make difficult choices between food and other basic needs such as transportation, rent and health care.
If the proposed rule change goes into effect, the policy known as broad based-categorical eligibility (BBCE) would be eliminated, lowering the maximum income allowed for all households and counting people's assets against them. Nationally, the proposed eligibility changes would result in 3 million people losing their food assistance benefits. In Pennsylvania, it would reduce the number of people receiving SNAP by 11.4%, or 200,000 residents. Of those individuals, 16,577 live in Allegheny County and 6,013 live in Westmoreland County – the primary areas in which The Pittsburgh Foundation does its grantmaking.
Elimination of BBCE would overwhelmingly affect working families, children, seniors and people with disabilities. And while The Pittsburgh Foundation seeks to support all residents impacted by economic inequity, our research has elevated the particular vulnerabilities of single mother households. In Allegheny County, 41% of all single-mother households earn below the poverty line. These families are more likely than other household types to live in poverty, accounting for 72% of all of the county's poor households with children.[2] As a result, single mother-headed households are also more likely than other household types to receive public benefits, and they are most vulnerable to cliff effects.
Interviews with single mothers as part of the Foundation's Single Women Raising Children Project, exposed how difficult it can be for these women to navigate the public benefits system. It also underscores the significant role that reduction or elimination of public benefits play in preventing families' exit from poverty. As one participant shared, "I make over $30,000 a year, but I have Section 8, I get food stamps and it's scary 'cause when I tried to get a second job at Steak N Shake waitressing so I could come up, my rent went up to $800 a month from $548. Took all my food stamps, child care shoots up. So you're like, 'I can't win for losing.' Claw, claw, claw, but now I feel stuck again."
Dramatic losses in benefits like this resulted in many single mothers believing that the public benefits system is another barrier they must overcome. The proposed elimination of broad-based categorical eligibility will exacerbate this reality. Some of the specific consequences of the proposed rule change include:
Weakening protection against the consequences of child food insecurity: The Supplemental Nutrition Assistance Program (SNAP) delivers more nutrition assistance to low-income children than any other federal program. Nearly half (44%) of SNAP recipients are children; another 21% are the adults who care for those children.[3] Research indicates that food insecurity among children fell by about one- third after their families received SNAP for six months.[4] Research has shown that young children whose families consistently receive SNAP are more likely to have regular access to food, to be in good health and be at lower risk of developmental delays than young children in households that have had SNAP benefits reduced or eliminated.[5] Because of the documented effectiveness of federal nutrition support, more than 40 states have expanded access to SNAP through broad-based categorical eligibility.
Creating barriers to school meals and other nutrition programs: Not surprisingly, hunger makes it more difficult for children to learn. Hunger-related toxic stress can negatively affect brain development, learning, information processing and academic achievement in children.[6] Research suggests that food-insecure children may perform worse on academic achievement tests and learn less during the school year.[7] Many low-income children rely on school breakfast and lunch as the primary source of food to meet their dietary needs. Unfortunately, in its Regulatory Impact Analysis, the USDA fails to address how the elimination of BBCE will threaten access to free school meals for more than 500,000 children.[8] Currently, children who live in households that receive SNAP do not have to complete a separate application for free school meals because they are automatically eligible. Without BBCE, families would lose this automatic link to free school meals when they no longer qualify for SNAP due to higher incomes, or when their schools no longer qualify, or cannot afford to provide free school breakfast and lunches.
SNAP also makes it easier for families to access the Special Supplemental Nutrition Program for Women, Infants and Children (WIC). The WIC program offers nutrition education and supplemental foods to low-income pregnant and post-partum women, and to infants and children up to age five who are found to be at nutritional risk. Malnutrition in the first years of life is especially harmful, impacting physical growth, decreasing resistance to disease, limiting the size and functioning of children's brains and stunting intellectual capacity.[9] Thirty-three percent of the participants in WIC are automatically certified for program eligibility because of their participation in SNAP.[10] However, USDA does not provide an estimate for how the loss of SNAP under the proposed rule might also impact participation in WIC.
Punishing families for increased earnings: Federal law gives states some ability to expand SNAP eligibility above 130% of the Federal Poverty Level (FPL) by importing a higher gross income limit (up to 200% of poverty) from a TANF-funded non-cash program. Under BBCE, Pennsylvania has increased eligibility to 200% of the FPL for seniors and persons with disabilities and to 160% FPL for all others. At this level, SNAP benefits phase out more gradually, instead of households experiencing a "cliff effect" when benefits decrease more steeply than what the household can generate through increased earnings.
In Allegheny County, among those who received public benefits last year, the majority were enrolled in multiple public supports. For example, among Section 8 housing tenants, 86% received Medicaid and 69% received SNAP at some point last year.[11] For these residents, a loss of one or more of these public benefits would likely result in an inability for them to meet their basic needs. Under the new rule, USDA would reduce eligibility for everyone to 130% FPL. This proposal would worsen the cliff effect, thwarting these families' efforts to become self-sufficient.
Preventing families from saving: Modest assets enable low-income families to navigate unexpected financial challenges, avoid taking on debt and better plan for their futures. BBCE allows states to increase or eliminate the asset test. Pennsylvania eliminated the asset test for 90 to 95% of applicants, which not only makes more people eligible but greatly simplifies applying for SNAP. In addition to the challenges of navigating the benefits cliff, single mothers whom we interviewed for our Single Women Raising Children Project consistently critiqued the complexity of the public benefits systems and the challenges of differing criteria. As one mother told us, "The transition they take moms through, it doesn't align with reality. I do believe that the system is another barrier and it doesn't set anyone up for anything positive in the end."
Under the proposed change, everyone would be subject to an asset test. SNAP recipients would be punished for saving money to absorb unplanned expenses such as a car repair, to weather the loss of a job or to plan for the purchase of a home or a car that would improve their circumstances and help them become financially self-sufficient. The Federal Reserve's Report on the Economic Well-Being of U.S. Households in 2017 shows that about 40% of adults said they would not be able to cover a $400 unexpected expense with cash. Almost two-thirds of U.S. children live in families with little savings or investments to fall back on in tough times.[12] This proposed policy change would likely exacerbate this issue for low-income families. Additionally, this policy change may be particularly burdensome for people of color who have been hindered from building and retaining wealth through discriminatory public policies. As a result, today, the median net worth of black families is about 10 times less than that of white families.[13]
Conclusion
The Pittsburgh Foundation is committed to reaching the goal of ensuring all individuals and families in the region we serve have access to nutritious food. Our mission requires us to fight hunger and support economic mobility for low-income families. In addition to ongoing grantmaking, which supports food banks and other emergency food assistance, we have hosted annual Critical Needs Alerts – online fundraising campaigns that galvanize community giving to address basic needs, including food insecurity. However, SNAP makes food accessible to families at a cost and scale that no community philanthropy, or the food banks that they support, could ever match. Last year, the federal government spent $68 billion on SNAP and other food assistance programs, with 92% of spending going directly to benefits that households used to purchase food.[14] In southwestern Pennsylvania, the reduction of benefits to 34,000 people in our seven-county region and the potential loss of access to free school lunches that would result from the proposed rule-making revision could not be met by local and regional philanthropy. For instance, The Pittsburgh Foundation's total unrestricted annual grantmaking last year was $14 million. If SNAP benefits were restricted, we could not make up the difference – even if we dedicated our entire grantmaking budget to address food insecurity. For each meal provided by the Feeding America network of 200 food banks and 60,000 partner agencies – which includes our grantee, Greater Pittsburgh Community Food Bank – SNAP provides 12 meals.[15] Without question, our local food banks, which already struggle to meet demand, would be further challenged to meet the needs of families no longer eligible for SNAP because of the BBCE rule change. A survey conducted by Feeding America of its member food bank clients in Pennsylvania found that 55% of households had to choose between paying for food or their rent or mortgage at least once in the past 12 months. Also, 26% faced that choice every month.[16]
We strongly oppose the elimination of broad-based categorical eligibility, which has extended critical food assistance to millions of families that would otherwise have difficulty providing for their own food needs. We ask that the Administration withdraw the proposed change and continue to work with state and local governments and their constituents to develop strategies to eliminate the causes of food insecurity. Instead of limiting access and depriving families of much-needed nutrition support, we urge the USDA to focus on enhancing efforts to streamline certification processes and improve access across programs. In this way, USDA will be best positioned to lead us to an America in which poverty is a rare and temporary condition.
Respectfully,
Lisa Schroeder, President & CEO
The Pittsburgh Foundation
Pittsburgh, PA
How to submit public comments

About the proposal: Read the proposed rule and instructions for submitting comments on the Federal eRulemaking Portal.
Send comments via an online form here: https://handsoffsnap.org.
Send comments by email to: SNAPPDBRules@usda.gov. Include Docket ID Number [FNS-2018-0037], "Revision of Categorical Eligibility in the Supplemental Nutrition Assistance" in the subject line of the message.
Send comments by mail to: Program Design Branch, Program Development Division, Food and Nutrition Service, USDA, 3101 Park Center Dr., Alexandria, VA 22302.
All written comments submitted in response to this proposed rule will be included in the record and will be made available to the public. Please be advised that the substance of the comments and the identity of the individuals or entities submitting the comments will be subject to public disclosure. FNS will make the written comments publicly available on the internet via http://www.regulations.gov.
---
References