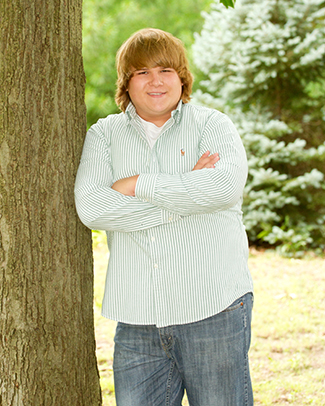 Spenser Flowers, an active member of the Hampton Township community, died on Jan. 1, 2017, at the age of 20, from an accidental heroin overdose. Spenser's struggle with addiction was relatively short but ultimately deadly. Throughout his battle – with his family's caring support – he remained kind, loving and so very, very funny. Two days before he died, he agreed to return to treatment. He spent two hours the night before he died researching facilities to identify the rehab program into which he wanted to commit. Spenser didn't want to die – he wanted to stop using drugs and begin recovery.

Spenser's Voice Fund was established by his family members, Tina, Chris and Sam Flowers, to honor Spenser's spirit and voice, and to support organizations and agencies working to curb the drug epidemic in young adults.
Grants made from the fund in 2021 and early 2022 include:
Hope 4 , located in Irwin, Pennsylvania, is a community support center for those in recovery and their families/loved ones. It's a safe, healthy, non-judgmental place where those seeking recovery can get well in a community of recovery. Hope 4 offers organized peer recovery groups and support groups for families, along with a myriad of social activities – axe throwing, bowling, participation in community events (like the Greensburg holiday parade), "meet and eat" meetings, a sober New Year's Eve party (which Spenser's Voice sponsored in 2021), trips to restaurants and sporting events, and many other activities. Support sessions are offered at no cost to participants, and Hope 4 maintains a fund to pay for social events for those who are unable to pay! Hope 4 and Spenser's Voice have grown up together – Hope 4 was in its infancy when we first met with them in 2017. We are so proud of this group – they have battled through COVID and continue to provide in-person, safe support for their members. The grants awarded to Hope 4 in 2021 and early 2022 are being utilized for staffing and facility costs.
Holy Family Institute offers many services and programs throughout Southwestern Pennsylvania in connection with its mission to empower children and families to lead responsible lives. Through its Shores program, Holy Family provides in-home and in-school addiction recovery services throughout Allegheny and neighboring counties. The grants most recently awarded by Spenser's Voice to Holy Family are being utilized to fund the Shores Client Hardship and Activity Fund which provides incentives or necessities to clients (ages 12-21) to encourage them to remain engaged in recovery by reducing external stressors. This fund covers expenses for transportation, incentives, supplies and therapist toolkits.
Pittsburgh Organization for Women in Early Recovery (POWER) provides recovery services predominantly for women, including community-based outpatient, assessment, and peer mentoring recovery services (POWER Connection) and operates a residential treatment program. Recently POWER Connection and assessment services have become available to men as well, and POWER maintains male mentors on staff to serve male mentoring clients. Recovery mentors help guide clients as they reconnect with the community by offering linkage to treatment, recovery counseling, information regarding community services available to support long-term recovery and assistance with managing healthcare and medication needs. Clients may work with POWER mentors for an unlimited period of time as they advance in their recovery. The 2021-22 grants from Spenser's Voice will support operational and staffing costs for POWER Connection.
Prevention Point Pittsburgh (PPP) is a harm reduction organization operating throughout the City of Pittsburgh. PPP has recently expanded its mobile sites and continues to increase the services offered to its clients. In 2021, through November 4th, PPP had 6,566 interactions with participants – 1,200+ more than for 2020, has served more than 500 clients via its medical services van, and distributed more than 11,000 doses of naloxone! Recent grants from Spenser's Voice to PPP are being utilized to fund the LYFT Concierge Service which provides participants with transportation to harm reduction and recovery services and housing and to purchase buprenorphine medication.
Sage's Army is a drug awareness/prevention organization with a primary goal of offering support, guidance, and encouragement to others who have been affected by the substance abuse epidemic. Sage's Army operates a 24/7 Helpline, hosts grief and family support groups, provides community education, and currently is expanding its programming to offer outpatient recovery services, including SMART Recovery, and social activities for those in recovery. The 2021/2022 grants from Spenser's Voice are being utilized for the Teen and Young Adult SMART Recovery program.
St. Paul's United Methodist Church/Resource Center for Teens & Young Adults, in Allison Park, Pennsylvania, is the Flowers family's church. Spenser was an active member of the church and its children and youth programs. Recently, the church decided to convert its library (in which Spenser spent many, many hours) to a Resource Center. Spenser's Voice is sponsoring a section for teens and young adults, Spenser's Corner. The section will include books and other resources addressing health and social issues that affect today's young people: social media, eating disorders, anxiety, depression, suicide, substance use, grief, bullying, LGBTQ+, etc. Spenser was an avid reader, so the space also will include a recreational reading section, Spenser's Book Nook, for middle and high school students. The section will be completed in early 2022.
Previous Grants
Familylinks: Grants in 2018 and 2019 to Familylinks provided funding for materials and production of Power Forward (with Kevin Stevens) events to provide education and awareness programming regarding addiction and recovery options to local school districts, college groups, youth and adult athletic leagues and neighborhood agencies, like Boys and Girls Clubs.
Gateway Rehabilitation: A 2018 grant to Liberty Station, a 24-bed halfway house in Bridgeville for young men ages 13-23, previously operated by Gateway Rehabilitation was used to fund staffing for adventure-based counseling and equipment and supplies for a new music therapy program.
Recovery United: A 2018 grant to Recovery United funded scholarships for five young men (otherwise unable to afford the fees) to live in Recovery United sober living housing for two months.
Symbol, above left: Spenser was an avid reader and loved the Harry Potter book series. The green heart resembles the Harry Potter lightning bolt, green was his favorite color, and the heart symbolizes the continuing love of his family and friends.
Spenser's family has also established a scholarship fund in his honor.

learn more