Super markets2017 was a year of surprisingly strong investment returns.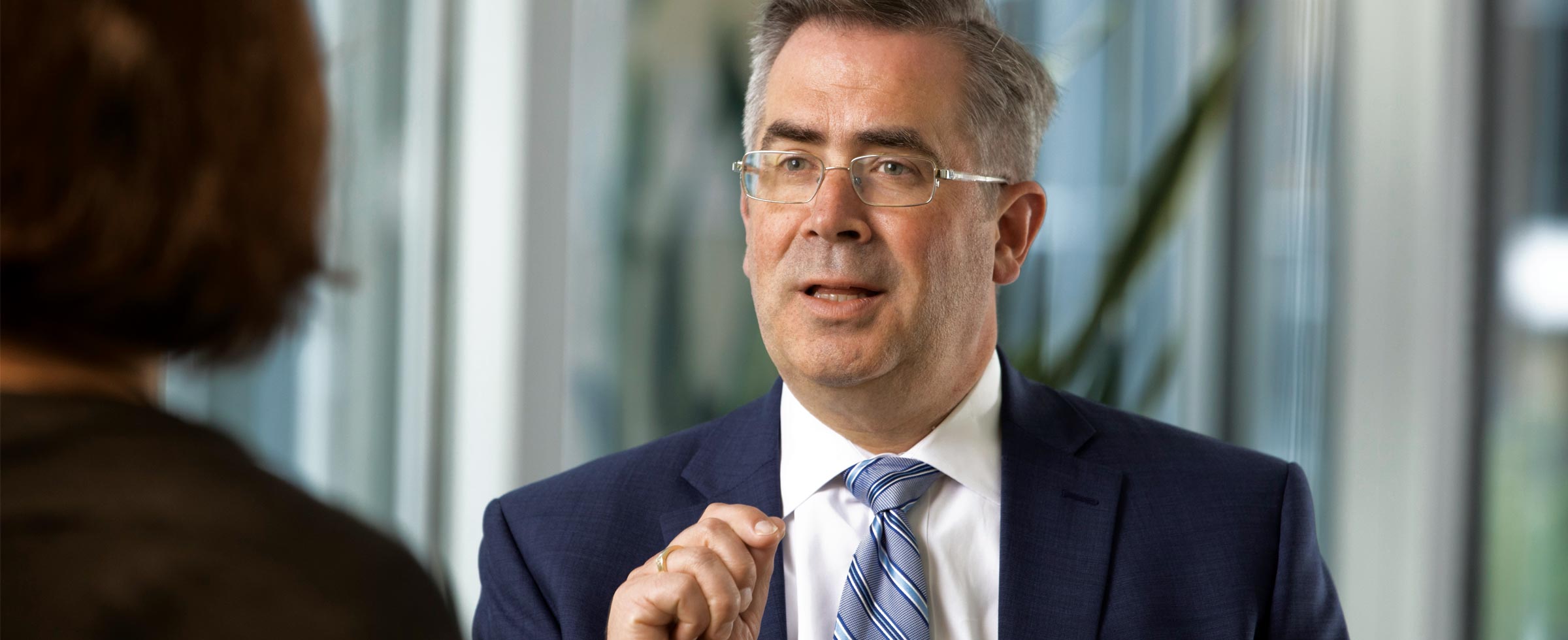 THE PITTSBURGH FOUNDATION SAW EARNINGS FROM ITS INVESTMENTS SOAR last year with a strategy that delivered remarkable returns from foreign and domestic equity markets, which outperformed expectations.
Foundation investments earned $132 million, or 14.2 percent, in 2017. This is net contributions across all portfolios. In a typical year, earnings in the range of $50 million to $60 million would be expected.
Moreover, the Foundation significantly exceeded its annual earnings target, helping grow funds available for grants in a period when nonprofit funding needs have increased dramatically. The impressive returns also have given the investment portfolio greater stability in navigating market fluctuations.
"Where the market itself is represented on graphs as a lot of jagged peaks and valleys, we're looking for a much more upward-sloping, rolling hill," says Jonathan Brelsford, senior vice president of Finance and Investments. "Last year, the graph was a sharp line upward. We did very well."
While those returns were dramatic, their impact on future grantmaking is less apparent. The Foundation's grant-making dollars are based on a 36-month rolling average. Good years tend to even out years when earnings are less than stellar. Average earnings for 2013–2017, for example, rose above the Foundation's annual return target, despite including one year when earnings fell well short. And 2017 earnings could help compensate for this year's performance should equity markets continue their first-half struggle to do better than low, single-digit returns.
"What we don't want is to have a significant downturn and see cuts in grantmaking like we did in 2008," Brelsford says.
The Foundation started investing its own assets in 2009, when the Legacy Fund was created. The largest component — the Legacy Perpetual Fund — invests in assets, including public and private equities, bonds and hedge funds. Investments in fixed income and real assets, such as real estate, add some protection in down years in the equity market and against inflation.
Such an approach is necessary, Brelsford says, to reach a target return on investment of 5 percent, which is distributed in grantmaking, plus 2 to 2.5 percent to cover inflation. "Our target is pretty high. The only way we are going to get there is to invest in the components of growth."
Less than 20 percent of the Legacy Perpetual Fund, for example, is invested in fixed-income assets, which traditionally could be expected to account for up to 35 percent of the portfolio. Nearly a decade of steadily falling interest rates contributed to the lower reliance on fixed income.
The strategy of investing more in equities also strays from tradition, placing a stronger emphasis on international markets than in previous years, particularly emerging markets, such as China and India.
"We don't spend a lot of time trying to predict what the coming year will be like. The discipline we bring is one that is long-term focused."
--JONATHAN BRELSFORD, Senior Vice President of Finance and Investments
The stars aligned in the equity markets last year in ways not often seen, as the anticipation of U.S. corporate tax cuts and strong growth in emerging markets threw an already unprecedented bull market into high gear. Domestic equity performed extremely well with returns greater than 20 percent. Emerging markets did better, posting returns of more than 30 percent.
The Legacy Perpetual Fund's diversified strategies asset allocation, with its utilization of more market-neutral or idiosyncratic strategies, also performed well. That part of the portfolio, which has the flexibility to trade both long and short, seeks lower volatility than equities and higher returns than fixed income. Even the Foundation's mix of fixed-income investments turned out to be less of a drag on earnings than would be expected in an overheated equity market.
The overall success of the investment strategy last year, Brelsford says, "was driven by our exposure to public equity. But I'd say it was everything working the way it should."
By year's end, the Foundation had well over one billion dollars, which included the Legacy Perpetual Fund, Legacy Intermediate Fund and Legacy Grantmaking Fund, which are managed internally, as well as the assets of trusts and donor-advised funds managed by others.
Donors can expect the Foundation to adhere to its fundamental strategy of taking a long view of the markets, trying to reduce investment expenses and focusing on the search for growth, wherever it might be found. The Foundation, for example, is expanding investment in private equity and remains committed to investing in emerging markets, where an increase in the number of consumers with more money to spend raises the potential for growth.
What donors shouldn't expect, says Brelsford, is for the Foundation to attempt to time the market in hopes of engineering remarkable returns. He is the first to report that he didn't see the 2017 earnings spike coming. "We don't spend a lot of time trying to predict what the coming year will be like. The discipline we bring is one that is long-term focused. Years like last year are fantastic. But we're not making radical changes to the exposure we have in domestic or international equity or emerging markets on a year-to-year basis."
LESSON LEARNED: It's unrealistic to expect 2017 returns annually. Instead the focus should be on steady growth leading to a consistent grant-making pool.
Original story appeared in Report to the Community 2017-18