Giving back: Visionaries create a culture of philanthropy Donor group gears up for a Pitch-In Party this fall.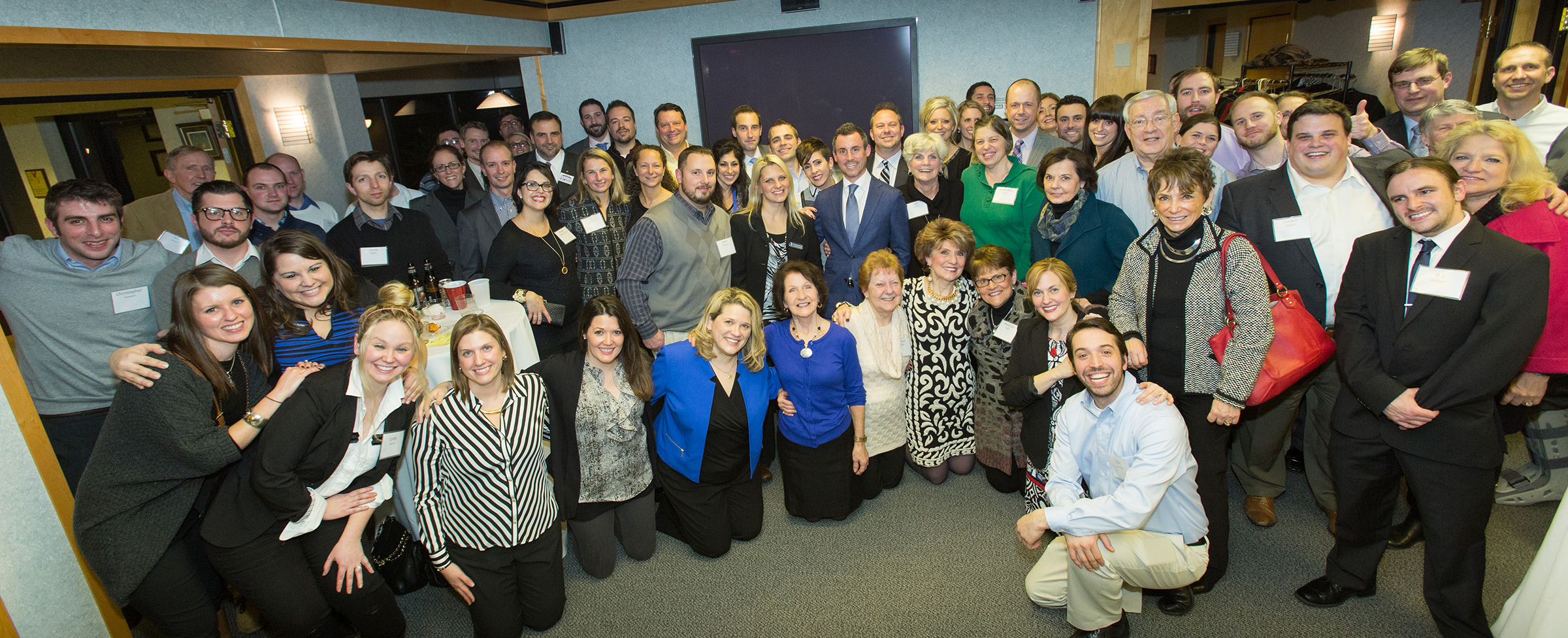 What are the most important issues facing Westmoreland County and who are the emerging leaders addressing those issues? 
Those are the questions that the Visionaries, a young donor group established at The Community Foundation of Westmoreland County (CFWC), has been tackling since it was established in 2010. The group is convening once again this summer, In this Q&A, we talk with some of the original class of Visionaries about the inspiration for the group, Jordan Pallitto and Michael Quatrini, CFWC Executive Director McCrae Martino, and Maria Rossi, who is back for her second time as a Visionaries member, about what they hope to achieve and why. The Visionaries will hold a Pitch-In Party this fall to report out on findings and encourage others to give. 
---
Q&A WITH THE VISIONARIES
| | | | |
| --- | --- | --- | --- |
| Jordan R. Pallitto | McCrae Martino | Maria Rossi | Michael Quatrini |
Jordan R. Pallitto co-founded the Visionaries in 2010. He's now chief operating officer with The Hill Group, serves on The Pittsburgh Foundation board and chairs The Community Foundation of Westmoreland County board. 
McCrae Martino is executive director of The Community Foundation of Westmoreland County and is leading this year's Visionaries cohort. 
Maria Rossi is an attorney with Avolio Law Group in Greensburg and is back for her second round of involvement with the Visionaries young professional donor group. 
Michael Quatrini  is among the co-founders of the Visionaries.  He is an attorney representing injured workers and veterans in claims for Workers' Compensation, Veterans Disability Compensation and Social Security Disability/SSI and serves on the CFWC board. 
Jordan, you were one of the founders of the Visionaries program and now you're on the board of CFWC. What is the origin story for the Visionaries giving group?  
JP: It starts back when I was a senior at Hempfield Area High in 2002. A friend of mine was involved with a youth advisory committee of students from four Greensburg area high schools. The  students made grants to improve the community. Through that experience, I realized that nearly all of the organizations creating quality of life in our community are funded by foundations. I had no idea of how foundations worked prior to that. It was transformative and eventually led me to join the board of CFWC in 2008. Talking with others at CFWC, including Michael Quatrini and Kirk Utzinger, we realized that creating a donor group for young professionals and recent college graduates would be powerful because it brings people together. An individual with a little bit of money can only go so far, but if a half-dozen or more come together, there is potential for real impact.  
McCrae, you're leading the current round of Visionaries. Can you tell us about how the program works? 
MM: We recruit up to 10 early- and mid-career professionals to learn with us and make an impact by contributing $1,000 each for local nonprofits. From May to November, we host learning sessions, site visits with nonprofits and explore the issues the group wants to address. The meetings are dynamic and eye-opening. Based on these sessions, the Visionaries develop a request for grant proposals, then reviews the submissions and selects three finalists to go to the Pitch-In Party. On Nov. 17, the entire community is invited to hear the finalists explain what they do and everyone attending contributes in. The Pitch-In Party is very high energy and inspiring and fires people up to give to supplement the donations from the Visionaries and incentive funds from CFWC.  
Maria, you're back for your second round of involvement with the Visionaries. What appeals to you about the program?   
MR: Back in 2019, I had just moved to Greensburg from my hometown of Latrobe to start practicing law. Kim Kramer, who was on the CFWC board, suggested I join the Visionaries to meet people and get to know the region. I grew up fairly sheltered from issues such as housing insecurity, and the program opened my eyes. Now in the legal profession, through court appointments, I've learned a lot more about the needs in this community. I've always believed that, if we all live together, we should all work together to make Westmoreland County better for everyone and to make it a place where young people want to come and stay. 
Jordan, you've now dedicated two decades of your life to the community foundation. What do you see as the most significant priorities and how can the Visionaries make a difference?   
JP: The top three priorities for CFWC are leadership in the county, convening to improve organizational capacity and growing philanthropy to encourage giving. There are so many smart people in the county and the Foundation can bring people and organizations together to work on really difficult things. Basic needs of vulnerable people are critical, especially for seniors, veterans and people with disabilities. It's human services generally. If you're not receiving those supports personally, I'm certain that someone in your neighborhood or your family is or someday will. Community foundations bring people together and do more than we could ever do if we remain siloed.  
Michael, how have you seen the Visionaries evolve? 
MQ: The founders already had a connection to CFWC, and how philanthropy benefits nonprofits. We recognized that if the Visionaries were going to achieve their goal of broadening the pool of people in their 20s, 30s and 40s to pair with nonprofits, we had to close the knowledge gap. Our educational breakthrough finally arrived thanks to the vision and hard work of Emmie Calland and Mallory Reese at the Foundation. Now, rather than just informal gatherings and a one-time (and really fun) "Pitch-In Party" to hand out funds, participants are provided with a thorough review of the issues, a broad census of area nonprofits, and in-person experiences to actually see the nonprofits in action.    
Which nonprofit funded by the Visionaries inspires you the most? 
MQ: Looking back, it's the breadth of programs we've supported more than one nonprofit. For instance, our funding has jumped from protecting vulnerable children in the foster care/legal system (CASA of Westmoreland), to battling food insecurity (Westmoreland Food Bank), to sustaining a world class level of music (Westmoreland Symphony), and to maintaining a valuable link to our regional heritage and formation (Ligonier Valley Historical Society). We have achieved the greater goal of connecting younger people with opportunities to volunteer their time and energy, while at the same time providing nonprofits with an opportunity (and a nudge) to recruit their future volunteers and leadership.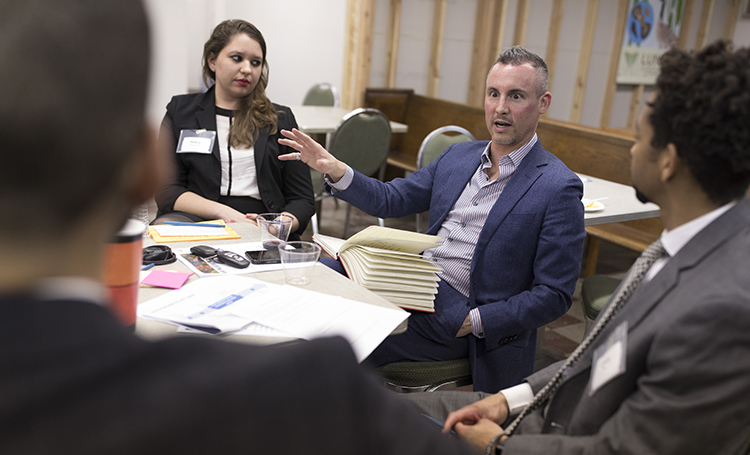 Above:  Michael Quatrini, in 2018, as he spoke to the New Philanthropic Leaders, a Pittsburgh Foundation young donor group modeled after the Visionaries.  
 
Maria, what advice do you have for young professionals who want to do more for their community but might not feel like they have the experience or resources to give? 
MR: As a young professional you have to be humble about what you don't know. No one here is going to judge you for wanting to get involved. It's very welcoming. Though donating $1,000 may seem daunting, through the Visionaries, you see it go directly to our community and how it benefits people here. And you'll meet fascinating people from all over who want to learn while meeting community needs. It's a great way to understand what's missing in our community and to work together to fill those gaps and learn along the way.   
TAKE PART IN THE PITCH-IN PARTY!
Thursday, Nov. 17, 2022  
6 to 8 p.m. 
Hear compelling pitches from Westmoreland nonprofits. Then give with the Visionaries at the crowdsourced Pitch-In Party. All are welcome. Details on location and registration are coming soon.
Questions? Please contact McCrae Martino at 724 836 4400 or martinom [at] cfwestmoreland.org (martinom[at]cfwestmoreland[dot]org).