Music for the next generationPhilanthropy gave Charlotta Klein Ross and her late husband, Paul, the chance to turn their musical talents into successful careers. Now, she pays it forward and honors Paul's memory through one of The Pittsburgh Foundation's key strategic areas: scholarships that help donors advance the causes in which they believe.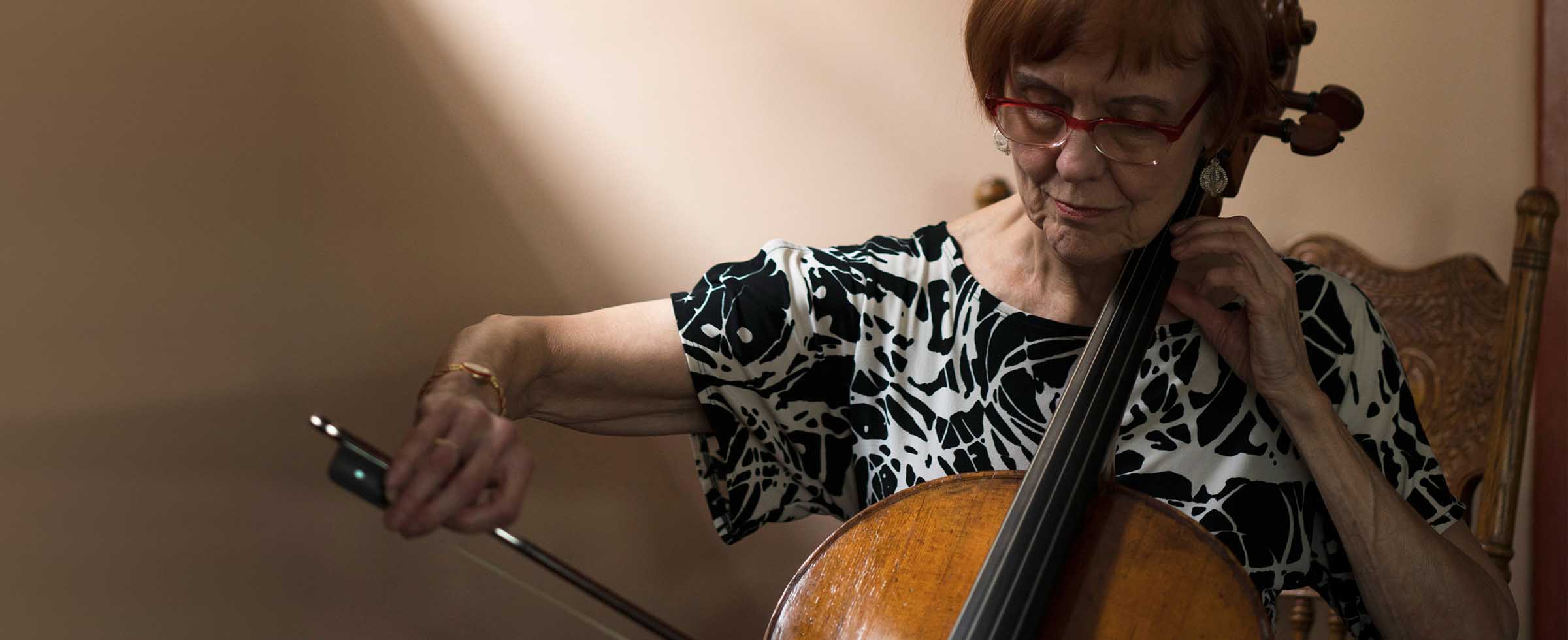 IN FLINT, MICHIGAN, THE QUINTESSENTIAL BLUE-COLLAR TOWN where General Motors was born, Charlotta Klein Ross discovered her gift for symphonic music—a gift that would lead to a decades-long career as a cellist and eventually earn her a chair in the prestigious Pittsburgh Symphony Orchestra.
And while Ross's talents as a musician are entirely her own, she credits her career to the generosity of others. 
"My goal was always to play in a symphony orchestra. I knew that by the time I was 15. I was sure of it," says Ross, who retired from the Pittsburgh Symphony in 2012. "But I didn't know if I would have the chance." 
Ross's father, a Lutheran minister, made little money, and the extracurricular training necessary to advance her skills in a highly competitive field was expensive. "But my cello teacher found people in the community who gave money so I could go to Interlochen [Center for the Arts in Michigan] and Michigan State in the summer, which my parents couldn't have afforded," she says.
She found her way to Pittsburgh during the late 1960s, where she met musician Paul Ross, whom she married in 1975. Support from others was also crucial to his journey from Pittsburgh's Hill District neighborhood to Carnegie Mellon University and then to the violin section of the Pittsburgh Symphony, where he was the first African American musician to be awarded a full-time contract. 
At Westinghouse High School, Paul Ross had been a member of a string quartet that took top honors in a statewide competition. He also honed his talents by playing with the Pittsburgh Youth Symphony. Along the way, the support he received was not always financial—in high school, for example, a music teacher who recognized his interest and talent would increase his exposure to different works by bringing him records every week to listen to before classes.
For Charlotta, the opportunity to play in orchestras during the summer connected her to superstar mentors such as the late Louis Potter, a music professor at Michigan State who heard Ross play and helped her win a scholarship to study the cello. (She would eventually go on to establish a scholarship fund for cellists at Michigan State in Potter's honor.)
After college, she began a career that would provide a lifetime of rich experiences. Her first job was as a cellist in the North Carolina Symphony, a position supported by state tax dollars. The symphony performed for white and black audiences in separate venues. Legislators at the state capital would dance on their desks when the orchestra played "Dixie." She toured the segregated south with the Dallas Symphony, but without the orchestra's African American viola player.
The legacy left a lasting impression on Charlotta. She and Paul often discussed how important the generosity of others was to their success. While with the symphony, they each spent 12 years as volunteer conductors of the Three Rivers Symphonette, an orchestra for children ages 8 to 14.
After Paul died, in 2000, Charlotta and the couple's colleagues at the symphony raised money to establish a fund in his memory at The Pittsburgh Foundation—one that would help children whose families are unable to afford the extra classes and musical training that had helped Paul and Charlotta Ross develop their talents. 
With Charlotta's continued support, the Paul J. and Charlotta Ross Young Musician's Fund at The Pittsburgh Foundation provides string players ages 8 to 18 with the tuition and fees to play with the Pittsburgh Youth Symphony and the Three Rivers Young Peoples Orchestras, where they gain valuable experience playing with other young musicians and the mentorship of professional musicians and conductors. As school-based orchestra programs face cuts or elimination altogether, programs like these have become increasingly important to young musicians. 
Though her career took her around the globe, Pittsburgh is the place Charlotta Klein Ross has called home the longest. She spent 44 years with the city's renowned symphony, which included the experience of some 40 overseas tours. Pittsburgh is where she met her husband of 25 years and where the couple raised three daughters. It's where she still lives and still plays the cello. And it is where she and her late husband have touched the lives of hundreds of young musicians.
"Many people don't have a chance to make a difference in other people's lives," she says. "Musicians can do that. It's a special blessing—one that I've been very thankful for."
Original story appeared in the 2015-16 Report to the Community