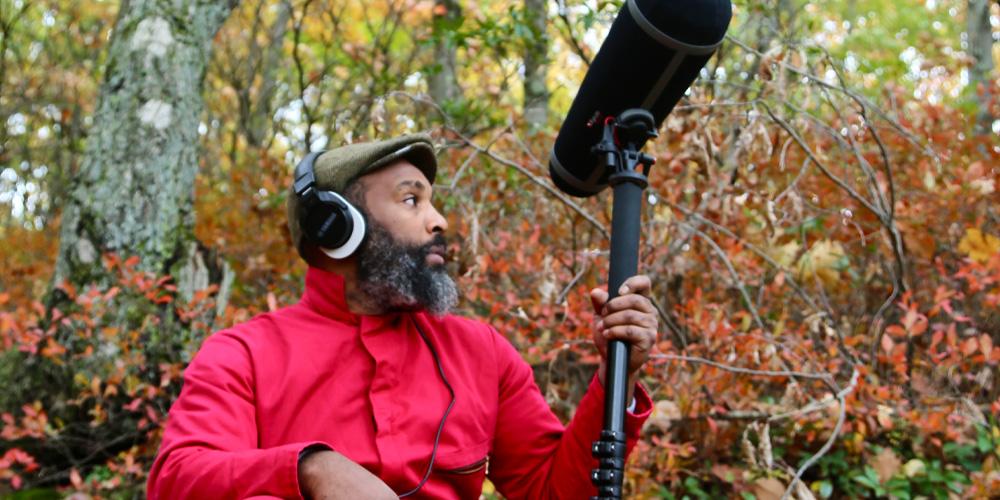 Grant Amount:  $15,000 over one year
Award Category:  Individual Artist Support
Ricardo iamuuri Robinson is a sound artist whose work invites listeners to cultivate a deeper understanding of the ways in which we inform our sense of place and awareness, while exposing the listener to the socio-political dimensions of sound, in turn encouraging a heightened engagement with systems of power. They will use the $15,000 grant to produce a catalog of publicly accessible recordings titled "The Sunscreen Conspiracy." The project employs research, field recordings, archiving, media archeology, filmmaking, performance art and creative listening engagements. The grant will help to fund marketing efforts, graphic and audio design, artist fees and other associated costs. 
"What we are labelling here as 'Black art' is yet another attempt at capturing a long legacy of various formations, unique expressions and multiple manifestations," says Robinson." This work not only contributes to Black art, as such, but is subsequently born out from and shaped by Black artistic movements. Therefore, the audience for this project are Black people and all of the people who support the struggle against anti-Blackness, dehumanization and de-spiritualization."
Robinson says that they would like to see this collection of curated audiovisual media files continue to gain growing support on Instagram and other social media platforms; eventually leading to the development of its own official website that will gain the attention and utilization from researchers, artists, academics, scientists, politicians, media personalities and all curious minds.
WEB: https://sonarcheology.com/
INSTAGRAM: @lavenderfreddy
FACEBOOK: @ricardo.iamuuri
2022 AWARDEES LIST   ADVANCING BLACK ARTS IN PITTSBURGH MAIN