From quarters to coats: Pete Strope and Drew HansonAdvisor Profile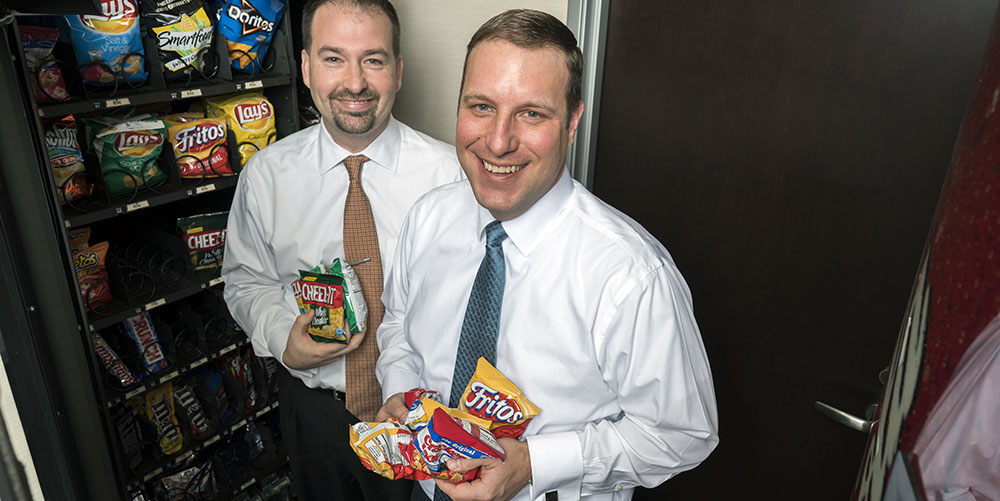 WHEN PETE STROPE SAW the Angel Tree in Weirton, West Virginia, he knew he had to do something.
"It was just before the holidays, and there were still 50 or 60 angels up there," Strope remembers. "It was terrible." Each angel represented a child, virtually all of whom were students at the nearby Colliers Primary School and in need of Christmas gifts. Strope called his friend and business partner, Drew Hanson, and together they decided to act.
For two years, Strope and Hanson—who together lead the Strope Financial Group at UBS as managing director and senior vice president, respectively—bought gifts for every angel on the tree. As they learned more about the school, however, they realized what a consistent, yearround funding stream could do for the students.
Then they had an idea.
"We were in the process of moving to a new office," says Strope. "As we searched for a vending service, we thought, 'Why don't we do this ourselves? We could raise money every day of the year and donate the profits to Colliers.'"
The pair purchased a soda machine, a snack machine, and coffee and tea service, and the staff at Strope Financial stepped in to volunteer. "Everybody on the team helps run this now," says Strope. "They handle the shopping, the stocking and maintenance of the machines—everything." The revenue that the office generates, along with personal donations from the staff, now funds Christmas gifts and new winter coats for Colliers students in need.
For two advisors who'd long guided their clients through the benefits and complexities of philanthropy, making giving a part of their everyday lives seemed like a natural next step. "We'd been talking with our clients about estate planning and charitable giving for a long time," says Hanson, "and that led us to think more about what we could do as individuals. What legacy do we want to leave behind? How can we change the world for the better? What can we do that allows us to say that we left this place better than how we found it?"
As a graduate of The Pittsburgh Foundation's Chartered Advisor in Philanthropy program, in which advisors earn the knowledge and skills to help clients achieve their philanthropic goals, Strope considers these questions often. "I talk with clients not only about paying bills, or growing their capital, or considering the trends I see in the market, but also about their long-term hopes and needs," Strope says. "What do they value? What do they want for their families? Sometimes that involves charitable giving, and the Foundation is a great resource for introducing my clients to philanthropy."
Of course, no one at the Strope Financial Group has to look far to see philanthropy in action. All they have to do is walk down the hall and drop a quarter in the glowing, freshly stocked vending machine.
Original story appeared in Forum Quarterly - Spring 2016