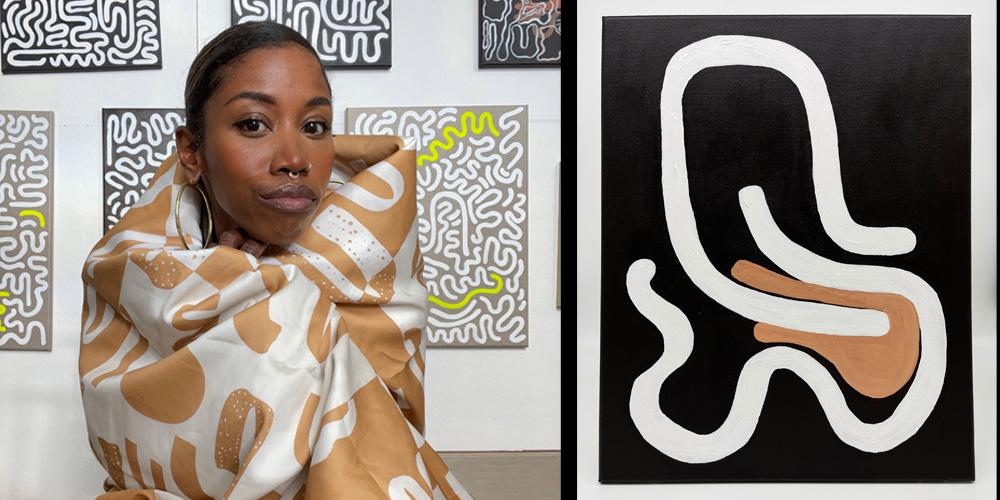 Grant Amount:  $15,000 over one year
Award Category:  Individual Artist Support
atiya jones is an artist whose professional work has consisted primarily of design-based commission projects. She hopes to create a body of work born solely of her own desire and without the outside pressure of creating for a client. She will use the $15,000 grant to fund a solo exhibition titled "The Wanderer" at 707 Gallery, her first solo gallery show in Pittsburgh. The grant will support material and installation costs and other expenses related to the production of the exhibition. Her work supports the narrative that Black people are not a monolith, and neither is our artwork. She  wants to tell the story of a queer, Black wandering woman in search of a connection- a sense of home, while acknowledging a lifetime of experiencing isolation by being othered and tokenized.
"My work honors the labor of those of us on mental health journeys," says atiya, "those of us breaking ancestral trauma cycles; those of us wanting to create another pathway for ourselves. My work is about a search for respite and rest."
Through her anticipated show at 707 Gallery (tentatively titled, "The Wanderer"), atiya says she hopes to expand the narrative of Black life in Pittsburgh. The body of work she is creating is informed by the isolation she experienced as a single person without a pod during the pandemic; her relationship with anxiety & depression (caused by cPTSD) and self-examination. atiya says that this will be a show for those of us (particularly and especially QT/BIPOC people) learning about and looking into our pasts, so that we may proceed forward with more ease.
WEB: https://www.atiyajones.com/
INSTAGRAM: @_____atiya