From blight to beautifulRevitalizing Westmoreland grants program widens its reach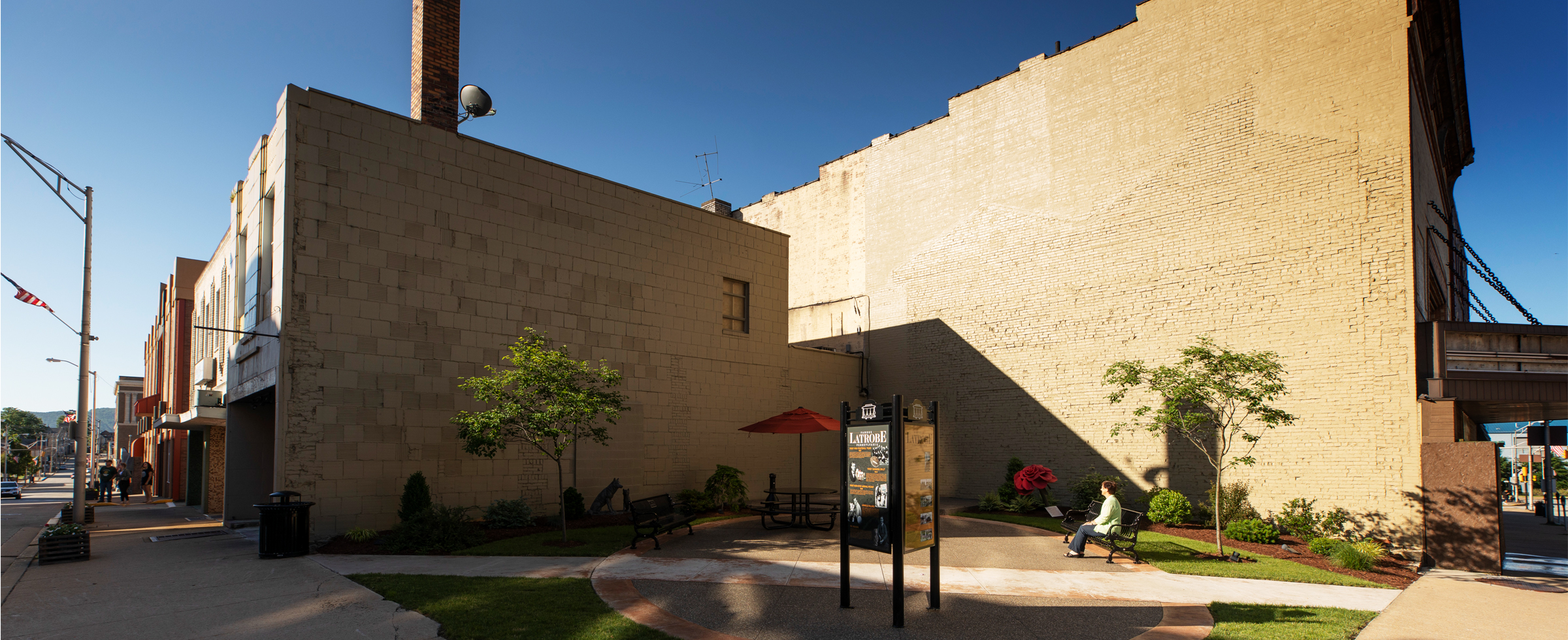 IN 2013, THERE WERE FEW REGRETS from Latrobe residents when a notorious nuisance bar at the corner of Ligonier and Main streets in the heart of the downtown was destroyed by a fire that officials determined was caused by arson. The dirt-covered lot that lingered for several years afterward served as a constant marker of deterioration in a town struggling to recover from a decades-long recession.
"Our vision for downtown was never going to happen with that blighted lot sitting there," says Jarod Trunzo, executive director of the Latrobe Community Revitalization Program.
He describes the end-point of that brighter vision for the community he's worked in for the past three-and-a-half years: a walkable, safe downtown where shops, restaurants and other businesses are thriving.
The journey to make it real began at the front door of The Community Foundation of Westmoreland County, an affiliate of The Pittsburgh Foundation, and Revitalizing Westmoreland, a community grants program devised by the staff and advisory board to assist economically struggling communities in funding projects designed to spur development. Trunzo, recognizing the symbolic as well as the practical advantages of improving Latrobe's blighted downtown lot, applied to the grants program in 2015, the first year of the program's pilot. 
The $25,000 awarded was used to turn the lot into a parklet with grass, a walkway, benches and a table.
"Now, you see people of all different ages there when the weather is nice, eating lunch or just walking," Trunzo says. "And the construction of the parklet showed the community that this revitalization of downtown is being taken seriously."
The project helped spur other improvements in downtown Latrobe, including façade upgrades for neighboring businesses and preservation work on historic buildings.
In its pilot phase, Revitalizing Westmoreland focused on seven cities: Arnold, Greensburg, Jeanette, Latrobe, Lower Burrell, Monessen and New Kensington. To provide for three years of small grants, a $450,000 funding pool was established: Pittsburgh's McCune Foundation, CFWC and The Pittsburgh Foundation each donated $150,000. Applicant cities were required to provide some funding of their own; at least $1 for every $3 in grant funding. As an example, for the parklet project, Latrobe added $8,375 to the Revitalizing grant.
Grants in the first three years went to such projects as the community garden in New Kensington, façade repairs to buildings in Greensburg and Arnold, and replacement of unsafe playground equipment in Jeanette.
"During the pilot phase, we learned what works best and that helped us shape the next three years," says CFWC Executive Director Phil Koch. "Latrobe and New Kensington were the most successful because they consistently collaborated with community members and nonprofits, brought significant additional dollars to their projects and designed initiatives that spurred further development nearby."
As an example, the parklet in Latrobe was designed with the input of nearby business owners. They agree with Trunzo that additional development would not have happened without the building of the parklet. Foundation officials say that the catalyst effect is now what Revitalizing Westmoreland grantmakers look for in applicant projects. Other objectives for the second phase include creating partnerships among municipalities, community organizations and residents; encouraging communities to pursue additional funds for their projects; and supporting development of community plans.
Funders for the next three-year Revitalization Program are The Allegheny Foundation, CFWC, The Pittsburgh Foundation and the McCune Foundation. Each is investing $150,000 for a total of $600,000, or $200,000 annually for grants.
In this phase, any Westmoreland County municipality can apply for funding. Average grants are expected to be about $20,000. To qualify, a project must align with Revitalization Program goals, and applicants must raise funds equal to 50 percent of their Revitalizing Westmoreland grant.
The service purpose of eligible projects also has changed for the next round. In the first two years, programs that focused on human-centered activities such as job training were allowed. Now, only those projects that improve physical assets in communities will be considered.
"After looking back at the first two years, it became clear that projects dealing with infrastructure and other community assets, especially in removing blight — these had a higher success rate and have led to more development," says Koch. "The result is real quality-of-life improvement for communities that need it most."
Original story appeared in Forum Quarterly - Spring/Summer 2018