Crisis Within CrisisCOVID-caused unemployment leaves cupboards bare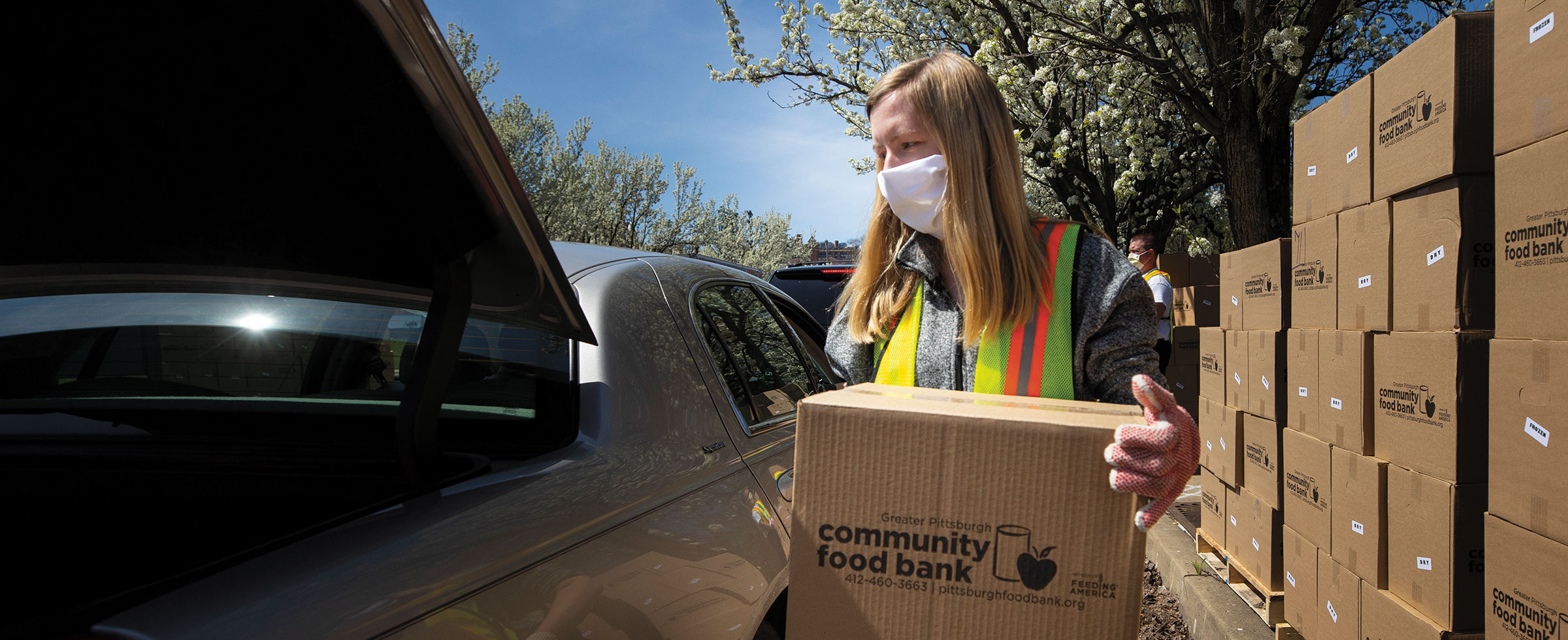 For Curtis Verner, whose 33 years in food service was all about feeding others, the COVID-19 pandemic hit hard. The 53-year-old chef from McKees Rocks was furloughed from jobs with Eat'n Park and the Pittsburgh Airport Marriott, leaving him and his wife short on money in mid-March before unemployment benefits kicked in.
"It took both of our incomes to live in our home," says Audrey Verner, 59.
But they haven't had two paychecks since 2018, when Audrey Verner was laid off from her bank job while recovering from surgery. The pandemic made matters worse. Bills were piling up. "We've had to rely on others, get rid of cable and do the barebones in anything to try to survive."
The couple heard about a Greater Pittsburgh Community Food Bank drive-up distribution at the airport this spring and headed out there. They got two boxes of food and a referral to a food pantry at a church near their home.
They were touched by the sincere helpfulness of the volunteers, Curtis Verner says. "Audrey cried."
The pandemic, which shut down businesses, forcing millions out of work, pushed many southwestern  Pennsylvania families, like the Verners, for the first time in their lives into a state of food insecurity, that is, not being sure if they could get the nutritious food they need. For others, the pandemic worsened chronic food insecurity. Surveys in July showed food insecurity nationally at double pre-crisis levels or, in one survey of households with children, at six times pre-pandemic levels.
The Greater Pittsburgh Community Food Bank was among hundreds of organizations to receive an Emergency Action Fund grant from The Pittsburgh Foundation to help deal with pandemic demand. The Foundation partnered with three other regional philanthropies in March to create the fund in direct response to the unprecedented economic, health and human services challenges created by the COVID crisis.
Out of 313 grants from the fund, more than one-third went to some kind of food program. The food bank, the largest nonprofit food provider in southwestern Pennsylvania, received $100,000.
Since its creation 75 years ago, the Foundation has always focused on helping people with food, housing, health care and other basic needs, says Vice President of Program Michelle McMurray, who also directs grantmaking for the Children, Youth and Families section. In March and April, the Foundation reached out to approximately 40 organizations to ask what was needed.
"Over and over again, food rose to the top," even among agencies working in housing, health care and child care, she says. "People having difficulty meeting one need were having trouble with other needs." For example, she says a home repair organization for older adults transitioned to provide food to those same households.
The increase in demand for food from the Greater Pittsburgh Community Food Bank was dramatic.
"By the week of March 16, we were receiving more than 100 calls a day," says Lisa Scales, president and CEO of the food bank. "Ninety percent of the calls were from people in need of food assistance. In my 24 years at the food bank, I'd never seen such an increase in need practically overnight." Many callers were newly unemployed and had no connections to a food pantry.
Scales notes that the "Get Help" button on the food bank's web site, which directs people to their closest food pantry, recorded 20,000 views in April, a huge jump from the 1,600 views registered in April 2019.
Drive-up distributions, like the one the Verners went to, started on a rainy mid-March day in the parking lot of the food bank's Duquesne warehouse and continued into the summer.
To reach people who can't leave their homes, the Doorstep Delivery program was developed, using volunteers and partnerships with transportation services. Between late March and mid-August, it had made 10,640 deliveries, Scales says. UPS is a partner, giving the food bank a steep discount in prices to ship food boxes to people's homes. ACCESS Transportation Systems makes deliveries with funding from the United Way of Southwestern Pennsylvania. United Way received a $198,650 grant from the Emergency Action Fund to transport food and other essential items safely to vulnerable people, including those who are homebound.
Nonprofits like the food bank, Jubilee Soup Kitchen and Kitchen of Grace transitioned to operate differently during the crisis and are now working to make the changes sustainable as the pandemic continues and needs remain high, McMurray says.
On the North Side, Kitchen of Grace pivoted from a nonprofit offering training in the hospitality industry to a food distribution program after COVID arrived. An Emergency Action Fund grant of $15,000 enabled the organization to hire staff for a large scale meal-preparation operation using the space of its for-profit sister, the Café on the Corner, which closed in March.
Some of the nonprofit's former students who were laid off from jobs saw the need in the neighborhood and organized an assembly line to make meals. By mid-April, the nonprofit was delivering free lunches to hundreds of elderly residents and about 1,000 families with children every week.
"They made it work," Executive Director Lateresa Blackwell says. "It's been a beautiful experience." Another Emergency Action Fund grant recipient, Jubilee Soup Kitchen, in Pittsburgh's Lower Hill District, maintained its focus on providing food and financial assistance for working-poor and unemployed people but had to change the way it served food. No longer able to provide meals indoors due to pandemic restrictions, Jubilee staff now distribute daily hot lunch and dinner as takeout daily.
Being on the receiving end of these services isn't easy, but the help is appreciated, Audrey Verner says.
"It was very hard for me to do this. Call it pride. When I went to the food bank and went to the church…We only wanted to take what we needed."
Original story appeared in the 2019-20 Annual Report.