Women of meansTwo women in fields traditionally dominated by men build a powerful philanthropic legacy.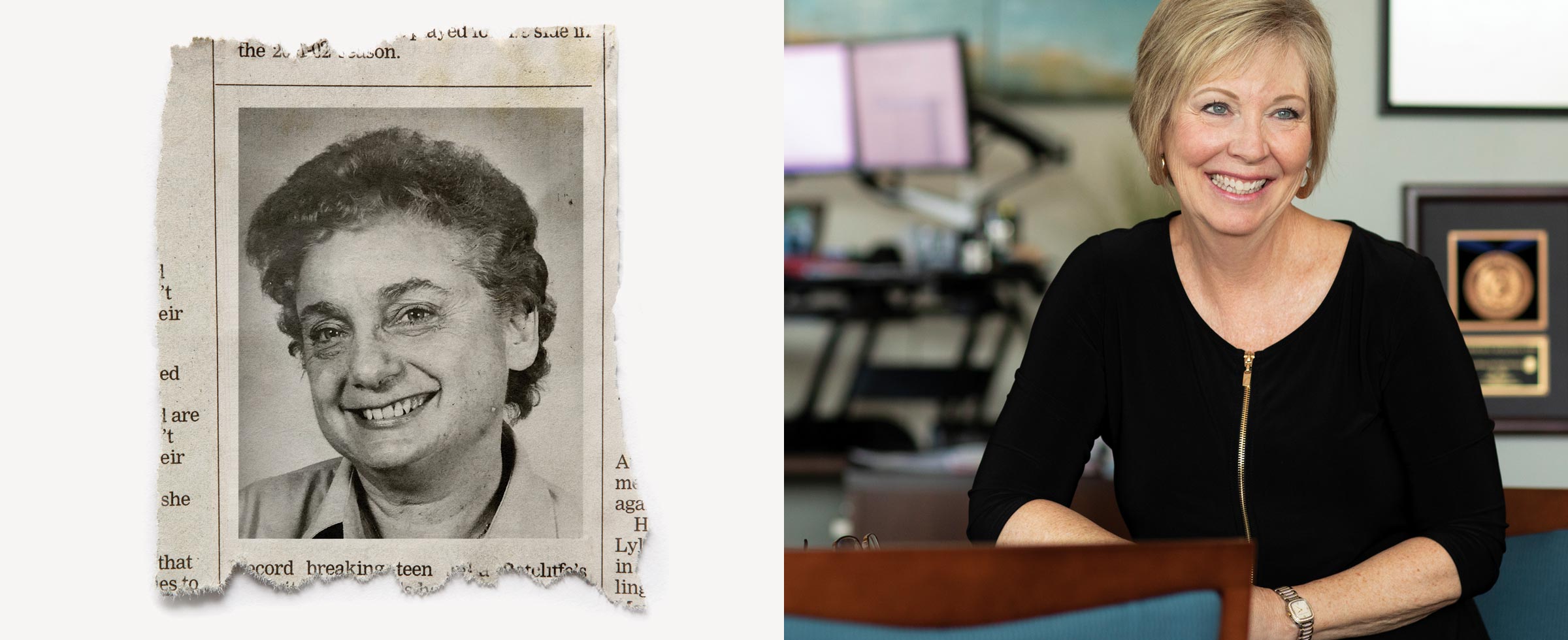 NEWSPAPER REPORTERS' DESKS always have been indistinguishably messy, but that was especially so in the early 1980s, long before emails and social media replaced paper press releases and empty envelopes, notebooks, dried-up ballpoint pens, agency reports and ragged newspaper clippings. There was one desk at The Pittsburgh Press that stood out with cluttered appeal — and that was the desk of the afternoon newspaper's longtime book editor, Sylvia Sachs. Stacks of books sent by publishers and authors competed for space among her scattered papers, with still more books piled on the floor in mysterious groupings, not unlike Stonehenge.
When not at her keyboard pounding out (literally) a feature story or book review, or on the telephone negotiating with publishers for their authors to speak at the Press's quarterly Book and Author dinner, Sylvia would dole out books to hovering reporters with the express purpose of an expected book review in return. The payoff? Keep the book and maybe, just maybe, meet the author. That is, of course, if there was an available seat at the popular speaking event at Kaufmann's Department Store.
It's not that she made this all look easy (she didn't), but Sachs — born only two years after passage of the 19th Amendment giving women the right to vote — had already set a course in Pittsburgh for women, like me, who could now break into journalism outside the traditional society coverage. Her accomplishments came through sheer determination. Yet, Sachs was so surprisingly self-deprecating that you had to peel back the pages to appreciate her trailblazing journey.
Sachs was named book editor 15 years before I arrived at the Press in 1983. She joked that she was tapped for the prestigious position because the top editors knew "I liked to read." And that she did. She devoured newspapers as much as biographies, histories and mysteries that had been her escape from a tumultuous childhood. Her first job after graduating from Taylor Allderdice High School was selling books at Kaufmann's, Downtown. In her own way, she was moving closer to the Press building near Point State Park. By 1956, she was hired at the Press — as secretary to the Outdoors editor. Sylvia, who lived in Squirrel Hill, likely demonstrated her appreciation of the great outdoors because she journeyed on many weekends to her family's cottage in Zelienople.
Over the next few years, she took evening classes at the University of Pittsburgh for her undergraduate degree. Also after hours, she began contributing news and feature stories and book reviews until there was no alternative but to hire her as a full-time reporter.
As the newspaper's presses rolled through the 1980s, Sylvia Sachs put Pittsburgh on the literary map by bringing in hundreds of authors to the Book and Author dinners, which attracted 1,500 attendees for each event. She fretted down to the last detail, including setting up additional television and radio interviews for the authors. A hesitant driver who cajoled photographers into taking her to assignments, Sachs displayed feats of journalistic fearlessness by picking up the authors at the airport and driving them to the TV stations and radio studios.
By the close of the decade, Sachs also took note that the newsroom was filled with an increasing number of women reporters, including the Press's first woman to cover crime;
the first woman sports reporter; a woman who won a Pulitzer Prize; and the paper's first woman managing editor.
After more than 40 years, it was time, she said, to move on from her beloved Pittsburgh Press. It was more of a transition than retirement: She taught adults how to read; she learned chess and played in weekly matches; and she joined a bridge club. Then, when the Pittsburgh Post-Gazette resumed publication after the 1992 newspaper strike, editors persuaded her to once again coordinate the Book and Author dinners. From there, she moved on in 2002 to help establish the Pittsburgh chapter of the Osher Lifelong Learning Institute at Carnegie Mellon University — drawing on her years of reporting to bring Pittsburgh's leaders and celebrities to speak to packed rooms of retirees.
Sylvia was beginning to slow down, but certainly not retreat. She regularly scoured the Carnegie Library and Oakmont's Mystery Lovers Bookshop for her greatest pastime, mystery novels. Books by Anne Perry, Scott Turow, Suzanne Hamilton Free, P.D James, Minette Walters, Ruth Rendell (the list goes on-and-on), crammed her living room's bookshelves and were piled into a version of side tables near her reading chair.
Even as her eyesight began failing, and she became less confident leaving her second-floor apartment, she remained engaged in national and world affairs — and in the women who had been given opportunities because of her. Many of us had become good friends.
Then, in 2007, Sachs found still another way to contribute by designating $230,000 to establish a Pittsburgh Foundation fund for "Pittsburgh cultural institutions and education." She told me, almost as an afterthought. Except it wasn't. I understood by then that she always knew exactly what she wanted — for herself, for her community and for the women who followed her.
LESSONS LEARNED: It's still difficult to recruit women into the field of wealth management. While the number of women in the field has increased in the last 30 years,  there is still a lot of room at the table for them to choose this as a career path.
 
WEALTH OF EXPERIENCE
Sylvia Sachs' longtime financial advisor works to keep the late journalist's mission alive.
AFTER MORE THAN 30 YEARS as a financial advisor, Deborah Sullivan says her clients often become more like family. Such was the case with Sylvia Sachs, whose finances she managed from 1992 until Sachs' death in March.
Feisty, funny, bright and unpretentious are some of the words Sullivan uses to describe her late friend. Sachs was referred
to Sullivan by her previous financial advisor, Ruth Weisberger, who was retiring. At the time, Sullivan was working for Hefren-Tillotson. She is now senior vice president at RBC Wealth Management.
"Sylvia enjoyed working with other professional women, rather than men who might 'talk down' to her," says Sullivan. "She was strong and stubborn, and she had a lifelong love of learning and a desire to help other women succeed."
Helping women and giving to women's causes was a passion the two shared.
Sullivan is a third-party investment manager with The Pittsburgh Foundation and has a donor-advised fund through which she gives to the Women's Center and Shelter of Greater Pittsburgh  and Sisters Place, a housing community for single-parent families who are experiencing homelessness. Sullivan says she looks for any opportunity to steer her charitably minded
clients toward the Foundation.
"Donor-advised funds are a wonderful way for people to fulfill their philanthropic desires," she says. "And, yes, there are tax benefits, but to know that the work being done through funding you've provided is making a difference in someone's life, there's a sense of comfort in that."
Sullivan is modeling her professional life after Sachs', encouraging young women to consider careers in wealth management. She says it's still a male-dominated field and, often, women in college don't consider it as a viable option.
"Even I didn't start out on this path — I started as a biochemistry major looking to be a doctor," says Sullivan. "I thought I wanted to spend my life healing people physically; now I heal them financially. For anyone who cares about and wants to help people, it's a great career."
She was strong and stubborn, and she had a lifelong love of learning and a desire to help other women succeed.
--Deborah Sullivan, RBC Wealth Management
 
Original story appeared in Report to the Community 2017-18