Norine Minion: Endowed with a commitment to equity and justice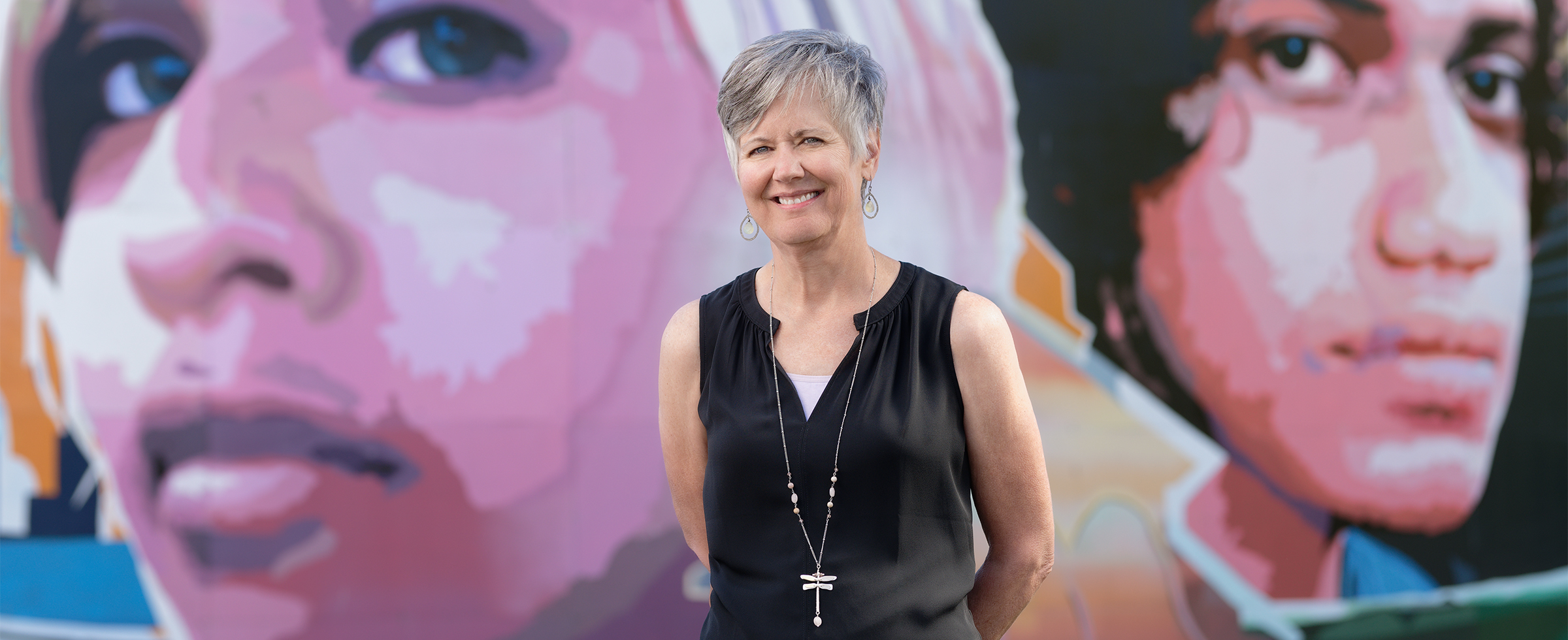 Norine Minion and her husband, Greg, don't believe in second chances. Instead, they believe, as she explains, in "giving everyone a safe, stable, healthy environment with unlimited chances. If you don't feel safe, and are only trying to survive, none of us knows how we would act." Challenging cultural mores and institutionalized injustices underpins her dedication to equity and racial justice — and her connection to The Pittsburgh Foundation. A retired psychotherapist and counselor, Norine volunteers at the Allegheny County Jail through the Hope Foundation as a facilitator for mindfulness and meditation training as well as at the Amachi Pittsburgh program, which matches mentors with children who have an incarcerated parent. In 2018, the Minions put their money where their philosophy is, giving $10,000 to endow the Social Justice Fund, and they continued their giving with $2,000 for the Racial Justice Fund in 2020. "I love Norine," says Vice President of Development and Donor Services Lindsay Aroesty. "She is passionate about equal rights for all. She is cool as can be, cares a whole heck of a lot, and cries every time I see her because she is so passionate about helping others." While Norine does not characterize her work and philanthropy as passions, they are filled with inspiration, optimism and love.

FOR ME, I WOULDN'T DESCRIBE EQUITY, social equality and social justice as passions; they are based in a core belief that everyone deserves a safe and healthy environment in which to learn, play and live, which our country currently is not providing. Because of the inherent inequities in our systems, supported by the distorted and missing pieces of the version of American history that we have been taught, we have built ghettos of fear — urban and rural — where basic opportunities are thwarted. Until we look at how dysfunctionally our society is structured, all of us will continue to pay the price of inequality. It is not too much to ask to have basic needs met and viable education for all. It boils down to respecting each and every human being, no matter their color or life choices.
In 2000, I was visiting family in Pittsburgh, and as I rode to the airport to catch my flight back home to Albuquerque, I noticed a Pittsburgh Foundation billboard. Its caption — "Put your money where your heart is" — resonated with me, as did its image: a ballfield in the Spring Hill neighborhood where I was born. A few months later, my husband, Greg, and I contacted the Foundation to set up a fund: the We Are Family Fund in honor of the 1979 World Series champion Pirates and my love of the team and baseball.
A few years after establishing the fund, I discovered that a scholarship I received at Springdale High School — the Katherine and Emma Uhlinger Trust Fund scholarship — was through the Foundation. It is a scholarship based on need and merit. I would be the first and only member of my family to attend college. My family and I were not sure how we were going to pay for college, and that scholarship not only helped financially, but it was a significant confidence boost that gave me the courage to continue on that path.
After a successful career running my own insurance agency in Albuquerque, I wanted to help others on a deeper level. Giving and volunteering were things I witnessed my mom doing. She was always active in her church and community volunteering. She taught my siblings and me to help those less fortunate than ourselves whenever possible. In 2001, I went to school at Pacifica Graduate Institute in Carpinteria, California, to get a graduate degree in psychotherapy and counseling. There, I was once again inspired by something I saw: a sculpture at the juvenile justice center in Albuquerque of a girl playing baseball. I applied and received an internship there to provide counseling to convicted youth and their families.
Instead of teaching fear when we see someone who may not look or act like us, we need to be teaching how to embrace diversity yet see ourselves in the other. It really is time for us to wake up and realize we are all in this together. 
--NORINE MINION
After moving back to Pittsburgh, we were excited to be more closely involved with the Foundation. In 2017, I attended a Youth Undoing Institutional Racism seminar at the Presbyterian Theological Seminary in East Liberty. I wanted to get the seminar on the Foundation's radar to help with grant money. I shared my experience with Lindsay and Kelly [Uranker, vice president for the Center for Philanthropy] a few weeks later. Those discussions led to a similar seminar for Foundation employees later that year. The seminar spurred the Foundation to offer a juvenile justice giving circle, which I attended. By then, Lindsay and Kelly were well aware of my interest in helping with any programs related to social justice and equality. So in 2018, when the Foundation was launching the Social Justice Fund, they approached us, and we were honored and elated to provide a $10,000 endowment.
Knowing that the Foundation is backing these initiatives, I am very hopeful and trust that positive changes will occur. I am also impressed with [Foundation President and CEO] Lisa Schroeder's optimism, wisdom and concern for the issues at hand. I trust her leadership.
It is very rewarding talking with them. I truly appreciate how open, understanding, eager and hopeful they are. They also are pragmatic. We all understand this is just the beginning of an arduous undertaking. We have over 400 years of racial injustice to undo, so it is going to take time. However, I am excited to see a sense of urgency and priority for programs and funding to help balance the scales of injustice.
Original story appeared in the Forum Quarterly Spring 2021.