Evictions noticedThe Foundation leads a regional initiative to reduce the numbers of people forced from their homes.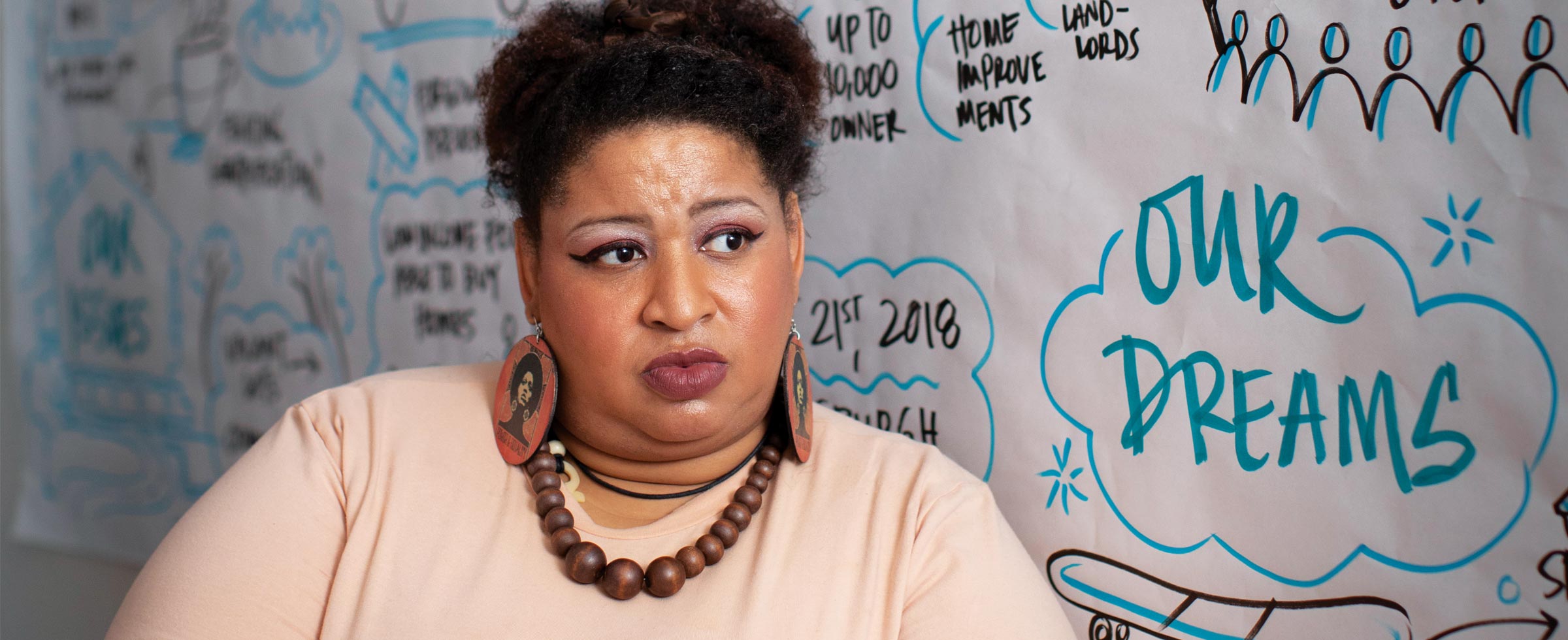 WHEREVER RENTAL HOUSING EXISTS, SO DOES THE THREAT OF EVICTION. From rent-subsidized public housing to top-market urban developments and massive suburban apartment complexes, residents are taken to court about 14,000 times each year in Allegheny County, representing a total of $23 million in unpaid rent.
Who is being evicted, and by whom? What are the root causes? And what are the rippling effects on tenants, families and communities?
These are key questions that The Pittsburgh Foundation has been pursuing as part of a collaborative effort to understand the prevalence, location and impacts of evictions in the Pittsburgh region. Special attention is being given to those most at risk of falling into sustained homelessness, which can lead to a cascade of social, economic and emotional problems. The goal is to use the research to produce a report that will provide recommendations on alternatives to eviction actions.
In 2016, the Foundation sponsored a public lecture by author and urban sociologist Matthew Desmond on his groundbreaking book, Evicted: Poverty and Profit in the American City. Set against the national backdrop of a housing-cost crisis, Desmond's book focuses on Milwaukee to capture the complexity of the eviction problem.
That event spurred Jane Downing, the Foundation's senior program officer for Economic and Community Development, to reach out to magisterial courts, advocates for the homeless, affordable housing experts and others to form a task force to coordinate efforts and understand the effects of eviction.
"Reducing evictions is an urgent matter that needs collaborative, community-centered approaches, with input from tenants, landlords, the courts and other stakeholders," says Downing. It's an issue tailor-made for action under 100 Percent Pittsburgh, she says, referring to the organizing principle that commits the Foundation to providing access to opportunity for the 30 percent of residents shut out of the region's revitalized economy.
"The fear of eviction is so great. You want to fight it, but the power of landlords is so great that people just leave."
--CELESTE SCOTT, Pittsburgh United
One outcome of this collaboration is an Allegheny County Department of Human Services analysis of court-centered eviction actions that shows that 75 percent of cases are filed in the private rental housing market. However, the Housing Authorities of the City of Pittsburgh and Allegheny County file more cases than any other property owner.
The evictions connected to these government agencies are especially important in the Foundation's anti-homelessness effort because they deal with the region's poorest tenants.
Task force researchers Michael Yonas, the Foundation's senior program officer for Research and Special Initiatives, and Rachel Rue of the County Department of Human Services, separated public housing rents from all involved authorities into hundred-dollar increments. They found that tenants paying less than $100 per month — meaning that they were among the most heavily subsidized according to income — were most likely to end up in court.
Most eviction-related cases are filed to force tenants to pay back rent, and of those, the majority are settled, and the tenants remain in their homes. Of the 1,227 cases filed by City Housing Authority officials in 2016, only 142 ended in actual evictions, according to Authority records. There is still a heavy toll for the other 1,085: Eviction filings are recorded on a tenant's rental history, which landlords can use to deny future rental applications.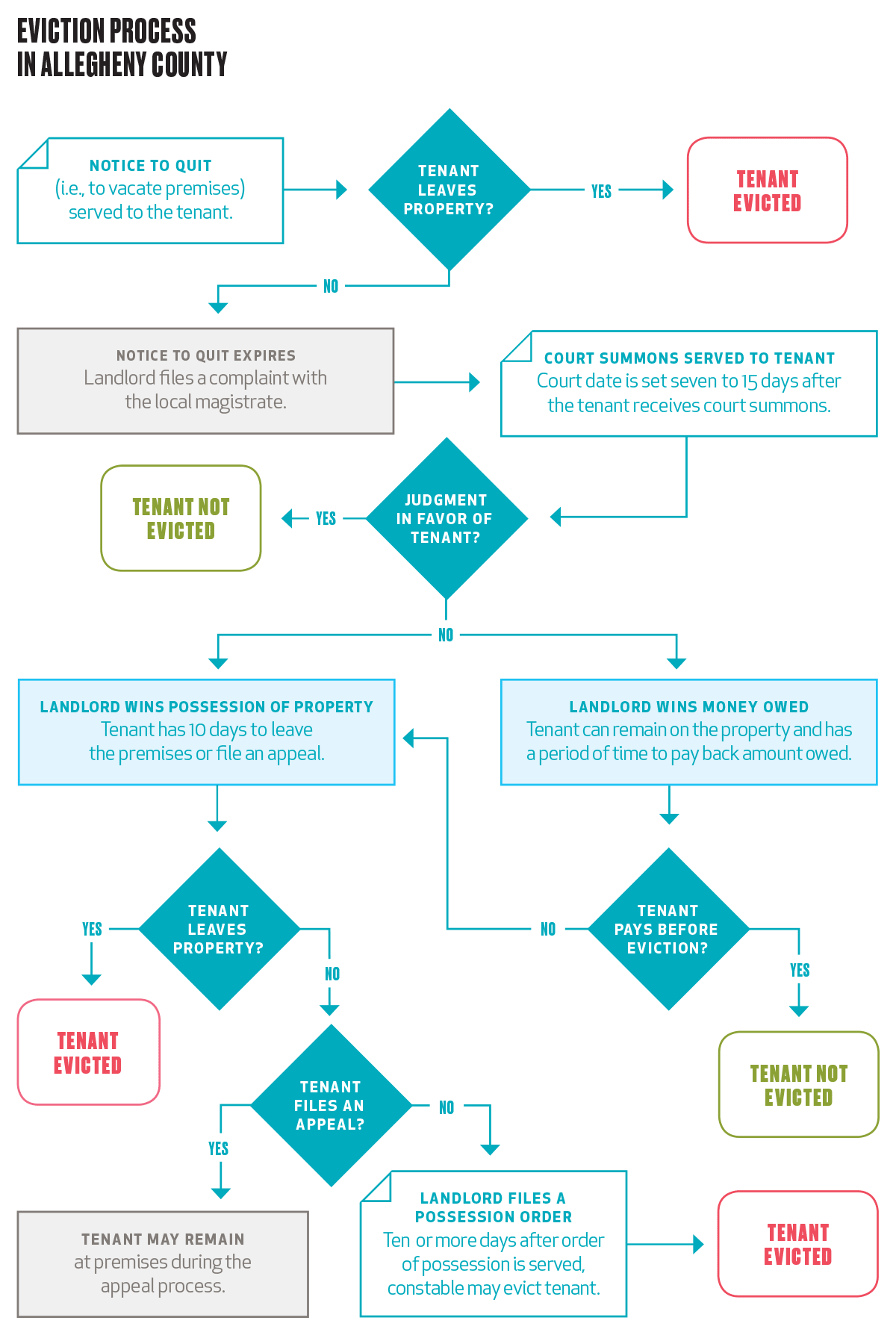 Downing sees the collaborative effort as essential to reducing filings and evictions. Just as important is understanding the situations of the people represented in the numbers. People like Celeste Scott.
Now an affordable housing organizer with Pittsburgh United, Scott has faced years of housing instability. When she left Pittsburgh for college in Maryland in 1993, the public housing complex where she had lived was permanently closed, displacing her mother, who then moved to Maryland to live with her daughter.
Then her mother, who had been paying part of the rent, died. Scott was working two jobs while going to school, but with funeral expenses and other financial obligations, she and her 3-year-old son ended up being evicted for past-due rent.
She returned to Pittsburgh and continued to work, but she and her son were displaced three more times — twice by eviction, and once because the rent for her Lawrenceville apartment nearly doubled. She went to court once to fight a filing, but she lost, as defendants in eviction cases do 85 percent of the time, according to Rue of the County Department of Human Services.
Scott says that even though she was attaining decent wages, "being a black woman raising a child and facing rising housing costs meant I still needed assistance. But you have to become homeless to get it because there is no coordination of services otherwise."
Scott is not alone: Black women are evicted so much more frequently than other groups that in 2014 the MacArthur Foundation published a study called "Poor Black Women Are Evicted at Alarming Rates, Setting Off a Chain of Hardship."
"The fear of eviction is so great," Scott says. "You want to fight it, but the power of landlords is so great that people just leave."
Community Human Services, one of the region's leading housing stabilization, mental health and food assistance providers, helped Scott enter the county's rapid rehousing program, which offers financial help and other support services to get into housing quickly and stay there.
Downing and the task force want to see more people in similar situations find stable housing.
"Our long-standing commitment to fighting homelessness and housing insecurity has enabled The Pittsburgh Foundation to lead this effort," Downing says. "But a meaningful change will only come from the strong partnerships we continue to build." 
Original story appeared in Report to the Community 2017-18