More than their strugglesIncluding everyone in the regional economy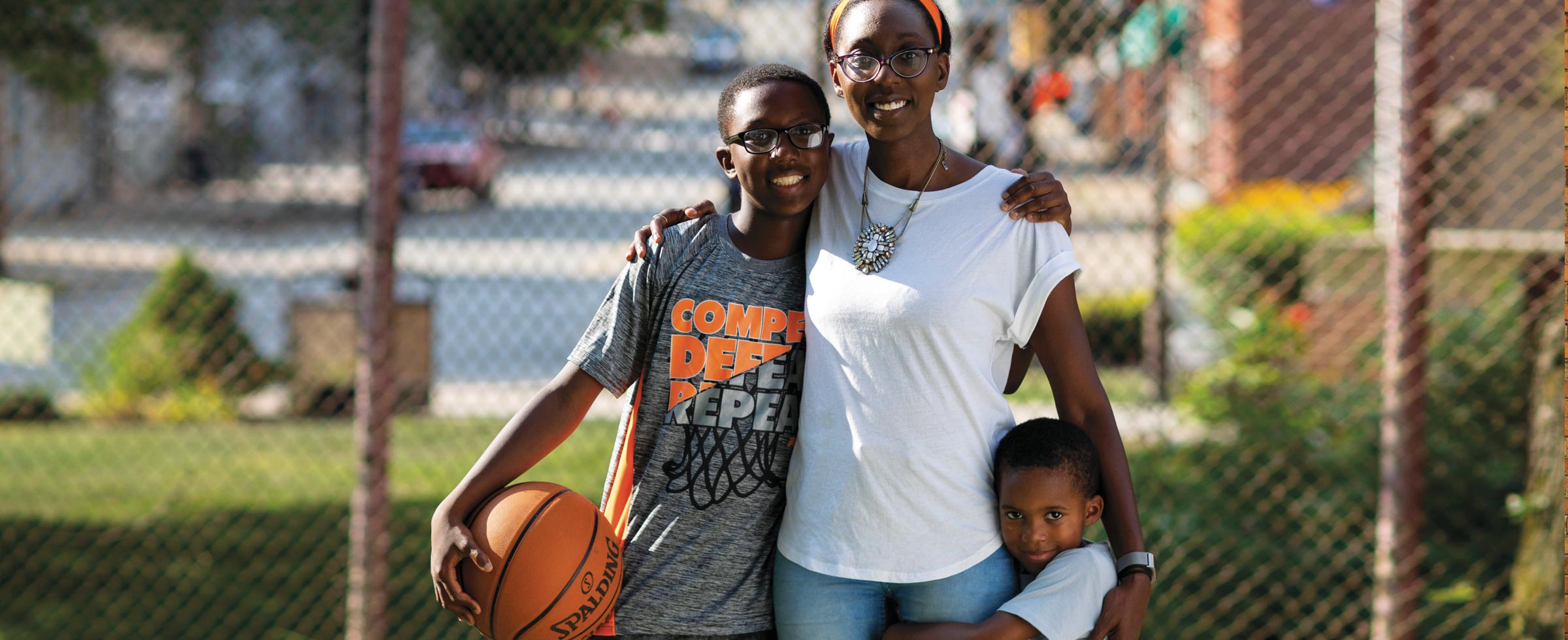 Sounding the alarm last year on the gap between single mother–headed households' representation in the region — 28% — and their representation among households in poverty — 72% — the Foundation is wielding its most powerful percentage to close it: 100 Percent Pittsburgh.
EARLY MORNINGS ARE A BLUR of activity for Brandi Lee. Before she starts her rounds as a community health worker, she rouses her two sons. McKinley, her 5-year-old, heads to Summer Dreamers, a day camp offered by Pittsburgh Public Schools. Her 11-year-old, Aaron, needs to be dropped off at a church summer camp.
"I'm in the middle — not low-income, but not enough to buy a home or a new car," she explains.
Lee is grateful to have found affordable, high-quality child care. Her car is working, and her Brighton Heights apartment, though small, is in a neighborhood where she feels safe. She's been there three years, but now she fears the rent may increase. Her employer provides health care benefits, but the result, she says, "can be a Catch-22. I'm not on Medicaid, but now I have co-pays, or pay out of pocket." She dreads buying batteries for her cochlear implant: replacements cost $250. "I always think I might need that money for a real emergency," she says.
Every working parent knows that the best-laid plans often go awry, but for women raising their children alone, they're often one flat tire, one illness, or one rent increase away from a full-blown financial crisis.
That constant threat looming over many single mothers in the region is one of the motivators for Pittsburgh Foundation staff's outreach to this group. Its 100 Percent Pittsburgh organizing principle dedicates much of the Foundation's grant resources to developing new opportunities for those left out of the region's revitalized economy. As the Foundation's yearlong study shows, single mothers struggle disproportionately.
The January report noted that while only 28% of households in Allegheny County are headed by a single mother, they account for 72% of all families with children in poverty. In Pittsburgh itself, that number jumps to 78%.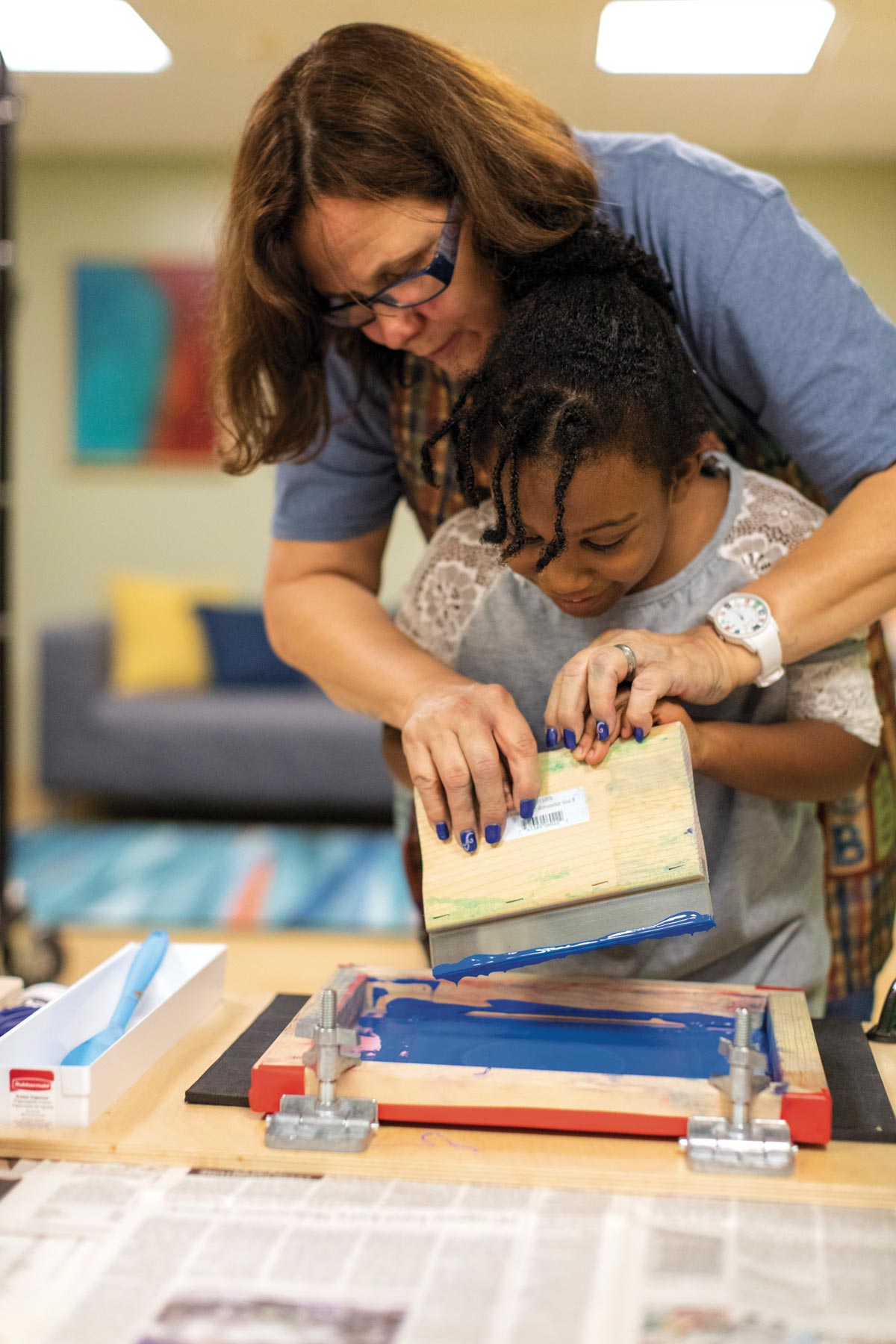 Since 2007, poverty among single, female–headed households in Allegheny County has increased by 9%. But some benefits, such as the $403 a month in cash assistance that an eligible family of three receives, haven't increased in decades. Women who earn minimum wage struggle to afford safe housing. And racial disparities persist: 56% of Black family households are headed by a single mother, compared to 16% of white family households in Allegheny County.
Today, 64% of all single mothers are workforce participants, and 48% have some post-secondary education. Yet, the Foundation's research shows there are still plenty of barriers to advancement:
HIGH-QUALITY CHILD CARE IS SCARCE AND EXPENSIVE
For years, a growing demand among working women for affordable, high-quality child care has outstripped availability. Cara Ciminillo directs Trying Together, the regional early education nonprofit. Ciminillo was one of 17 community leaders who helped guide the Foundation's qualitative research study on the conditions that single mothers face.
"Many single mothers rely on subsidies to afford child care," says Ciminillo, but few state- and county- subsidized spots are available. Among the Foundation's grants in this area is a $75,000 award to North Side–based nonprofit Providence Connections to subsidize the cost of child care for low-income families in its early childhood education program.
RELIABLE TRANSPORTATION IS HARD TO FIND
Commuting shouldn't mean walking several miles to the nearest bus stop. Beginning in 2007, the Port Authority of Allegheny County cut service and increased fares. As a result, half of its existing bus routes vanished. For single mothers, rising rents force them further out into the suburbs and exacerbate transportation problems. The Foundation has approved a $27,665 grant to Allegheny Family Network for shuttle service in Natrona, Natrona Heights, Brackenridge and Tarentum. The three-day-a-week bus provides transportation for single mothers and their children with stops that include grocery stores, libraries and doctor's offices.
A BIGGER PAYCHECK CAN CUT INTO ESSENTIAL BENEFITS
Experts call it "the cliff effect": Even at minimum wage, working more hours can push incomes over federal income guidelines, and the higher paycheck often doesn't make up for the value of supports. This can result in the sudden cutoff of public benefits such as subsidized child care, health insurance, and housing or food assistance.
The Foundation has convened an advisory group of single mothers to ensure that its grant-making and policy efforts offer new approaches. Three grants totaling $210,000 have recently been awarded to organizations focusing on women in poverty: one to the Women's Center & Shelter of Greater Pittsburgh to support emergency shelter and onsite child care; another to Human Services Center Corporation to fund a program that helps women build practical skills for advancing out of poverty; and the third to Bethlehem Haven, a women's shelter, to assist those facing eviction.
"People most impacted by poverty should be at the center of finding solutions," says Michelle McMurray, the Foundation's director of grantmaking for Children, Youth and Families. "When their voices are included, we are more likely to employ strategies that have a better chance of supporting the hopes and dreams of them and their children."
Original story appeared in the 2018-19 Report to the Community.