Food as LifeKitchen of Life feeds a community.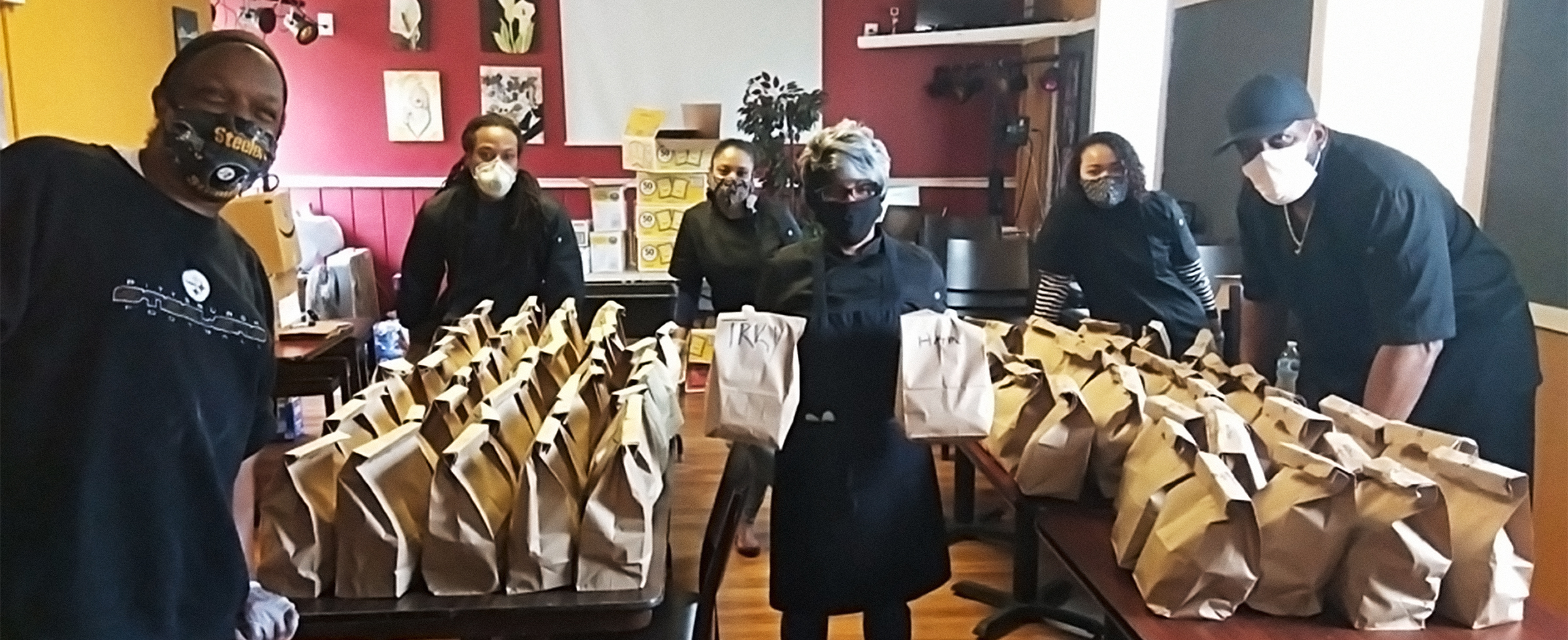 THE GRACIOUS AND LIFE-AFFIRMING ACT of preparing and sharing a meal has taken on new significance during the coronavirus pandemic.
With record numbers of people suddenly unemployed, many have been forced to delay paying bills so they can buy groceries. Food insecurity is compounded by mandatory closures of schools and senior centers that typically provide meals each weekday. Meanwhile, restaurants and workplace cafes that previously bustled with activity have gone dark, forcing laid-off staff to seek food assistance for themselves.
That the restaurant industry has been hard-hit pains Lateresa Blackwell. In 2014, she and husband, Michael, an accomplished chef, transformed a former nuisance bar on Pittsburgh's North Side into a restaurant of their own: Café on the Corner. Two years later, they formed a nonprofit, Kitchen of Grace, in that same space to train young people in the catering and restaurant business as a pathway to successful careers in the hospitality industry. They've trained about 100 young people, many of whom have lost their food service jobs due to mandated closures.
"When people live paycheck to paycheck, they don't have the education required for promotions, so they are in subservient positions that keep them in poverty," says Lateresa. "Our approach is to build a pathway Kitchen of Grace feeds a community.that will lead to post-secondary education, or leadership roles within the food service and hospitality industries."
About 65% of households in Marshall-Shadeland, where the restaurant is located, have incomes of less than $45,000 a year, according to an analysis by the University of Pittsburgh's Center for Social and Urban Research. The Blackwells grew up in low-income neighborhoods — Lateresa in Northview Heights; Michael in The Hill District — and that shared experience has led to a strong conviction to help people transform their lives.
"We give our young people a chance by holding them accountable and teaching them basic skills that some of us take for granted," says Lateresa. "We help participants build life skills so they can succeed."
Coronavirus-related closures forced the Blackwells to rethink how the Café and Kitchen of Grace could survive. With a $15,000 grant from the Emergency Action Fund, they pivoted from workforce training in the restaurant industry to cooking for the community. The grant covered stipends for four staff members — two recent Kitchen of Grace graduates who had lost their jobs, and a single mother and a single father.
Kitchen of Grace is now delivering meals to residents of the Ebenezer Senior Towers twice a week, providing food for households headed by single mothers and delivering basic school supplies to families with young children at home. It's an approach that Lateresa hopes will help people realize that they're not alone.
"John Maxwell [the nationally known author and speaker on leadership] has a quote that I live my life by: 'People don't care how much you know until they know how much you care,'" Lateresa says. "As community leaders and homeowners, we have earned that level of respect and have proven that we care, not just with our words, but our deeds."
Original story appeared in the Forum Quarterly Summer 2020.