No place like homeFoundation support builds strategies to provide services and support to seniors.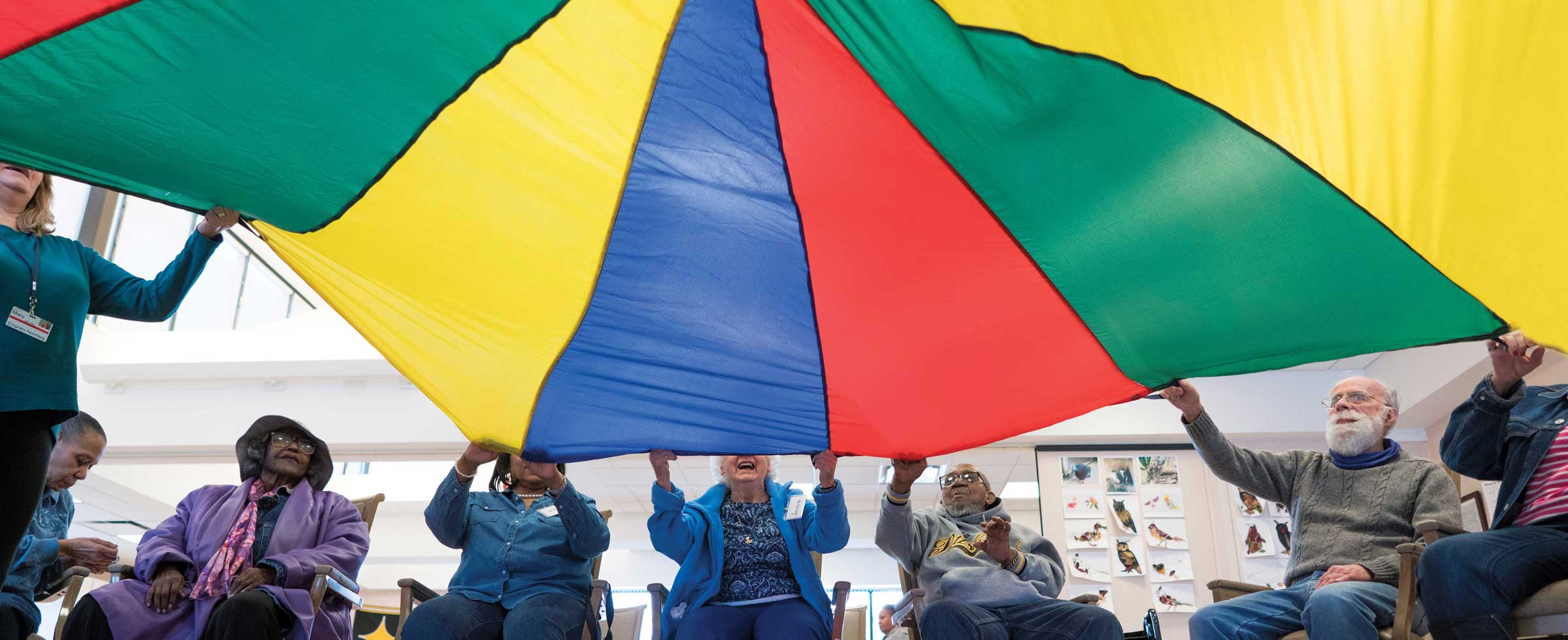 HEALTH INSURERS AND GOVERNMENT PAYERS such as Medicare and Medicaid have a vested interest in lowering the cost of care, especially for older adults. Programs that help seniors remain in their homes rather than going into nursing homes could significantly reduce overall health care costs. But the customized menu of social and medical services that seniors need to age in place has been established more slowly than most would prefer. It's not just medical intervention. Many seniors need a hallway grab rail, daily meal delivery or a substitute caregiver who provides a break for a family member.
A cluster of Pittsburgh Foundation grants is now focusing on local nonprofits that support stay-at-home services across the spectrum of senior care. Historically, scores of the Foundation's donors specified that their funds broadly support programs for the aging, rather than a particular organization. Last year, to more efficiently deploy those funds, the Foundation invited proposals from organizations aiding seniors. The selected projects address home safety and services, as well as caregiver support, data collection and new educational technologies to engage the elderly.
Dr. Jeanne Pearlman, the Foundation's senior vice president for Program and Policy, believes that nonprofit programs create effective care by listening carefully to those they serve.
"It has been my experience that if you ask older people what's most important to them going forward, the most common answer is to stay in their homes," she says. "Lots of conditions are required to make that possible: The home must be safe and accessible. People shouldn't have to choose between paying the gas bill and buying medications, so homes should be energy-efficient. If seniors don't have a primary care provider, they may not have a doctor or nurse overseeing their medications. They may need meals, or transportation or respite care."
But identifying the required conditions is only the first step, says Pearlman. Making sure organizations "have the capacity to provide what people need" is essential to realizing the goal of allowing seniors to age in place.
Home Safety: When Carol Budzik inventoried the repairs needed at her Sharpsburg home last year, the list was overwhelming. The home in which she and her husband, Jim, raised four children needed a roof, a furnace and new flooring. "When it rained, water was coming in the attic ceiling," she recalls. "I knew the roof needed to be fixed, but I couldn't afford all this. I made phone call after phone call [for assistance]."
Finally, she found Rebuilding Together Pittsburgh, which recently received $100,000 in support from the Foundation. The construction team provided free upgrades that keep the Budziks' home comfortable and safe.
Guaranteeing Services for All: The Jewish Association on Aging provides comprehensive supports for nursing home residents and other clients across the city. The faith-based organization "serves everyone, regardless of ability to pay — we have a diverse clientele," says president Deborah Winn-Horvitz. Each year the agency's Benevolent Care Fund defrays costs for social and health-related services, ranging from Meals on Wheels to adult day care and nursing home care. A recent $75,000 grant from the Foundation supports the fund, which provides almost 10 percent of the association's overall operating budget.
Caregiving: Not forgotten in the push to keep seniors at home is the critical role of the caregiver. FamilyLinks' Caregivers First Initiative, which received $75,000 from the Foundation, is a free service that helps caregivers manage stress and learn strategies to cope and care for themselves. The program has already aided 143 caregivers and has been honored nationally.
Following individual caregiver assessments for depression, burden and self-care, each caregiver receives a series of in-home therapy sessions and case management services to coordinate care. A second screening and assessment is conducted within six months. The program also includes follow-up phone calls, and options for support groups as well as connections to transportation and respite.
High Tech, High Touch: While technology has been applied to revolutionize health care delivery, it has been slow to engage older patients. The Foundation's $75,000 grant to Presbyterian SeniorCare Network regional locations supports in2L, (It's Never Too Late), a picture-based, touch-screen interface that allows users to simply "touch" their way to educational, spiritual and personalized content. Technology is available for elders with a wide range of physical and cognitive abilities. Even those who have never used a computer are now enjoying technology, with systems adapted especially for them: using email and web cams to connect with family and friends, enjoying mind-stimulating activities,
or improving hand-eye coordination as part of a rehabilitation program. 
Coordinating Social and Health Services: Comprehensive Care Connections (C3) is now coordinating the transition for the state's Agencies on Aging to a new managed care model. The new program customizes services for clients, who choose the providers to help them stay in their homes, or to return home with support after a stint in a hospital, nursing home or rehab.
"The promise for this approach is coordination of social services with health care services. Historically, the two are siloed," explains Executive Director Paul Cantrell. "This aligns everybody and should help participants." A $75,000 grant from the Foundation will ease the transition.
C3 contracts with a wide variety of health system payers, and ensures that all providers meet best-practice standards. Sophisticated data collection underpins quality assurance; system users can measure progress toward systemwide goals, such as a reduction in hospital readmissions within 30 days.
"We're working to collect and analyze data with researchers," Cantrell says. "We're also looking for clues as to who may need social services because of a health event, like an ER visit or a fall. It's a broad system, and it can be hard for one person to see it all. But the flip side of that is the advantage of having everyone, social and health sides, in the same system, and the ability to use data analytics."
THE FRAYING SAFETY NET AND THE SAVINGS SHORTFALL

Long marked for having one of the oldest populations in the country, southwestern Pennsylvania has already confronted the challenges of providing care and support to the elderly. But the price of longevity is inexorably rising, for both individuals and health care payers.

Medicare expenditures nearly doubled from 2006 levels to $675 billion in 2016. Despite policies that have shifted costs away from expensive inpatient stays to outpatient solutions, the trajectory is grim: By 2047, Social Security and the major federal healthcare programs, principally Medicare and Medicaid, will consume two-thirds of all federal spending, up from 54 percent now. Consequently, congressional leaders have targeted the programs as part of looming entitlement reforms.

While such cuts would be devastating to many, they aren't the only threats. Medicare does not cover nursing home care except for limited stays after a hospital admission, and doesn't pay for most in-home care. Medicaid is restricted to covering only the indigent, so couples with more than $3,000 in assets are generally ineligible. That leaves many families facing huge out-of-pocket costs. Increasingly, it's paying for long-term care that's more likely to bankrupt the middle class.

Americans' savings haven't caught up with their life spans. Half of us have no retirement savings, while the rest of us average only $100,000. Although nearly 70 percent of people age 65 and older will eventually need some type of long-term care, few families can afford the estimated $100,000 bill for a year in a nursing home. For most people, long-term care insurance policies are prohibitively expensive. That leaves families frantically searching for free and low-cost aid.

When an aging spouse or parent needs care, the burden usually falls on the closest family member. Even if a caregiver can juggle those responsibilities with a paid job, the personal toll is high. In 2016, for example, those who took care of loved ones with dementia provided an estimated 18.2 billion hours of unpaid assistance. 
Corrections published Apr. 4, 2018: Presbyterian SeniorCare Network's name was listed incorrectly and Deborah Winn-Horvitz's last name was misspelled in the original story.
 
Original story appeared in Forum Quarterly - Winter 2018