Reckoning and ResilienceFoundation responds to upheaval in year of COVID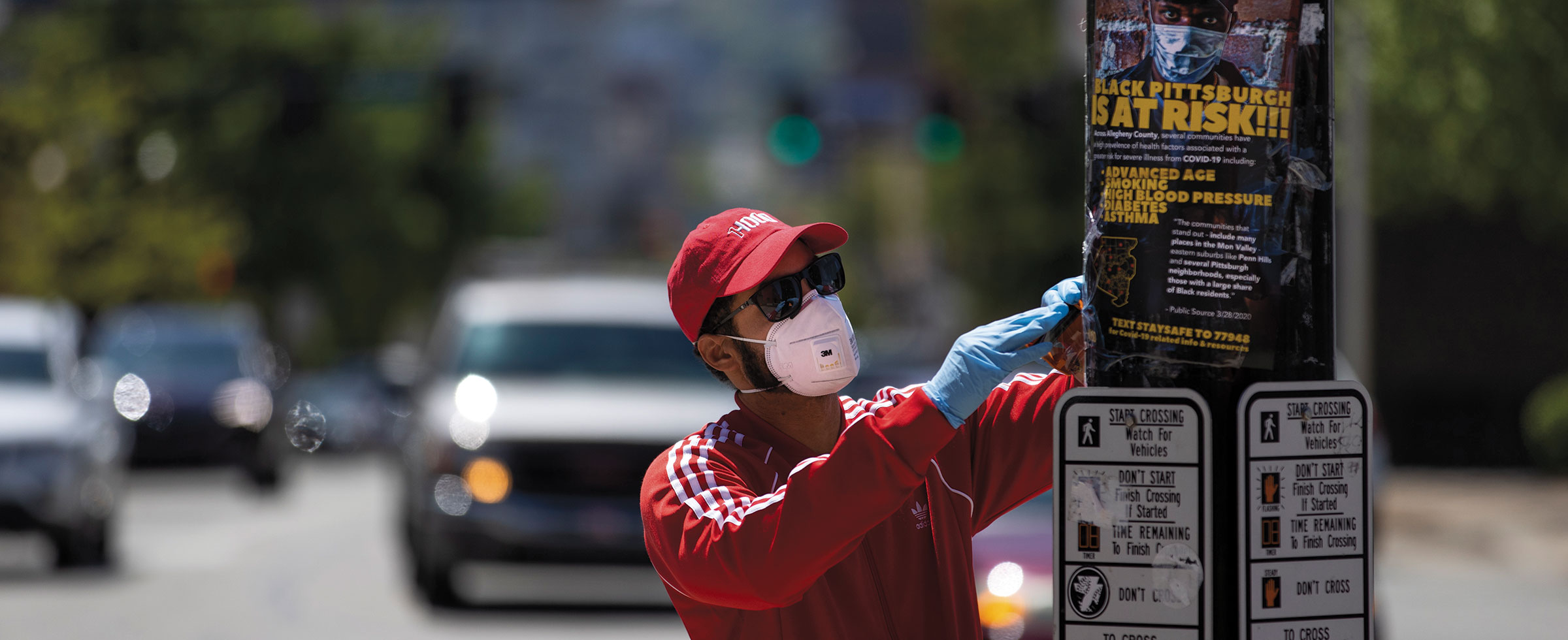 It was mid-morning on March 4, a date recorded on the old calendar, the one that southwestern Pennsylvania families had been using to schedule the big life events of the spring and summer — Maggie's wedding at Heinz Chapel, Cliff's summer football camp at Penn State, Aunt Jackie's 80th birthday party at the fancy Mt. Washington restaurant.
It was the B.C. (Before COVID-19) calendar. The schedule of our lives before the virus swept into the region, before the public health lockdown, before the economic shutdown.
News reporters were still tied to that B.C. calendar on March 4 as their cellphones buzzed out reminders of the 10 a.m. press conference to announce the new director of the Allegheny County Health Department.
As they straggled into a cramped conference room, County Executive Rich Fitzgerald, Health Department Board Chair Dr. Lee Harrison and the two leaders of the search committee, Pittsburgh Foundation Board Chair Dr. Edie Shapira and Heinz Endowments President Grant Oliphant, were beaming. Their group had enthusiastically chosen Dr. Debra Bogen, a physician, educator and administrator in the Department of Pediatrics at UPMC Children's Hospital of Pittsburgh.
At the press conference, Bogen cited the disproportionately high mortality rates for Black infants and said eliminating that disparity would be a priority.
Questions centered on air quality, a hot-button issue in the six-year term of her predecessor. There were only two questions on COVID — referred to by one reporter as an "outbreak." That week, only two cases had been identified in the New York City area and none in the Pittsburgh region.
A week later, the questions coming at Bogen were all about COVID. By then, health officials had 5their first confirmation of coronavirus transmission inside Allegheny County and cases were mushrooming in New York. Bogen and public health experts reviewed infection-rate models developed at Carnegie Mellon University and were confronted with nightmare predictions of overwhelmed health care systems in Italy and New York City.
"It was very frightening, the most worried I've been about the safety of our community," remembers Shapira, a member of the Health Department Board and a retired psychiatrist. "But what calmed me was a county chief executive who kept saying over and over 'I need the best, professional medical guidance so I know what to do,' and we had a very strong leader in Dr. Bogen, who was willing to start her new job six weeks earlier than planned."
" It was very frightening, the most worried I've been about
the safety of our community."
--Dr. Edie Shapira
Chair, The Pittsburgh Foundation Board of Directors
On March 15, with more local transmission confirmed, Bogen and Fitzgerald appeared ashen-faced and somber in a hastily produced video. They called for the closure within 24 hours of all non-essential businesses in the county.
That was the last day for the B.C. calendar. The traditional markers of time and routine evaporated as the region joined other sections of the country to shelter in place.
For public health officers, politicians and community development leaders such as those in local philanthropy, COVID upended grand plans for the year. The singular focus instead would be figuring out how to minimize sickness and death while holding together the delicate threads of the local economy.
At The Pittsburgh Foundation, 2020 was supposed to have been full of celebrations for a milestone birthday — 75 years of community philanthropy devoted to improving quality of life in the region. But with COVID's arrival, birthday commemorations were jettisoned. President and CEO Lisa Schroeder shifted the Foundation into emergency response mode. Her immediate goal, she told staff and community partners, was "raising as much money as possible to send out as quickly as possible."
The Foundation-managed Emergency Action Fund was established March 16 in partnership with the region's three largest private foundations, a week before shelter-in-place orders from Gov. Tom Wolf went into effect for most of Pennsylvania. Within three months, $9 million was raised and granted out to 313 nonprofits responding to the health and economic fallout.
"It was a privilege to be in a position to do that service," says Schroeder. "But there is no foundation manual for responding to a community in the grip of a pandemic and the other crises that have surfaced. This past year has been about making the best possible funding decisions with information available in the moment and then adjusting as we learn."
For example, when it became clear that COVID cases would not follow early models that predicted strain on hospital systems, the foundation community shifted from supporting public health and human services operations to assisting communities devastated by the collapsed economy.
In July, the jobless rate across the region's seven counties was 14.3%, nearly three times what it was in January. Across the state, 3.3 million residents — 40% of the total workforce — filed for unemployment benefits. Layoffs hit harder in majority Black communities. A study by University of Pittsburgh economists found Black workers in Allegheny County lost their jobs at a rate three points higher than white workers.
The disease and the shutdowns exacerbated  existing wealth and health inequities. By mid-summer, Black residents, who represent 13% of Allegheny County's total population, accounted for 27% of positive cases, 31% of hospitalizations and 20% of deaths.
Those percentages align with state figures, and in large cities across the country, the disparity has been worse. Chicago, for instance, reported that Black residents made up more than 70% of the first wave of COVID deaths.
As if that weren't wounding enough, another racial disparity carrying deadly consequences sent shockwaves through the country on May 25 when a white Minneapolis police officer knelt on the neck of a handcuffed Black man until he died. Videos of the killing of George Floyd inflamed millions of Americans and provoked months of protests in cities nationwide, including Pittsburgh.
The videos awakened many white Americans to police violence that their Black friends and neighbors had been experiencing for generations. They were followed quickly by several others of police officers killing or maiming Black men. Many white allies joined the Black Lives Matter protests across the country.
"The velocity of the collective national willingness to acknowledge anti-Black racism has been unsettling. Eerie," Pittsburgher Damon Young, co-founder of the website "Very Smart Brothas," wrote in a June essay for Time magazine. "What feeling other than a deep and paralyzing disorientation are we supposed to possess when NASCAR — NASCAR! — decides to ban the Confederate flag from its stadiums? My first thought when hearing about that? 'Well, I guess there must be two NASCARs.'"
In cities like Pittsburgh, the protests have morphed into a movement calling on societal power centers to take concrete action to save Black lives.
"We believe that the time for talking is over," nine Black women of The Pittsburgh Foundation's staff wrote in a statement the week after Floyd's death, decrying police killings of Black Americans. "It is long past time that we collectively and unapologetically do the work of racial justice in our homes, in our communities, in our workplaces and in our philanthropy."
While addressing racial inequities has been part of the Foundation's work for at least the past 50 years, the entire philanthropic sector is acknowledging that many past strategies have not been direct enough in challenging systemic racism, especially in terms of economic justice.
As a first step in its recommitment, the Foundation's staff and Board established the $1.5 million Grantmaking for Racial Justice Fund to provide grants quickly to organizations that are led by and serve people of color. As part of their internal work, all Foundation employees have participated in extensive diversity, equity and inclusion training and developed five new organizational values, with Racial Justice joining Accountability, Collaboration, Community and Trust on the list. (For more on the actions the Foundation took on racial justice, read Funding for Equity.)
With the racial reckoning occurring against the backdrop of a life-threatening pandemic, record unemployment and economic devastation, the story of this past year could be unprecedented in its bleakness. In fact, just before Thanksgiving, new COVID cases spiked across the country, including in Pennsylvania and Allegheny County, and death rates set frightening new records.
Through it all though, the vast majority of Pittsburghers have persevered. They stood strong and stood together, showing empathy for neighbors and essential workers.
The Pittsburgh story of 2020 includes Stephanie Carleton of Wilkinsburg, who sent her $1,200 stimulus check to the Foundation's Emergency Action Fund with a note: "Please use it to help those who are suffering," and Andrew Pritchard, a Central Catholic sophomore who, after noticing that health care workers' ears were being rubbed raw from continuous use of facemasks, used a 3D printer to create ear guards.
It includes Pittsburgh Penguins President David Morehouse, who led peaceful protestors in rescuing a KDKA-TV photojournalist as he was being beaten by violent demonstrators during a May 30 march Downtown, and Evelyn Castillo of Squirrel Hill who organized Illumination Ovation, a light-up night event that had Downtown office towers, sports arenas and city and suburban homes illuminating their support for essential workers.
And it includes Troy Hill restaurant owner Don Mahaney, who turned his Scratch Food & Beverage from upscale eatery to a pay-what-you-can takeout operation and delivered meals to vulnerable groups, and scores of UPMC Presbyterian Hospital health care workers who joined Oakland street protests in their white lab coats and scrubs the week after George Floyd's death.
These stories helped us mark time and progress this past year, and they will serve as guides when, with the help of vaccines, we move to the A.D. (After Disease) calendar. There will be notations of better therapies and inoculations. For The Pittsburgh Foundation, there will be notes marking renewed commitments to economic recovery and ending racial inequities.
The Foundation's report to the community details the trials of the past year that led to those commitments. It also provides fresh evidence of the region's historical character trait of resilience — perhaps best described on a T-shirt in the window of Steel City Clothing Co.'s Downtown store when COVID shut down the city: "Tough times didn't break us, they made us."