Deconstructing the housing dilemmaAffordable Housing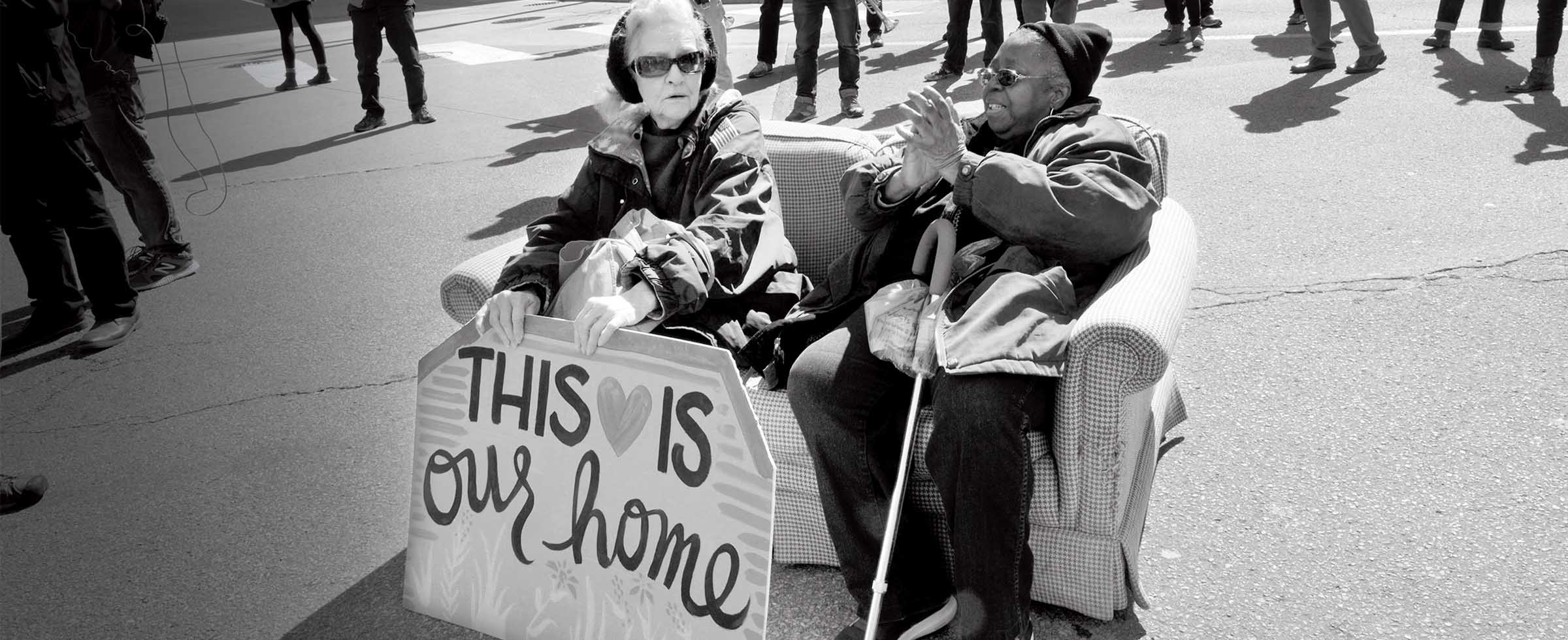 "SHELTER," says The Pittsburgh Foundation's Jane Downing, "is one of our most basic needs." As senior program officer for Community and Economic Development, working for decades on affordable housing and related issues, she knows its importance all too well. About 11,000 people each year encounter some aspect of homelessness in Allegheny County.
"Housing insecurity can happen to anyone," she explains. "Loss of a job, death of a partner, an accident, unexpected hospital bills — any of these might lead to a missed rental or mortgage payment that could trigger eviction or homelessness." 
A graduate of Bates College and the University of Pittsburgh's Graduate School of Public and International Affairs, Downing served in the Peace Corps early in her career. She then landed a position in the Planning Department of Pittsburgh's city government, and rose through the ranks to eventually become the department's director under Mayor Sophie Masloff.
She joined the Foundation in 1994, where she has addressed homelessness through a variety of projects and significant initiatives, including: funding of pre-development work for ACTION-Housing to convert the McKeesport YMCA into a supported housing community for mainly homeless men; supporting a homeless
veterans development in Garfield; and devising regional housing legal services specific to the Pennsylvania Housing and Finance Agency. She has been on the Allegheny County's Homeless Advisory Board for more than a decade.
Housing insecurity and homelessness are both causes and effects of poverty. The Foundation's 100 Percent Pittsburgh organizing principle acknowledges that Pittsburgh's recent surge in economic activity has not benefited all of the region's populations. Thirty percent of Pittsburgh's residents are subsisting at 200 percent of the poverty level or less, and these are the populations likely to be left behind or even harmed by recent growth. Or they may simply struggle to stay afloat in stable markets. This convergence of factors makes the Foundation's focus on housing insecurity more relevant than ever.
In 2016, the Foundation sponsored a Pittsburgh Arts & Lectures series talk by Matthew Desmond, whose best-selling book, "Evicted," gave accounts of eight Milwaukee families struggling at the threshold of homelessness. The event gave renewed visibility in Pittsburgh to issues that Downing has worked on over the years and sparked the formation of a task force to study and formalize processes of eviction prevention and homelessness.
Last May, the Foundation held as part of its Explore Series of symposia "Private Development, Affordable Housing, and Neighborhood Identity," an event featuring several speakers who discussed the challenges of homelessness and eviction prevention, and outlined ongoing potential solutions.
Speakers at the event noted how rising rents and sale prices have led to displacement of lower-income individuals and families, including those who lost their homes when the Penn Plaza apartments in East Liberty were demolished to make way for new development that would include a new Whole Foods Market. Whole Foods, responding to public outcry, has since pulled out of the development. While Pittsburgh's most acute gentrification issues are largely confined to a few rapidly redeveloping neighborhoods, advocates worry that, without a long-term strategy in place, their communities could become the next East Liberty or Lawrenceville, two formerly working-class neighborhoods that lower-income people now struggle to afford. The challenge, says Larry Swanson, executive director of ACTION-Housing, "is to make sure we develop affordable housing in many ways and remain an inclusive community."
THIS IS AN EFFORT TO GET EVERYONE ON THE SAME PAGE TO END, THEN PREVENT, HOMELESSNESS AND SEE IF WE CAN USE FUNDING RESOURCES IN A COORDINATED WAY…TO PARTNER WITH GOVERNMENT AND FIGURE OUT HOW TO MAKE THINGS BETTER.
- Jane Downing
Abigail Horn, coordinator for homelessness services at Allegheny County's Department of Human Services, says homelessness can be a problem anywhere. "Some people become homeless directly due to an eviction or a foreclosure or to informal eviction, not going through any court proceedings, but leaving their home because they can't pay their rent or had some other issue with the landlord."
The expense of housing can also be unreachable for many on an ongoing basis. Adrienne Walnoha, CEO of Community Human Services, observes that in today's economy housing costs are outpacing income. "So here in Allegheny County, the income that you need to afford a moderately priced two-bedroom apartment is $15.90 per hour. Minimum wage on the other hand is $7.25 an hour."
Evictions, whether formal or informal, present a more pervasive threat to housing stability.
"Over the last six years, an average of 13,700 evictions were filed by landlords annually," Downing says. "Some are withdrawn. Some tenants pay the rent." But the filings are a key indicator of housing instability.
Downing states that the goal is "to end and prevent homelessness in Allegheny County by 2020, meaning that if housing insecurity occurs, there are systems in place to ensure that it is rare, brief and non-recurring."
She understands that the timetable seems especially ambitious, and to be successful, "It is going to take all of us to do this."
To facilitate that collaboration, Downing convened an Eviction Discussion Group last December, gathering 30 housing and homelessness providers, lawyers, advocates and researchers from Allegheny County.
Since then, the group has continued to convene to collect and share data that ultimately will inform solutions. "This is an effort to get everyone on the same page to end, then prevent, homelessness and see if we can use funding resources in a coordinated way," she says. "To partner with government and figure out how to make things better."
Find more information and statistics in the Report to the Community 2016-17.
Original story appeared in the Report to the Community 2016-17