Honoring the memory of SarahA family revises a fund's purpose to make meaning from loss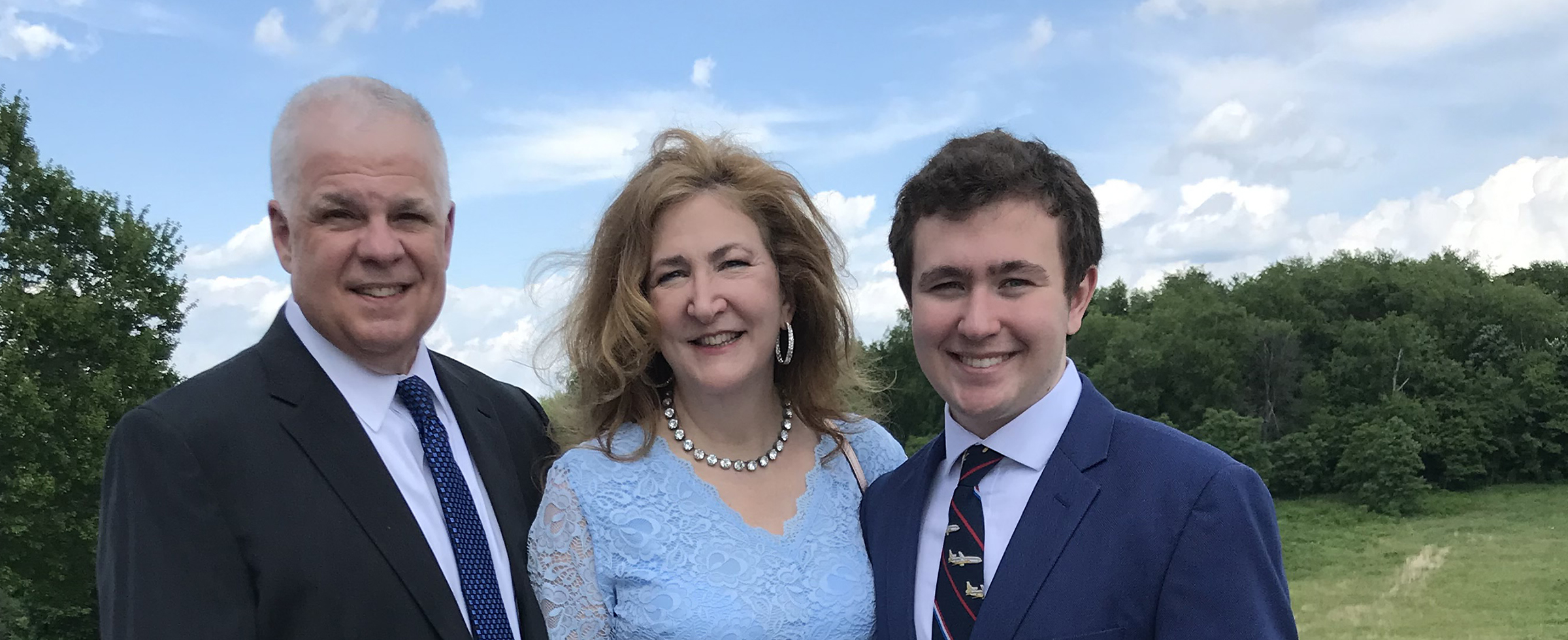 For those who have experienced great loss, a donor-advised fund can provide an avenue for honoring the memories of those who have died. That was the case for the Hrivnak family. We spoke with Charlene Hrivnak about the fund she established in 2000 with stock options prior to marrying her husband, Rich. Later, their son, Richie, became deeply interested in philanthropy and the couple renamed the fund the Sarah A. Hrivnak Memorial Fund in honor of the baby sister who died before Richie was born. Here is their story as told by Charlene.
 
It must have been around 1998, when I was at a seminar for work. The speaker asked: If you could be anything in the world, what would you be? I realized that I wanted to be a philanthropist. I didn't have millions of dollars, but I had some stock from my company. I began doing my research and realized that, over time, I could put together a nice fund through the Foundation.
I met my husband, Rich Hrivnak, and we got married in 2001. Our son, Richie, was born a year later. My husband's first wife, Pam, and daughter, Sarah, died in a car accident in 1995 on the day after Thanksgiving. Sarah was just 13 months old. It occurred to me that I could change the purpose of the fund as a gift to my husband before our wedding. Working with the Foundation's donor services team, we renamed the fund the Sarah A. Hrivnak Memorial Fund in 2001.
The fund has become a way to do something good for others. Our son, Richie, is a very empathetic and kind person. When he was four or five years old, he said something that rocked me to the core. He saw a photo of Sarah and began crying, saying he missed her. He is an only child and never got to meet her. He was just so sad that he had a sister in heaven he never got to know. He's been involved with the fund since he was around five years old, and it's been clear from the beginning that Richie will perpetuate this fund when my husband and I are no longer around. [story continues below photos]


Sarah Hrivnak in 1995.


Richie Hrivnak's graduation photo.
Class of 2021, Central Catholic High School.
The fund has connected him to Sarah and the world. Some people say that only children are more selfish, but it's the opposite with my son. He's a generous and caring person who is always thinking of others. He recognizes that not everyone has money but can give in other ways, so he organizes food drives or toy donation drives. The way he describes it, it's not that he's having a food drive, but that Sarah's fund is having a food drive. It's a way of knowing and giving glory to his sister and God.
We would run a Toys for Tots drive the first Saturday in December. We would donate to our church. The causes change year over year. In his senior year at Central Catholic, he was student director of the food drive. That was right at the height of the COVID pandemic. Richie was worried that people might not give because they had already given in other ways. But they had more donations than ever before.
Our fund was small when it was established, but over the years, our family has contributed through United Way through our paychecks. Our son organizes fundraisers and drives for the fund, and we then give from the fund to these causes. So far, Sarah's fund has made $14,000 in grants and raised $57,000.
Richie is 19 now and just finished his first year at Western Michigan University where he's studying aviation sciences. He recently organized a food and donation drive for the food bank where he volunteers in Kalamazoo. He raised $1,600 in addition to food donations.
When we were rededicating the fund, we considered making it a scholarship fund, but decided on a donor-advised fund because there were fewer rules and limitations. A donor-advised fund makes it easier on our son because it provides flexibility to give to what is inspiring or most important at that moment. Both of his pappies served in the military, so we've honored veterans by giving to Soldiers and Sailors Memorial Hall and Museum. We've also given to Central Catholic, Make A Wish Foundation and the Pittsburgh Youth Chamber Orchestra.
It's also a way to give as a family. We meet in October, the month when Pam and Sarah were born, and talk about what's important to us. We also go through the Wish Book as a family. The Wish Book stories are amazing and, even though we cannot pick all of them, there is such a range -- women's needs, children, anti-violence -- that we always find something that speaks to us.
If I could offer advice to others who are interested in philanthropy it would be to consider stock donations. If you work for a big corporation, almost all of them offer an employee stock program, where you can buy the stock at a discount. Then, you can donate the actual stock to the Foundation. You as the donor don't have to pay any capital gains and you can establish a fund worth more than you might have been able to do in cash.
The death of a child is particularly painful because you don't have the comfort of knowing they lived a long life. Sarah was important and deserves to be known. It was as important to me to honor Pam. By rededicating the fund in their daughter's name, we also honor her mother and remember her, too. Sarah had endless potential. She'll still be able to have that endless potential through the fund.