Advocating for the VulnerableSpurring Change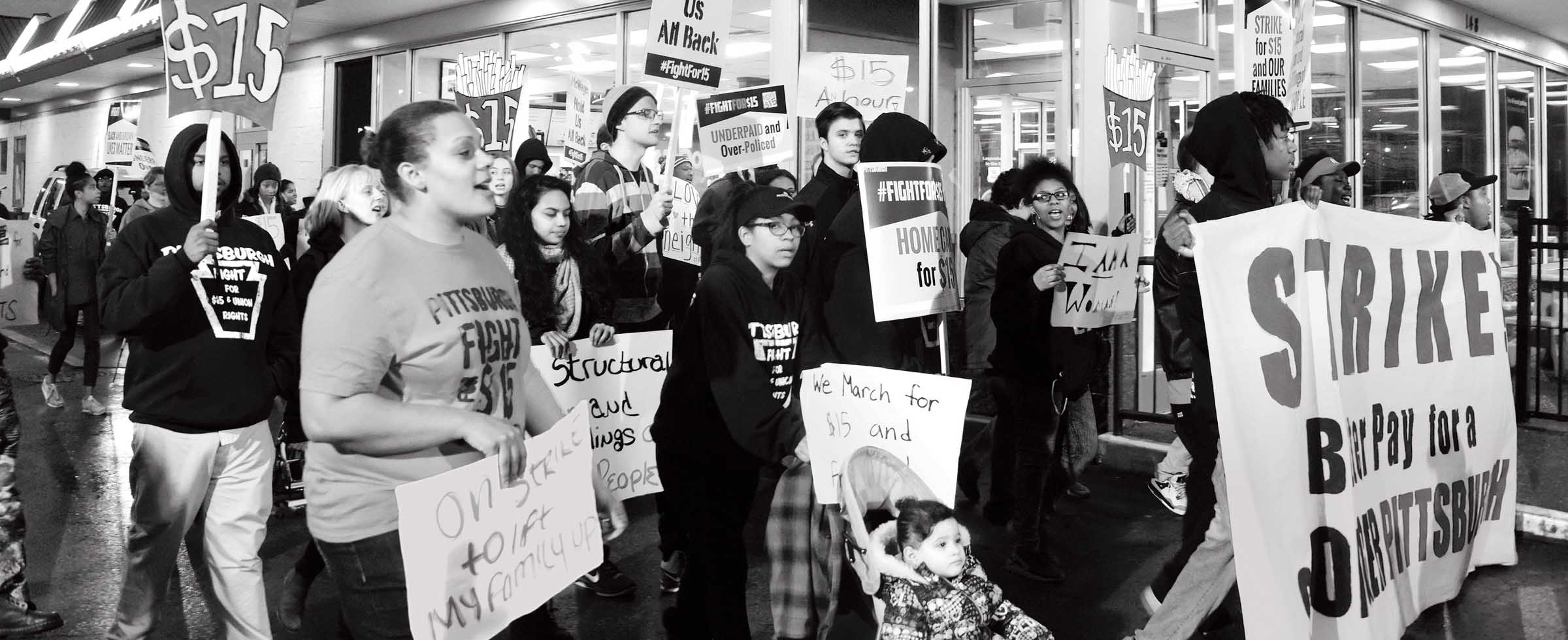 IN A SPEECH SEVERAL YEARS AGO to a national conference of community foundations, James Joseph, a former national Council on Foundations president, posed a question to attendees that had them buzzing for the rest of the session: 
"As a social enterprise with enormous influence and public goodwill, does a community foundation owe its community more than just the service of managing and distributing charitable funds efficiently?"
Joseph, a former ambassador to South Africa who also has taught at Yale and Duke, went on to exhort his colleagues to "expend your social, moral, intellectual and reputational capital in the same way you expend your grant dollars" — to improve quality of life in communities by leading efforts to change conditions that diminish it.
For much of the past year, The Pittsburgh Foundation expanded its role as a convener and advocacy leader in improving life conditions for the most vulnerable.
Local advocacy focused on groups covered under 100 Percent Pittsburgh, the Foundation's organizing principle for grantmaking and other actions to provide more opportunity for the 30 percent of the region's population without access to the improved economy.
Khalif Ali, the Foundation's director of public policy, has been coordinating research and lobbying of state government officials for action on a range of issues that hold people back from full economic participation. Remedies include raising the minimum wage, requiring employer-provided sick days and eliminating driver's license suspension as a penalty for non-driving infractions.
In May, the Foundation helped lead a summit of community foundations from across the state to set advocacy priorities that attendees would pursue together over the next several years. The list that emerged: combating the opioid crisis, preserving state funding for human services, implementing fair funding for school districts and helping to right financially struggling municipalities.
A year before that summit, The Pittsburgh Foundation co-launched a statewide advocacy campaign to protect Pennsylvanians in need of essential human services from harm in state budget negotiations. The Foundation joined with United Way of Southwestern Pennsylvania to fund #FamilyFirstPA, an awareness building and influencing campaign targeting representatives from key districts as well as legislative leaders and Gov. Tom Wolf. The goal: to make funding for vital human services a priority in the next budget.
The Campaign for What Works, a lobbying and advocacy movement working for years through the Foundation and United Way to shape public policy for the benefit of vulnerable groups, took on the human services protection cause. The campaign recruited leaders in nearly every sector of life across the state to make the case with state officials. But the most powerful influencers have been the dozens of Pennsylvania families whose members agreed to tell their personal stories of how human services have helped their families thrive.
The campaign has been cited as a factor in state officials coming to an agreement on a spending plan that includes protection of funding for essential human services.
The following are selected excerpts of the #FamilyFirstPA stories told from the viewpoint of mothers and daughters:
IN O'HARA TOWNSHIP, a northeast Pittsburgh suburb popular with young families, Abby Torres doesn't talk about her daughter, Maya's, cerebral palsy as the most important thing in their lives. She talks first about how fortunate she is to have three happy children — Landon and Carson are Maya's younger brothers — and a good life in a comfortable home with husband and father, Peter. Love is clearly the main force allowing the Torres family to flourish, and along with it, state-provided medical services, including a supports coordinator to assist in Maya's care. "It really takes a village," says Abby. "Maya requires a lot of therapy, equipment and medication, so medical assistance is really important." Abby says she believes the state-funded services provided for Maya's care benefit the entire family. "We want all our children to enjoy what life has to offer," she says. "These three kids have such a special bond. We're lucky — blessed, really."
ON THE OPPOSITE SIDE OF PENNSYLVANIA, in Warminster, a community near Philadelphia, Lynn Plewes manages the comings and goings of husband, Len, and her children: Emily, 26; Sarah, 23; and Anthony, 16. Theirs is a family moving forward in many ways, thanks to crucial assistance in the form of comprehensive services for Emily, who was diagnosed with schizophrenia as a child, and Sarah, who has autism and intellectual disabilities. Funding covered medication, testing, doctors, hospitals, treatment and, eventually, counseling for the entire family. Lynn attributes her family's perseverance to faith, friends who "walk the same walk" and effective state-funded services. "There are challenges … but well-staffed programs are absolutely phenomenal," she says. "Without them we couldn't have made it through."
IN THE HARRISBURG SUBURB OF MIDDLETON, Wendy Loranzo has dedicated herself to helping people in her community understand the realities of drug addiction and the need for treatment services. But her credential for reaching them is one that she would give anything not to have. Months after the terrible fact, she still finds it difficult to speak the words: "My daughter, Liz, died of a heroin overdose." Aside from her work leading the I Care Foundation that she founded after her daughter's death at age 25, Wendy also cares for Liz's infant son, Carson, and fiancé, Kyle. She already has met with Pennsylvania's attorney general and several legislators in her effort to ensure that funding for drug and alcohol services is included in the state's budget. "We have to do something — this is an epidemic in Pennsylvania. There are people who need help, who want help, and there aren't enough beds available. These are people who literally could die waiting."
IN FORKS TOWNSHIP, a residential community in northeastern Pennsylvania, Donna Scrafano was struggling to manage the care of her elderly parents and hold down a demanding job as a manager for a human services agency. After the deaths of her mother and brother in 2015, Donna's father, Edward, wanted to continue living in his own home, but he needed daily assistance. After caring for her father full time for a few months, Donna had to return to work. What enabled her to do it without having to move him to a skilled nursing facility was Sharing the Caring, a program providing adult day care through Northampton County. Costs are defrayed through state funding to counties for human services. The program "gives him excitement and something to talk about," says Donna. "He would have wasted away in skilled nursing. He wouldn't be alive today without the program."
Original story appeared in the Report to the Community 2016-17