Keith Murphy: A community leader's quest for learning and well-being in McKeesport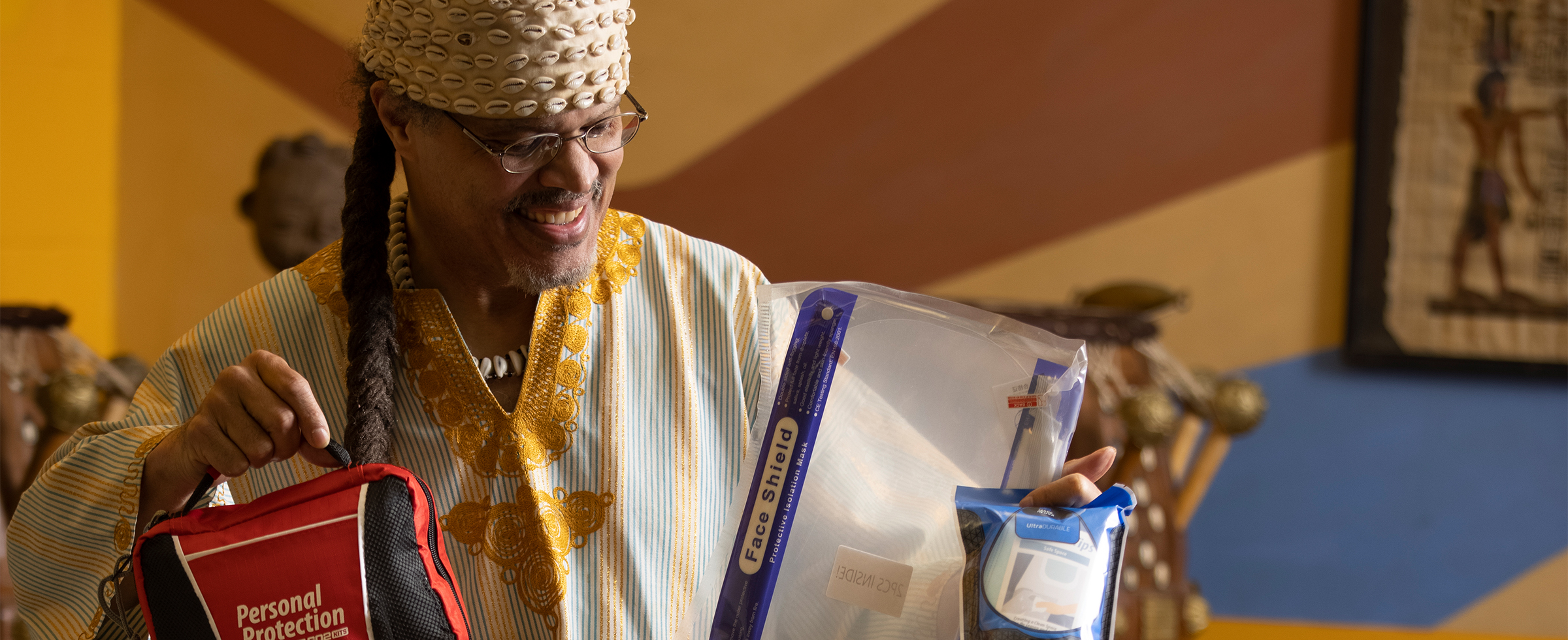 Last November, Allegheny County asked The Pittsburgh Foundation to distribute Coronavirus Aid, Relief and Economic Security (CARES) Act funds to local nonprofits engaged in COVID-19 relief and serving groups disproportionately affected by the pandemic. In a matter of weeks, the Foundation's Coronavirus Relief Fund issued 31 grants totaling $1.9 million. The awards, ranging from $1,200 to $100,000, went to organizations led by and serving Black, Brown, Hispanic, immigrant and refugee and LGBTQIA people. The Healthy Village Learning Institute, an organization focused on bringing a holistic African-centered experience to Black residents of the McKeesport area, received $65,395 from the fund. Keith Murphy, founder and executive director of the institute, led the organization through many challenges presented by the pandemic.
 
SINCE ITS INCEPTION IN 2012, the Healthy Village Learning Institute has tackled helping to educate the lower-income Black community. The Healthy Village Learning Institute gets its name from the adage 'it takes a village to raise a child. 'But what if you don't have a healthy village? The pandemic has presented many unique situations that test the institute's abilities to reach the McKeesport community.
Our organization focuses on teaching African history and cultural values before the history of slavery and provides a science, technology, research, engineering, arts and math (STREAM) education program. We look at land, history and culture in teaching those in the community and what it means to be an American African, meaning defining one's identity through their relationship to African land, history and culture before the American qualities that have been forced upon us. Studying the past also means educating for the future, and the institute provides many educational programs to get kids ready to be college-bound.
Our first policy is safety. But that does not mean that the institute has not had difficulties pivoting from being a large-capacity learning environment to a distanced one. The COVID-19 pandemic has increased interest in our services, though we initially never had distanced learning as part of our educational design. We didn't have
enough resources to pay an instructor for each classroom. In an ideal world, we'd have 15 to 20 students to a classroom. But with COVID, we've had to limit capacity. Thanks to the Foundation grant, we were also able to purchase industrial sanitizing systems to clean a room in 15 minutes. We adapted.
Along with the physical distancing hurdles that needed to be tackled, we have had to combat the increased social challenges of the pandemic.
Substance abuse, depression and isolation have increased. Also, technological and economic barriers have made distance learning impossible for low-income families in the McKeesport community. And when the pandemic first started, some of my students told me, 'Mr. Murphy, Black kids can't catch COVID.'
This pandemic has highlighted a history of medical discrimination against the Black community that is difficult to overcome after it has been internalized over so many years.
With the Coronavirus Relief Fund grant, we have been able to achieve a larger community outreach. We have been able to afford and to streamline groupings in order to ensure safe social distancing within the institute. We have also continued to function as a center for the community, offering everything from memorial services to baby showers, while maintaining social distancing practices and other proper health restrictions.
We've been able to reach out to those in McKeesport not aware of the institute's services. We've purchased thousands of personal protective equipment (PPE) kits and distributed them in grocery stores, churches, bakeries and other public spaces. We've distributed t-shirts that spread a message of social responsibility, encouraging handwashing and social distancing more widely than the institute would be able to do by itself. We also hold public conversations tackling coping skills for depression and anxiety — and conversations on mask wearing and social distancing.
The institute also has collaborated to meet the increased need for human services because of the pandemic. We connected with UPMC McKeesport nearby and to a psychiatrist, Dr. Daniel Salahuddin, who happens to be of African descent, easing emotional communication barriers. We have also collaborated with Penn State Greater Allegheny and the McKeesport mayor's office in fighting racism through partnerships with the Western PA
Conference of the United Methodist Church, The Forbes Funds and other grassroots entities.
One way we've managed to work with other organizations is through our connection with Comcast. The company gave laptops to every kid in the McKeesport Area School District, and it provided low-cost internet access to families depending on their income. We had to bump up the speed and capacity of our internet here
at our building to handle the increased dependency on it. We had kids in the parking lot and on the sides of the building utilizing the space as an internet hub to finish school assignments they needed to do.
The pandemic is something that will not end, even after the vaccines have rolled out and it is safe to hug again. It is a disease where we will all see the after-effects in the future. But in the moment, the most important message I can send to everyone is to remember that we are resilient; we are strong, and we are still here.