Lifting a congregationThe Betty Hags Memorial Fund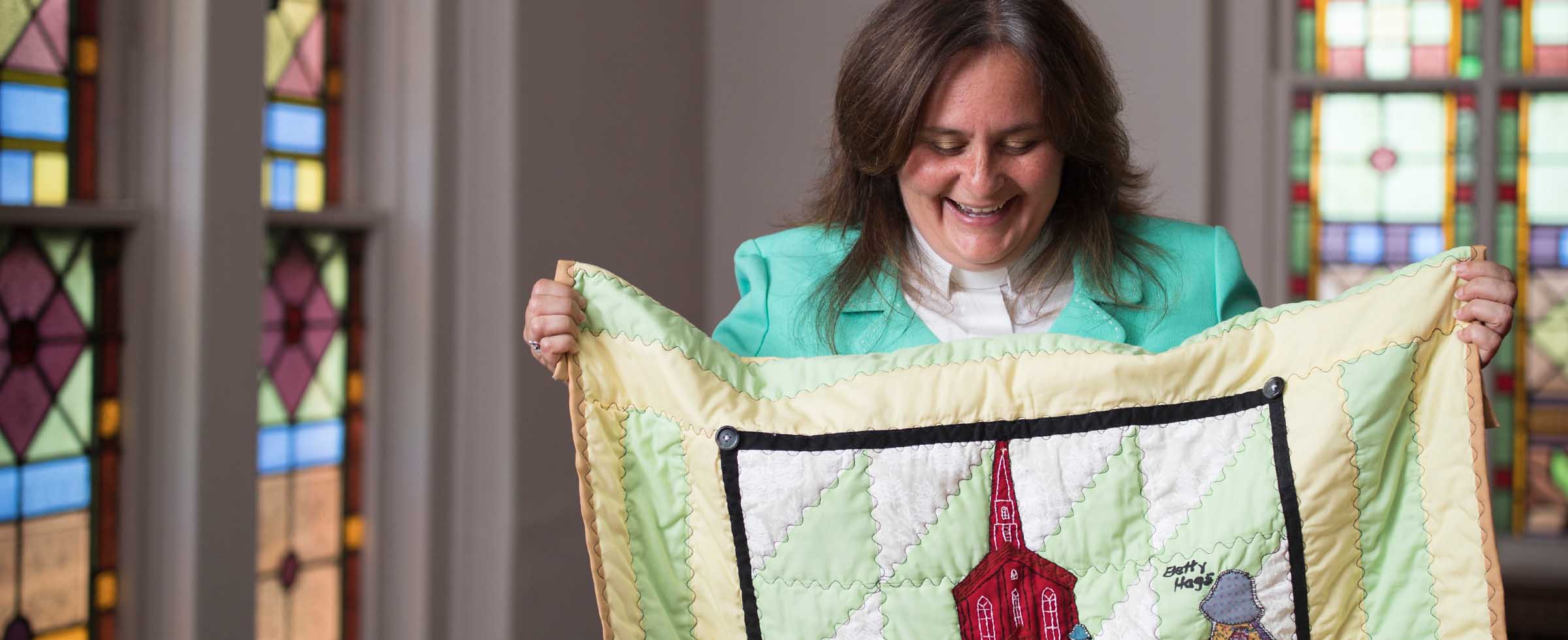 EVERYONE KNEW that Mrs. Betty Hags lived simply and was financially secure. She faithfully attended the 150-member Salem Lutheran Church nearly every Sunday of her adult life, and had casually mentioned that she would remember the church in her will. No one, not her pastor, not her friends in the church's sewing circle, not her neighbors — realized that the quiet, sweet-natured widow would, after she died at age 95 in March 2016, leave nearly $800,000 to The Community Foundation of Westmoreland County. Her fund benefits tiny Salem Lutheran in Delmont, a community of 3,000 residents about 9 miles from the county seat of Greensburg. The Betty Hags Memorial Fund will provide the congregation about $30,000 a year in perpetuity. "People just teared up," says the foundation's executive director, Phil Koch, when he met with the church's council in November 2016 and announced the gift — and all the zeroes attached to it. "It was an emotional moment." Instead of a direct gift that might be depleted in a few years, this fund will provide a permanent revenue stream to the congregation and the community it serves.
Pastor Kara Propst shares her memories of Betty Hags and what the amazing gift means for their community.
I first met Betty about four years ago at a Wednesday Lady's Circle Luncheon at the church. The first thing I noticed was this woman smiling warmly, and there was a hint of mischief. The second thing I noticed was her hair — this halo of gleaming white angelic curls.
I'd already heard about her — the other ladies had gone on and on about her creativity, especially her skill with a needle. Betty could make anything — sew, quilt, crochet, embroider, knit, make crafts. She was always the one who came up with new ideas for favors they made for seniors in Delmont through our local Meals on Wheels program and a senior care center called the Ark.
After Betty died, Frannie Kramer, another church member, told me, "Oh, Pastor, Betty was a wonderful person. My tootsies are being kept warm right now because I'm wearing slippers Betty knit and gave me."
After Betty moved to the William Penn Care Center in Jeannette, she couldn't come to church anymore, so I'd go to her and we'd worship together. I learned a lot about Betty on those Sunday afternoons. She rarely had a cross word to say to anyone, but she was fiercely independent and had no trouble expressing herself or her ideas and opinions when she wanted. She would tell me stories about growing up in Monessen with her parents, John and Mary Elgin. It was obvious she grew up in a close-knit and loving family. Her dad, John, who worked in a steel mill, was a serious, stern man, and if she and her brother, Bob, were being silly at the dinner table, he would look at them and say, "Cut out the dang foolishness." Then she told me that when her dad left for work, her mom would let them be foolish and play because her mom was the lighthearted one.
Betty met her husband, Joseph Hags, at U.S. Steel, where they both worked. "You know I married the boss," she'd say, because Joe, an engineer who developed numerous patented devices for the company, was her supervisor. Apparently, when Joe laid eyes on Betty, that was it for him. He was too shy to ask her out at first, so he had a friend do it for him. They had many, many good years together.
Even though Joe was a Roman Catholic and she was a Lutheran, they made it work. At a time when people's spiritual and social lives revolved around their own churches, the marriage of a Protestant and a Catholic was considered unusual. But neither Joe nor Betty cared; both helped out in each other's faith communities when needed.
After Betty died, her neighbors and good friends, Arlene and Bill Heipel, were helping to clean out her house and, in the attic, found a quilt Betty had made depicting herself and the other church ladies. They gave it to the church, which had already been the beneficiary of numerous colorful banners she had made in the past. This was perhaps the most special of all — her quilt of life, stitched with love, colored with joy, and bound together with family and friends.
Betty only ever expressed one regret about her life to me — that she would have liked to have been a mother. Here is the truth as I see it: Betty was a mother. Maybe not in the conventional sense, but she was like a mother and a grandmother to so many people in the church, nurturing us all, sewing us into her quilt of life.
Often in her last months, I would find Betty singing hymns to herself, like "The Old Rugged Cross." She was missing her husband, who died years earlier. More recently, the deaths of her beloved brother, Bob, and her sister-in-law, Dot, were hard for her. She missed her home in Bell Township, at the top of a long driveway on nearly 40 acres. She would ask why she was still here on this earth. She wanted to know why she was the last one left.
But then I would observe her finding the inner strength, faith and joy that got her through life. She would then lift her finger, tap her temple and say, "Well, at least I still have all my buttons."
It was amazing to think that Betty and her husband, Joe, had left such a tremendous gift to the church. It's just the kind of people they were, though. At this point, we haven't done a whole lot of planning about specific projects. It's still overwhelming that we're going to receive this bequest, or grant, every year — just like an annual offering — to help us. Our church's mission has been about feeding the hungry. Rather than use it to pay the bills, we'd like to use their gift to expand our ministries.
I knew in the back of my mind, before Betty passed, that she would be leaving a gift for us. We just had no idea how generous it would be. She found a way to be part of the church in perpetuity. Like many mainline churches, we struggle financially. Betty's gift gives us some room to dream.
Original story appeared in the Report to the Community 2016-17