Living up to the PromiseSince its creation in 2008, The Pittsburgh Promise has awarded $83 million in scholarships to more than 6,000 students from Pittsburgh Public Schools. As the program pushes to raise $250 million to support students through at least the Class of 2028, The Pittsburgh Foundation's ongoing contributions will continue to empower Pittsburgh's families and turn today's students into tomorrow's leaders.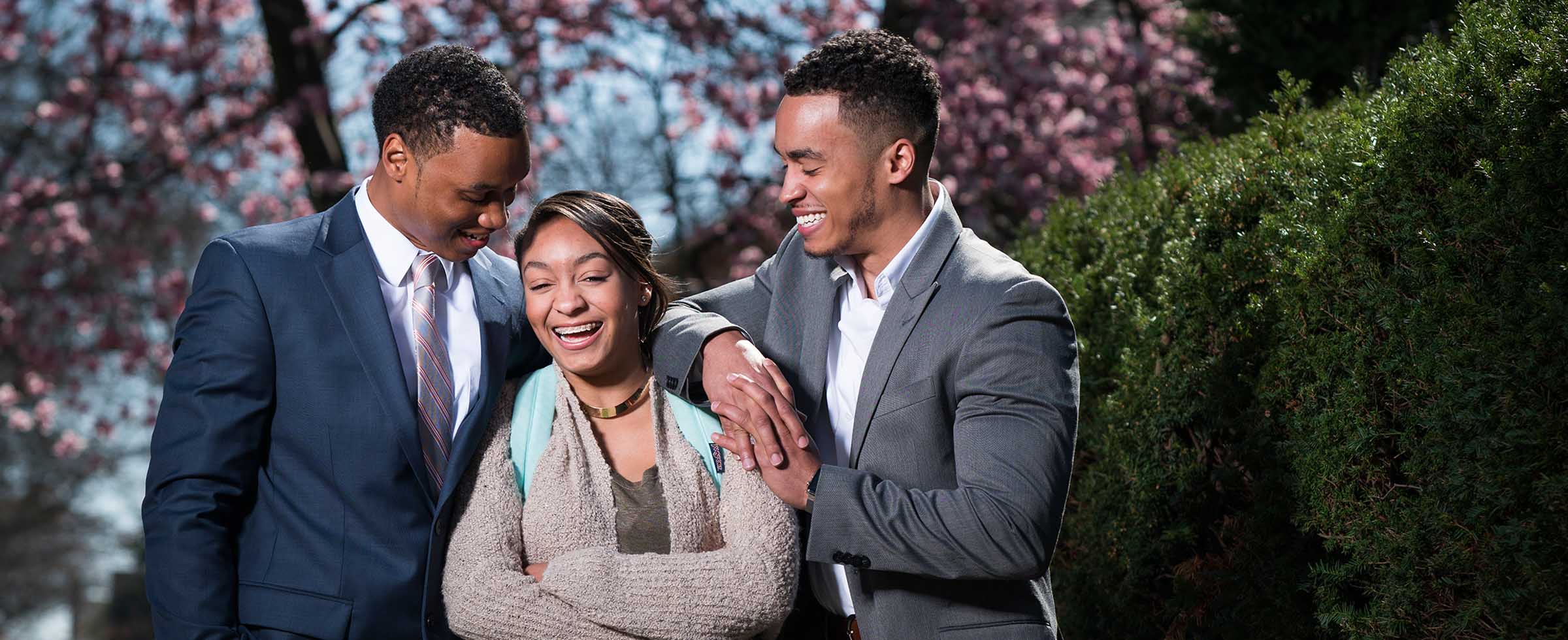 THE FIRST THING YOU NOTICE about the Wright siblings is how at ease they are with each other. Their conversations jump from compliments to self-deprecating jokes to good-natured ribbing. They're witty, quick to laugh and generous in crediting one another for their accomplishments. As any one of them will tell you, the Wright family couldn't be any closer.
Twin brothers Langston and Livingston live just a few doors down from their parents and their little sister, Lexis. All three are products of Pittsburgh Public Schools. Langston and Livingston graduated with honors from the University of Pittsburgh in 2014, and Lexis—a high-school dance major at the Pittsburgh School for the Creative and Performing Arts—has her eye on law school. All three have received or will receive a scholarship from The Pittsburgh Promise. 
Their commitment to education is a family value. The siblings' grandfather was the first African American pediatric endocrinologist. Their mother, Lori, graduated from Pitt's nursing school, and their father, Larry, majored in electrical engineering at Carnegie Mellon University. "From our grandparents on down, we're all college graduates," says Livingston. 
It's a legacy that he and his brother always hoped to live up to. But as they learned early on, they would have to prepare financially as well as academically. 
Langston recalls looking at the cost of college tuition in 10th grade. "I was working at Giant Eagle at the time, making about $100 a week," he says. "I realized it wasn't going to make a big dent in my expenses."
"When you're in high school," adds his brother, "it's hard to conceptualize college finances. You don't necessarily know that you'll have to buy books that could cost $300 or even $500. It can be a shock. That's when you realize what a blessing it is to have help."
If the Promise is an investment, then the Wright twins are its dividends — a term the brothers know well. Twenty-three-year-olds Langston and Livingston have launched successful careers in finance.
"I shadowed an investment banker and fell in love with the stock market," says Langston. "That's how I ended up studying finance at Pitt. I went into an Early Career Development Program at PNC, and now I work there as a financial advisor."
Livingston, after a brief stint in pre-med, soon joined his brother at Pitt's College of Business Administration as an accounting major. "The work made sense to me," he says of his classes there, "so I took it and ran with it." He's now a staff accountant at Ernst and Young, and he just earned his CPA. "It feels great," he says. "I'm really proud of having done this much so early in my career."
Future opportunities may be limitless for the Wright brothers, but they're not just focused on themselves. These days, they're busy rooting for Lexis — supporting her and pushing her, just as they did for one another. 
"When it comes to school, my brothers are hard on me, mostly because they want me to do better than they did. At least that's what they say," says Lexis, laughing. At 14 years old, she's considering a career in law. "My name means 'defender of humankind,' and I'd like to get into a field that helps people. My parents have always instilled that in us — that drive to support others. I think law is a good way to do that."
Whatever she chooses to study, Lexis can count on her family—and the Promise—for support. As a member of Pittsburgh CAPA's class of 2019, Lexis will be eligible for the Promise's full scholarship amount: $30,000 to help her find her purpose and pursue her dreams. 
To her older brothers, that's what education is all about. "Mark Twain said that there are two days that are most important in a person's life: the day they're born, and the day they discover why," says Langston. "That's what we want for Lexis — for her to go out and discover what she loves to do. We're so proud of her. We can't wait to watch her grow up."
Original story appeared in the 2015-16 Report to the Community