Coaching for self-confidenceWhat happens when the Forbes Funds—a supporting organization of The Pittsburgh Foundation with the mission of strengthening area nonprofits—pairs a recently retired executive with working nonprofit leaders? The leaders report increased self-confidence, better programming and lots of learning.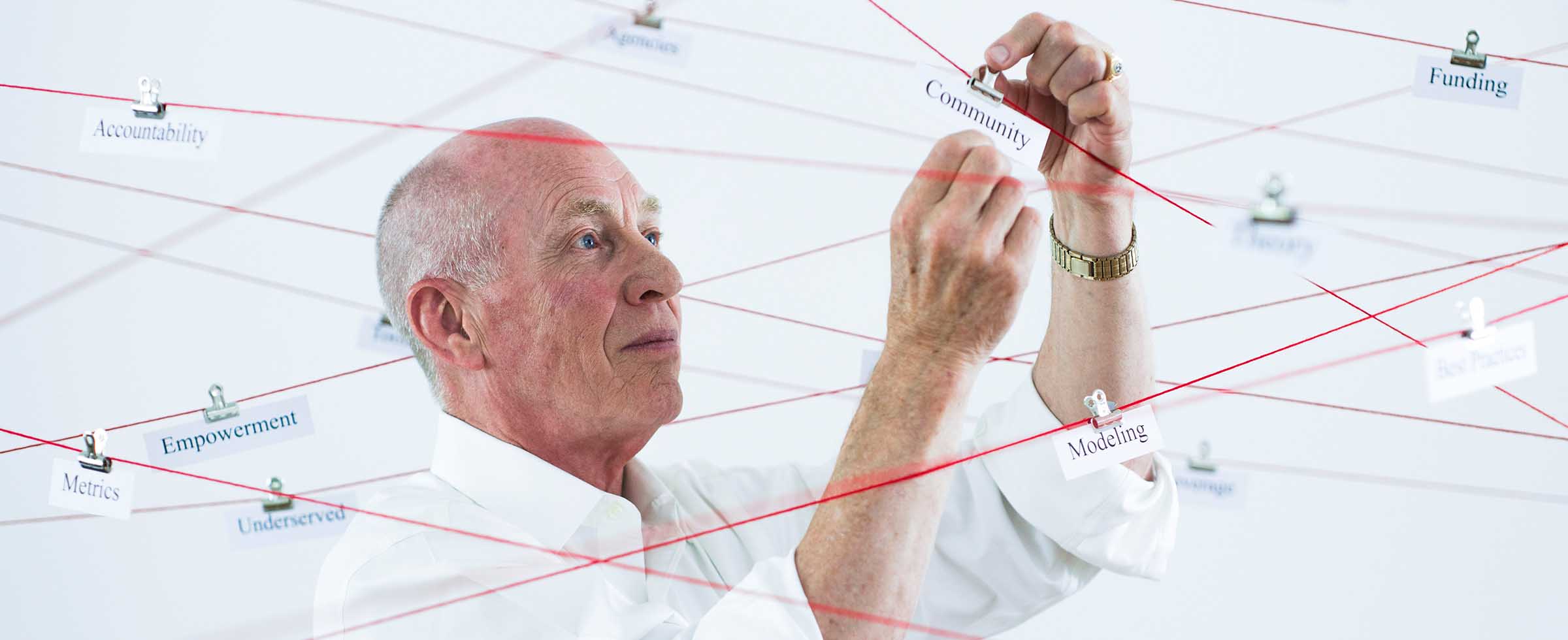 IN A SUNLIT VESTIBULE OPENING onto the playground, a half-dozen little faces look up, beaming expectantly. It is recess time at the Swissvale location of Angels' Place, the child care and family support center that has served the needs of low-income single parents pursuing full-time education for the past 32 years. On this balmy morning in early May, the staff members are as happy about the break as the students.
But Executive Director Beth Banas has another reason to smile.
"The Pittsburgh community has been amazing to us," she says, recalling the challenges her small nonprofit has overcome. With an operating budget of only $1.1 million and a staff of 22 serving the varied and complex needs of some 75 families, Banas explains, Angels' Place was once overwhelmed.
Enter Donald Goughler, a veteran nonprofit administrator with 44 years of experience in the human services sector. Since July 2014, Goughler has served as the Forbes Funds' first appointee of the Executive in Residence program, aimed at advancing the Funds' mission of building the management capacity and expanding the impact of community nonprofits. President Kate Dewey hired Goughler to help executive directors address issues ranging from financial management to board relations and beyond. At monthly one-on-one meetings, Goughler and the executive directors he coaches establish specific, measurable objectives to test drive for periods of up to six months. The nonprofits pay no fee for the benefit of Goughler's experience.
"The executives I work with vary," Goughler says. "Some are new. Others have years in the field." In some cases, the approach is "comprehensive," while in others it may "relate to periodic issues, where a leader runs into an issue and needs help figuring out how to deal with it."
At Angels' Place, where Goughler was brought in to help the organization tap new sources of revenue and adapt to a changing funding environment, the staff couldn't have been more appreciative. "We've been in an amazingly informative relationship," says Banas. "[Goughler is] incredibly knowledgeable.….I shudder to think where I'd be if we hadn't connected with him."
In the city's North Point Breeze neighborhood, Rosa Davis, executive director of Pennsylvania Organization for Women in Early Recovery (POWER), tells a similar story, albeit one centered on a different problem. In the wake of the passage of the Affordable Care Act, Davis—as head of an organization that relies on medical reimbursements in order to serve women recovering from drug and alcohol addiction—found herself needing guidance. At issue, she says, was "how to be smart, efficient and sustainable in the new health care environment." 
It was a critical question. Goughler helped Davis and her strategic planning committee decide how POWER, with 55 employees and an annual budget of $3.5 million, could effectively partner with other organizations to streamline its programming and remain independent. 
With 24 years as an executive director under her belt, jokes Davis, "I wouldn't have thought of a mentor." But now, she adds, "I wish I'd met him 20 years ago."
Goughler, who served as CEO of both Southwestern Pennsylvania Human Services and Family Services of Western Pennsylvania, also taught management at the University of Pittsburgh's School of Social Work for 21 years. Dewey recruited him to join the Forbes Funds in order to share his "very senior experience" with executive directors navigating an increasingly complicated nonprofit landscape.
"The Executive in Residence program has exceeded our expectations," says Dewey. Having provided 333 coaching sessions to 77 directors as of May, the program's success is perhaps best measured by its client surveys: 95 percent report increased self-confidence and success as a result of engaging with the program. 
The mission of the Forbes Funds is to strengthen the management capacity of community-serving nonprofits. Last year, the Forbes Funds provided support to more than 155 organizations through management assistance grants, intensive topical learning circles and the Executive in Residence Program. These programs have provided professional development to more than 4,000 people. Looking to the future, Dewey plans to expand the Executive in Residence program "in order to increase our value to organizations as they navigate choppy waters such as the state budget impasse, growing service demand, innovation and shifting government support."
Original story appeared in the 2015-16 Report to the Community