Becoming the change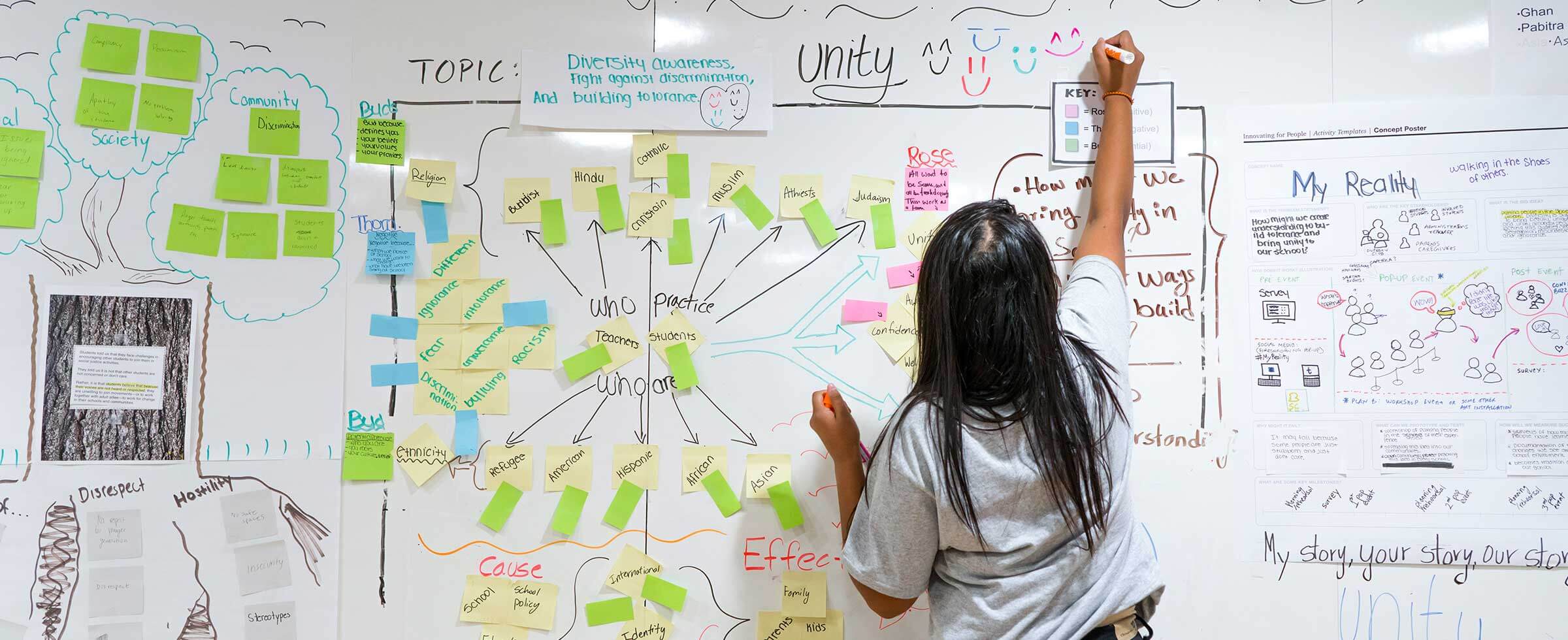 STUDENT ATHLETE, SCHOLAR, scientist, band member. The list of accomplishments on the application submitted by the four Montour High School students reads like a college admission essay. But the ambitions of these four students extend beyond the classroom: they are committed to creating a healthier learning environment as mental health advocates in their school.
Inspired by social studies teacher Joelene Hester, seniors Lindsay Bosco, Eric Macadangdang and Amanda Ramirez, along with junior Cassie Schiffhauer, were among 22 students from six schools who took part in The Pittsburgh Foundation's Students Working for Social Justice Program. The three-day accelerated learning academy, created by the Foundation in partnership with the LUMA Institute and The Ballay Family Fund, equips students with human-centered design skills so they can tackle critical issues in their schools.
The Change Agents program is among the Foundation's projects inspired by the 100 Percent Pittsburgh organizing principle, which engages people in frank, meaningful conversations about what they need to improve conditions in their communities, expand participation in the local economy and change policies that limit their future success.
In their essay, the Montour students argued that they saw glaring inequity in how students suffering from mental health issues are treated on a daily basis. They plan to use their Change Agents training to create education and awareness campaigns and small group interactions to foster healthy responses by teachers and fellow students.
"Mental health disorders are not 'just a phase' to be taken lightly," says Macadangdang. "By creating a support system for our students, we will break the stigma that surrounds mental health disorders."
Meanwhile, at Pittsburgh Brashear High School, junior Pabitra Gautam and seniors Asiya Uwimana and Ghan Gajmer are tackling a different challenge entirely: managing the profound cultural diversity that results when an international student body, some of whom are refugees, attends an urban public school. The three, who founded Brashear's Refugee Awareness and Aiding Refugees program last year, know the challenges well. Asiya was born in Tanzania and speaks Swahili, Kirundi and English. Pabitra and Ghan both came from Nepal and are fluent in both Nepali and English.
Nepali, African, Hispanic and Muslim students are among those most affected by discrimination resulting from prejudice and misunderstanding. For the affected students, academic performance and friendships suffer.
Writing in support of their application, English as a Second Language teacher Melissa Stanley shared that she's never worked with students so impassioned, dedicated and driven as Asiya, Ghan and Pabitra.
"Since these students are refugees, they have lived their lives very differently than the majority of Pittsburgh students," says Stanley, who hopes their experiences will lead to honest discussion in school forums and help break down barriers.
With the training sessions behind them, the students from Montour and Brashear, along with groups from Holy Family Academy, Pittsburgh CAPA, Pittsburgh Westinghouse and South Fayette high schools, are now back on their own campuses working on issues ranging from food insecurity to racism and other forms of prejudice.
"I was so impressed by what I saw the students doing at LUMA. These young people were so inspirational. The ways in which they expressed themselves and used their voices brought tears to my eyes," says Montour teacher Hester.
As a next step, students and their adult allies will be invited to apply for funding to implement their ideas and change their worlds.
Original story appeared in Forum Quarterly - Winter 2016