Partying for a PurposeA Wexford couple has raised more than $105,000 for six nonprofits, one event at a time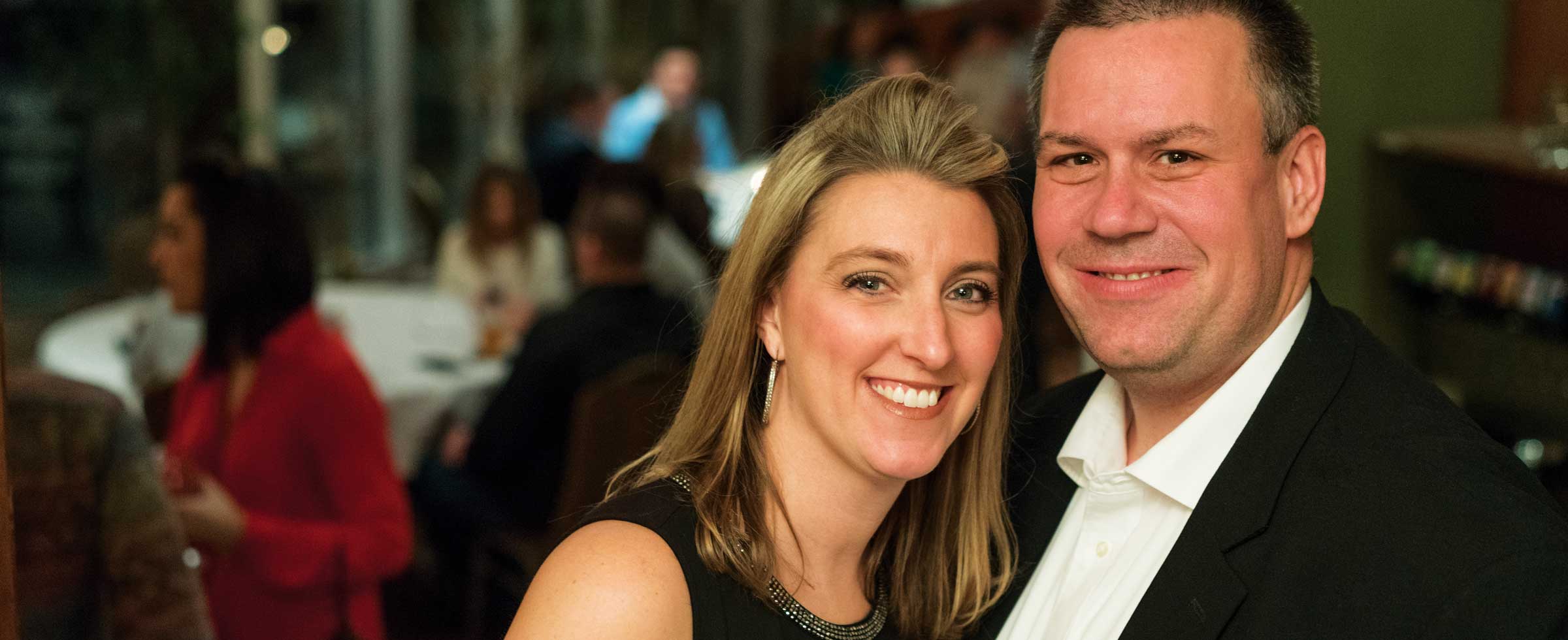 IT STARTED WITH THE 2010 EARTHQUAKE in Haiti that destroyed much of the nation's fragile infrastructure. The situation, especially for children, was dire. The year before, Wexford-area resident John Mackie had joined the board of the Pittsburgh Kids Foundation, a youth ministry that has provided aid in Haiti since the mid-1990s.
As parents of three young children, John and his wife, Shana, embraced the organization's mission to provide Haitian children with medical care, clean water, sanitation and other basic needs that their own family took for granted here at home. When they learned that just 25¢ would fund a meal in that country, the Mackies orga­nized a fundraiser and invited their friends.
"We know how fortunate we are, and we both believe that charitable giving is something we should model for our children so they can see the effort involved and the payoff," says John, an advisor with wealth management firm Hefren-Tillotson.
In March of 2012, the couple hosted their first Party with a Purpose. Their primary goal was to bring people together and provide a platform for raising money and awareness for community needs. While they began with a focus on Haiti, over the years they've also been giving closer to home.
"We cover all the costs and ask that our guests make a donation. We don't care if you donate $5 or $50 or $500. We just want you there," he says.
By the end of the night, they had raised $4,500 for the Pittsburgh Kids Foundation. Since then, the party has become an annual event.
"Every year since, we've reached the fundraising goals we set," says Shana. "We feel so blessed that people took time out of their lives, giving time, attention and money. We are beyond honored to be a part of this."
Each year, the charitable cause seemed to present itself. In 2013, John was asked to chair the local Leukemia and Lymphoma Society's Man of the Year event and, with the help of colleagues at Hefren-Tillotson, family and friends, raised $33,000 for the organization. The Mackies' close friendship with Neil and Suzanne Alexander led them to raise $6,000 in 2014 for the Live Like Lou Fund at The Pittsburgh Foundation to study amyotrophic lateral sclerosis (ALS), or Lou Gehrig's disease, which claimed Neil's life the following spring.
The 2015 party raised $22,000 for Light of Life Rescue Mission for renovations to its women and children's area. Last year, their event benefiting The Children's Institute raised $23,000 for The Center for Prader-Willi Syndrome. Because the Mackies manage every aspect of the party, the nonprofits can focus on communicating the importance of their work and accepting donations.
"The Children's Institute is the only place in the world providing comprehensive, hospital-based treatment that combines medical, behavioral and dietary interventions to individuals with Prader-Willi syndrome," says David Miles, president and CEO of The Children's Institute of Pittsburgh. "Through their Party with a Purpose, John and Shana provided a platform for us to introduce a whole new audience to our mission while raising awareness and providing hope."
This year, the Mackies have decided to take a new approach: raise funds to launch and permanently endow the Coach Dave Gray Scholarship Fund at the Foundation. Some 100 people attended their Feb. 9 fundraiser at Grazie's Restaurant in Wexford, which raised $16,545 toward their $25,000 goal.
The scholarship, once fully funded, will serve as a tribute to Gray, whose camps and after-school programs in the North Hills have engaged more than 10,000 kids in sports-related activities that encourage healthy lifestyles and self-esteem while avoiding high-pressure competition that can turn some children away from athletics for good.
"I've seen kids across the full range of athletic abilities come into his classes and come out of their shell because he is so encouraging," John says. "He instills good, positive habits and has this knack for getting the kids to move and engage. He keeps their focus on fun, being a kid and enjoying things just for the sake of enjoying them."
Over time, the fund will continue to grow and provide a lasting tribute to Gray and his methods. While the Mackies and Gray are still working through the details of the scholarship, they are settled on its main purpose: funding to college students committed to creating positive experiences for children and youth.
Gray hopes the scholarship will encourage recipients to seek opportunities to help others without being asked.
"Coaches and teachers in my life took a vested interest in my well-being and made me the person I am today. I encourage other coaches and parents to uplift children. Kids really want to be part of something. Our job as educators and coaches is to help kids fit in and give them a sense of belonging," he says.
"Coach Gray's passion has always been working with kids in the community, and we don't ever want that to stop," says Shana. "Scholarship funds are forever, and they're a way to extend his influence and positive attitude."
Donate to the scholarship online at pittsburghfoundation.org/davegray.
DOLLARS RAISED
$4,500 - Pittsburgh Kids Foundation (2012)
$33,000 - Leukemia and Lymphoma Society (2013)
$6,000 - Live Like Lou (2014)
$22,000 - Light of Life Rescue Mission (2015)
$23,000 - The Children's Institute (2016)
$16,545 - The Pittsburgh Foundation/DaveGray (as of March 15, 2017)
$105,045 Total
Original story appeared in Forum Quarterly - Spring 2017