Safe Haven Saves LivesThe largest grant from the Emergency Action Fund is a literal life saver.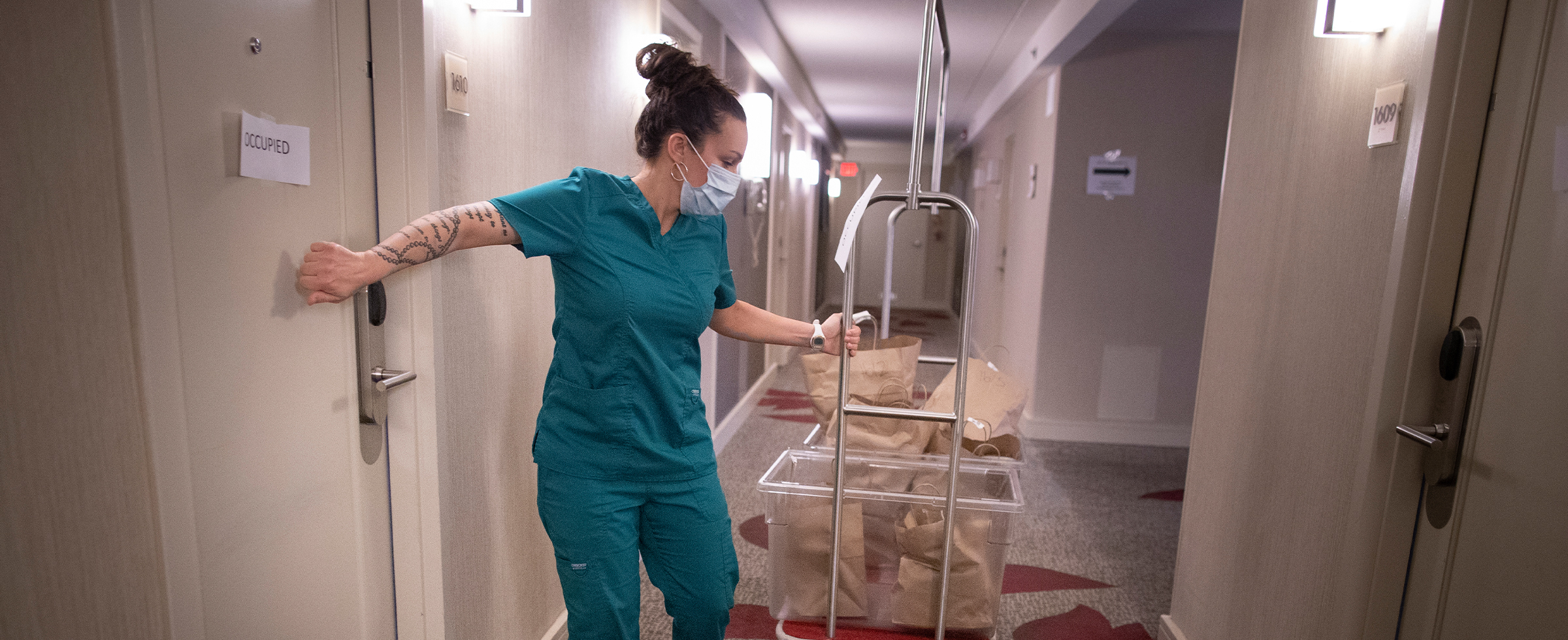 A $1.1 MILLION AWARD from the Emergency Action Fund to the Allegheny County Department of Human Services funded a pandemic refuge for the highly vulnerable. That is, for example, people living in street encampments, staff at homeless shelters, first responders exposed to the virus, older people with health challenges living in group homes and released inmates who don't have housing.
The Department's staff dubbed it the Safe Haven Hotel. It prevented some people sick with COVID-19 from spreading the virus and provided a retreat for exposed front-line
workers who couldn't safely quarantine at home. It isolated medically fragile people, preventing them from contracting the virus. Accommodating all these groups saved lives.
Department Director Marc Cherna says the grant, awarded quickly after Pennsylvania Gov. Tom Wolf issued shelter-in-place orders, was vital. "We never could have gotten the hotel without that money," he says.
Cherna wanted a hotel so the Department could scale up to serve more people as necessary. "We had to plan ahead in case we became another New York. You can't tell whether that will happen at the outset." As the pandemic halted travel, Department staff found a hotel manager willing to rent large blocks of his empty facility at a reasonable rate for several months.
Department staff and those working for Community Human Services, a nonprofit contracted to run the hotel, refer to the residents as guests and treat them that way. Within Safe Haven, guests are isolated from each other depending on their health. COVID-19–positive guests live on one floor, while those exposed to the virus and awaiting test results stay on another. And a third floor is reserved for guests whose age or chronic conditions heighten their risk of death if they contract the disease. The three groups use separate entrances.
The first guest arrived April 6. At the height of occupancy in April, there were 55 guests. The average now is 30. At any given time, 12% are positive or suspected positive for COVID-19. Half are there because they are highly vulnerable; 37% to quarantine, and 13% arrived after discharge from a hospital. The hotel is for individuals and couples without children. The Department established other shelters for youth and for households with children.
"I have been thinking about how I am spending my time during all of this. When it is all said and done, what can I say I did during this time? I will be proud to say I was part of this program."

STEVE FARRELL, event and donations coordinator, Allegheny County Department of Human Services
As an event and donations coordinator for the Department, Steve Farrell has time to volunteer at the hotel two days a week. "It is hard to be an event planner when events are banned," he says jokingly.
Much of his service at the hotel is done at a distance. On a typical volunteer day, he makes wellness checks to guests by phone. Early in May, he set up email accounts for residents who did not have them so they could use electronic tablets provided by Allegheny Health Network for telehealth appointments. The devices also allow residents to have video communication with nurses.
Community Kitchen, another nonprofit, provides three meals a day, which staff deliver to the rooms. All staff receive personal protective equipment and training in its use.
Overseeing the operation since mid-April, just after Safe Haven opened, has been Luray Fladd, a program director with Community Human Services.
Fladd says she and the staff and a troop of volunteers try to make the situation as comfortable as possible. "Hotels are great when it is a vacation," she says, "but when it stops being a vacation, the room is just a bed and a TV. After six weeks, you feel how small the spaces are."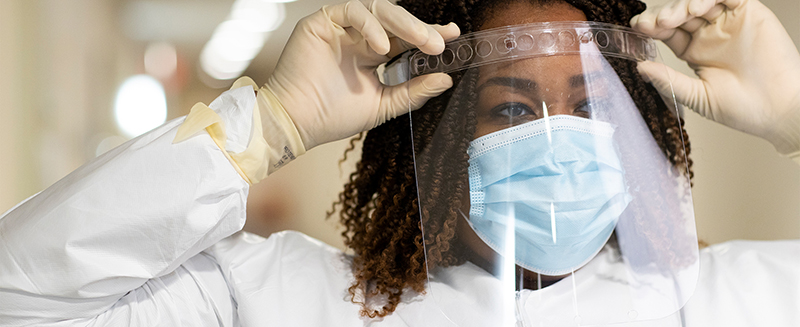 She tries to provide as many creature comforts as safely as possible. "For some, that is beer and cigarettes. For others it is being able to order a pizza," she says. Fladd asked one of the volunteer applicants if he would be willing to make a beer run. "I could tell he'd never been asked that question before." Just like guests in regular hotels, Safe Haven residents pay for amenities.
In enjoying some of those amenities, they also must abide by rules to prevent spread of the virus. Security officers are on staff to ensure compliance. For example, only one smoker at a time is allowed outside to the designated area to prevent congregating in groups.
When guests are in a position to leave permanently but don't have stable housing, Community Human Services staff help with that, too. The goal is to make sure residents avoid returning to large shelters or encampments, which present a higher risk of infection.
Farrell says his experience at the hotel has been deeply meaningful. "I have been thinking about how I am spending my time during all of this. When it is all said and done, what can I say I did during this time? I will be proud to say I was part of this program."
Original story appeared in the Forum Quarterly Summer 2020.