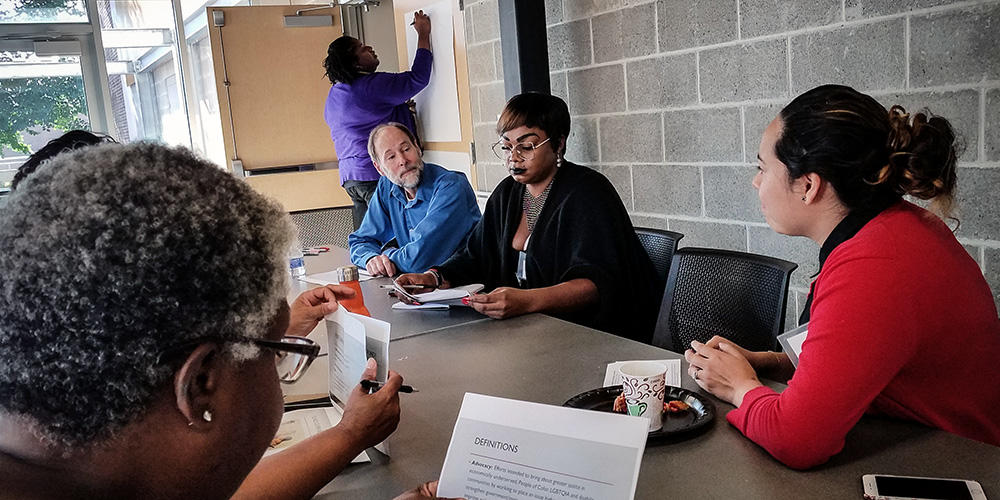 The Social Justice Fund was created at The Pittsburgh Foundation to strengthen support for efforts that address the root causes of inequity and increase the engagement, power and influence of community members affected by economic inequality and racial inequity. The Fund is a direct outcome of the Foundation's 100 Percent Pittsburgh organization principle, adopted in 2014, to provide access to opportunity for the 30 percent of Pittsburgh's residents who live at or near the poverty level and are unable to access the benefits of the region's recent economic renaissance. This lack of access is particularly pronounced for black communities, which are disproportionately affected by poverty in our region. Grantmaking through The Social Justice Fund will go beyond addressing symptoms of poverty alone, addressing the systemic barriers that limit opportunity. Unlike traditional philanthropy, where nonprofits are asked to apply for grants from existing programs, the Fund was co-designed by Foundation staff and social justice leaders who urged the Foundation to increase its support for social change efforts that are led by those who are closest to the community issues it seeks to address. 
The nine social justice activists on the committee that developed the Social Justice Fund are: Rosamaria Cristello, Latino Community Center; Brandi Fisher, Alliance for Police Accountability; Monica Ruiz, Casa San Jose;  Tiffany Sizemore-Thompson, Duquense Law Clinic (Duquesne University); Celeste Smith, formerly of 1Hood Media, and now the Foundation's program officer for Arts and Culture; and from the Black Femme Excellence Co.: Celeste Smith, Sueno Del Mar, Alonna Williams and Tresa Murphy-Green. Justin Laing, of Hillombo, LLC, was retained by the Foundation as a consultant to develop and facilitate the design process.
The General Support Grant Program of the Social Justice Fund will provide operating support for organizations engaged in advocacy, mobilization and healing work. In the future, a Rapid Response Program will be initiated, providing funding to organizations seeking to address an urgent or unanticipated community concern or challenge that requires an immediate response.