Advocacy for allFoundation public policy initiatives are leading to change in our communities.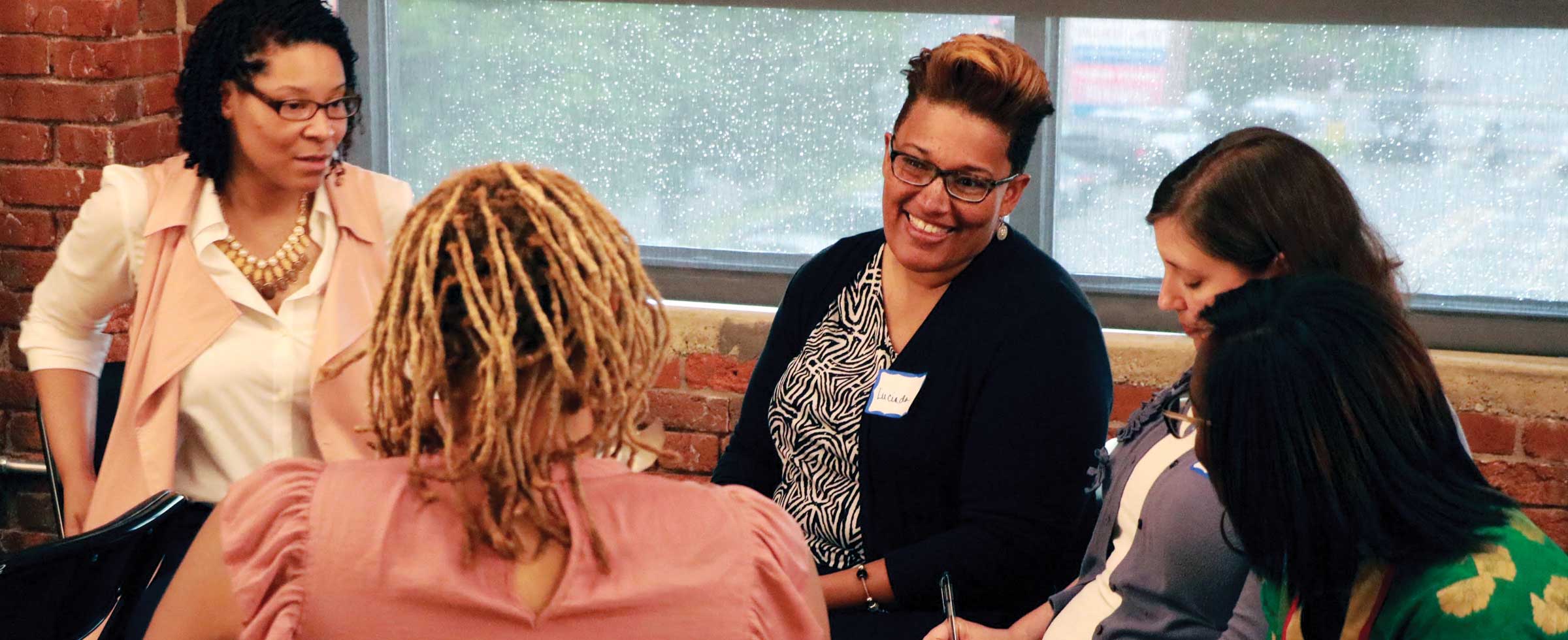 TAMARA WHITING, FOUNDER OF THE NONPROFIT SISTERFRIEND, knows the importance of speaking out. SisterFriend is a Small and Mighty grantee that provides pads, tampons and other hygienic supplies for girls and women in need.
Whiting has strategically used her voice to bring attention to menstrual health issues. "I take time to go to forums — in person or online — that allow my voice to be heard," she says. "Elected officials look to us to educate them."
Those education efforts, Whiting has learned, can lead to productive partnerships.
In June, The Pittsburgh Foundation held a "Mobilize Your Mission" workshop for Small and Mighty grantees. Peer learning gives organizations an opportunity to network, learn from one another and better collaborate with each other and the communities they serve. The event consisted of a panel of Small and Mighty grantees and was followed by small group strategy discussions. Whiting attended the event and shared how she makes her mission known.
"Last year, I saw an article on Facebook about a public high school with a washer, dryer and free clothing for kids in need," she says. "I made a post about it on the SisterFriend page, mentioning that it would be great if local schools could do something similar with pads and tampons, and I tagged Pittsburgh Public Schools."
District officials saw the post and, within a week, Whiting was meeting with school board members about the idea. After an official vote, it was decided that Langley, Westinghouse, Arsenal and Brashear high schools would be the pilot locations for "SisterFriend closets" available for use by students this fall.
In addition to encouraging nonprofit leaders such as Whiting to connect with legislators, Foundation officers meet with lawmakers and provide funds to nonprofits engaged in grassroots organizing and public policy. To ensure that the Foundation's donors are aware of this work, The Center for Philanthropy kicked off its latest Explore Series with "Social Change Through Policy and Advocacy," a program that provided an overview of the Foundation's policy agenda.
At the event, President and CEO Maxwell King emphasized the importance of bringing attention to policy issues related to equity in the region. "We're not just the community foundation for one section or another of the area we serve," he says. "We're the community foundation for every part of our community because we all have to work together to ensure its success."
All of the Foundation's policy initiatives tie directly to its 100 Percent Pittsburgh organizing principle, which seeks to ensure that all residents can share in the revitalization of the region. Roughly 30 percent of the people in our community live in or at the edge of poverty. Some of the most pressing local and state issues for these residents include implementing standard paid medical leave and raising the minimum wage, which is now set at $7.25/hour.
These issues are especially critical, Foundation staff has learned, for the two populations at greatest risk of poverty in our region: single women raising children and youth ages 12–24. To better serve those populations, input is sought directly from them.
"Engagement from community members is a fundamental part of our research," says Khalif Ali, director of Public Policy and Advocacy, who credits the combination of research, education, advocacy and lobbying as the Foundation's formula for success. "When we know what people need, we use our reputation and resources to advocate to legislators and policymakers to support those needs."Foundation staff also funds efforts encouraging nonprofits to engage in advocacy. At the Mobilize Your Mission event, Michelle McMurray, senior program officer for Health and Human Services, stressed the Foundation's responsibility to utilize its status and privilege to benefit others.
"The Foundation recognizes that social issues are not a people problem, but a systems problem," she says. "As an organization that works closely with those making meaningful change in our communities, it's our responsibility to be more than money providers and engage nonprofits in changing the systems that make their work necessary."
Small and Mighty grantees have taken up this charge. Robin Horston Spencer, executive director of Message Carriers of Pennsylvania, has dedicated her life to advocating for individuals in recovery from substance abuse. Spencer regularly meets with local legislators and brings the people she serves to Harrisburg at least once a year to build relationships and make sure legislative policies reflect the needs of people in recovery.
"Through all the work I've done with my organization and with the help of The Pittsburgh Foundation, I've learned a key lesson," she says. "You can be much more effective in changing systems when you've been a part of them."