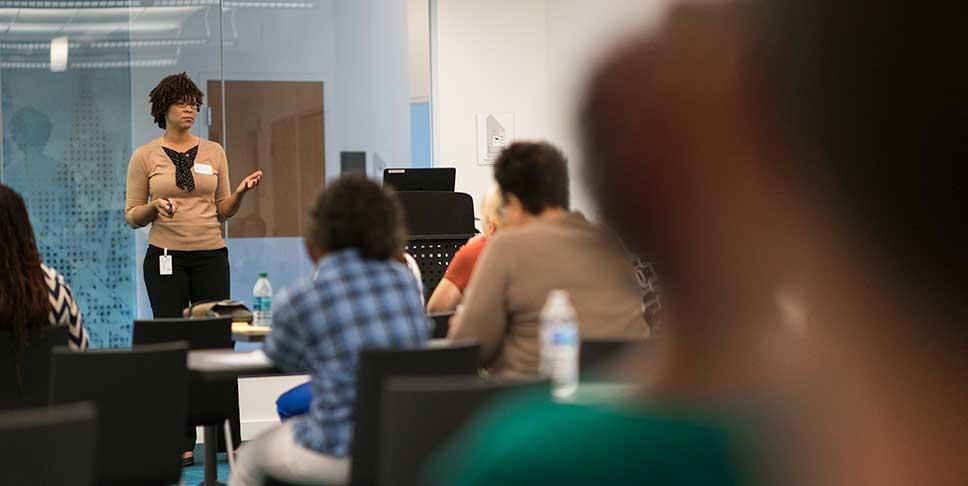 The Pittsburgh Foundation launched the Small and Mighty grants program in 2016 in an effort to bridge the gap between our grantmaking and the neighborhood-based nonprofits that work to better our region. Small nonprofits — that is, organizations with annual budgets under $600,000 — account for two-thirds of the Pittsburgh region's nonprofit sector, and typically serve our community's most underserved populations and neighborhoods. Unfortunately, these organizations are among the most under-resourced nonprofits. This is especially true for nonprofits that are led by and serve communities of color.
Designed with input from small nonprofits and their staffs, Small and Mighty was created to reduce common barriers to grant-seeking. It offers grants of up to $15,000 through a streamlined process that delivers decisions in as little as 60 days.
The Small and Mighty grants program is part of the Foundation's 100 Percent Pittsburgh organizing principle, which seeks to ensure that Pittsburgh residents who live at or near the federal poverty line have access to opportunities for participation in the region's revitalized economy.
Eligibility Criteria
Have an organizational budget of $600,000 or less.

Organizations certified as tax exempt under Section 501(c)(3) of the U.S. Internal Revenue Code may apply. Groups without official nonprofit status may also apply, but will need to partner with a 501(c)(3) organization to serve as the fiscal sponsor for the request.

Organizations must provide direct services to residents of Allegheny County.

Organizations must provide services that address a basic need such as food, housing, healthcare, childcare, education and employment (How we define these basic needs). 

Organizations applying for operating support must have at least two years of operating history in Allegheny County.
Highest priority will be given to organizations that:
Are located in (or primarily serve) economically distressed and/or underserved neighborhoods.

Serve a racial or ethnic group disproportionately impacted by poverty.

Inclusive of the communities they serve when setting organizational and/or programmatic priorities.

Specifically addressing the needs of youths aged 12 to 24 and/or single women with children.
In general, we do not fund one-time events or short-term programs consisting of just a few interactions with participants.
Additionally, organizations that have been awarded a grant in the last 12-months are not eligible to apply for a grant unless invited.  This does not include grants received through Day of Giving, Wish Book or donor-advised funds.
What are the steps to apply?
We are not accepting applications at this time. If you would like to be notified when the next cycle begins and the information sessions are scheduled, please complete the form below.
Notify me about upcoming information sessions