All of Us -- Together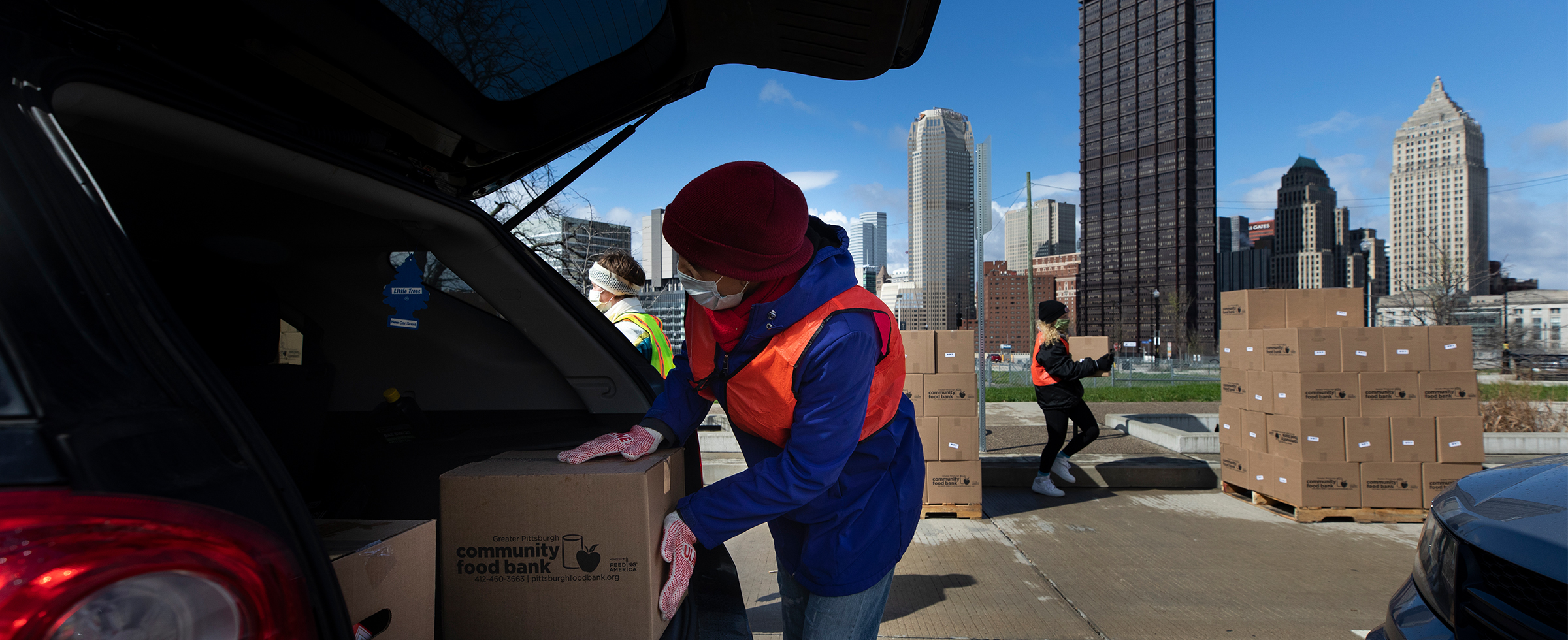 IN A CRISIS, community foundations stand ready to serve as a hub of collaboration and vital support. But never before has a crisis as overwhelming as the coronavirus pandemic permeated our region, our country and the world. The mandated lockdown by Gov. Tom Wolf and public health officials has slowed its spread, but it also has caused dramatic upticks in demand for life essentials as record numbers of residents have filed for unemployment.
After the first coronavirus diagnosis in Pennsylvania was announced in early March and public health officials began developing a plan to minimize the virus' spread in the region, Pittsburgh Foundation staff scrambled into philanthropic first responder mode. Within a week, an Emergency Action Fund had been developed. And by its March 17 launch, it had seed funding of $1 million from each of these donors: The Pittsburgh Foundation, The Heinz Endowments, the Henry L. Hillman Foundation and the Richard King Mellon Foundation.
Donations began to pour in, including $308,000 from the public and more than $824,000 from the Foundation's own donors. By the end of July, the Emergency Action Fund had raised $9 million, and every dollar raised was rushed out to meet a range of emergency needs.
Tamera Carter, RN, and Carrie Smidl, LPN, working at the Allegheny County Department of Human Services' Safe Haven Hotel. The hotel is open to house vulnerable people, including the homeless, who have tested positive for COVID-19 or are at increased risk. Nurses and volunteers deliver meals, help with telehealth appointments and ensure that guests' needs are being met.
"We knew COVID-19 would pose monumental challenges, and we set up the Emergency Action Fund to strengthen as quickly as possible systems that ensure public health," says Pittsburgh Foundation President and CEO Lisa Schroeder. "We also knew we had to provide unrestricted operating dollars to community-based nonprofits serving low-income communities — often communities of color — that have been hardest hit by the virus."
The grants came in phases, first with $3.3 million for public health and human services support, including temporary housing and food distribution, and to shore up staffing, deep cleaning and protective equipment for the Allegheny County Health Department. The Fund also covered the hiring of more workers to staff the United Way of Southwestern Pennsylvania's 2-1-1 call-in system, which connects individuals and families to essential services. It also supported that agency's food distribution programs in Allegheny, Armstrong, Butler, Fayette and Westmoreland counties.
Six community-based health centers across Westmoreland and Allegheny counties were awarded emergency operating dollars to help them transition to telemedicine, which, while safer, is reimbursed at a much lower rate than in-person visits. These same health centers also received funds to purchase personal protective equipment for frontline workers, many of whom suddenly found themselves without child care.
A major grant to the child care advocacy organization Trying Together established an emergency fund for child care providers. "Most people with children cannot work without child care, and this grant provides critical support to help the owners of these small businesses, most of whom are women," says Executive Director Cara Ciminillo. "This funding will help them to recover their own livelihoods and ensure that child care will be available when families are able to return to work."
In mid-March, the Foundation's Program staff began reaching out to nonprofit leaders from all sectors, asking them what supports they needed to be COVID-ready. The feedback from these 100 conversations informed the grant-making criteria for the second phase: operating grants ranging from $5,000 to $25,000. About $5 million was awarded to nonprofits in Allegheny, Beaver and Westmoreland counties. 
We knew COVID-19 would pose monumental challenges, and we set up the Emergency Action Fund to strengthen systems that ensure public health.
-- LISA SCHROEDER, President and CEO
Many of these organizations found it necessary to add services, such as providing food, emergency cash assistance and other essentials. Small arts organizations, faced with revenue losses from canceled performances, exhibitions and fundraising events, also received operating grants, a move the Foundation hopes will preserve the region's rich cultural fabric.
By the time applications to the Fund were paused on May 8, about 270 organizations had received operating support. As of August 4, a total of 297 nonprofits received operating support, while 16 more received systems support funding. Some of their stories are shared in this edition of Forum, and all grants are listed on the Emergency Action Fund website.
"We are already seeing signs that the infusion of Emergency Action Fund grants combined with related support from other regional philanthropies has kept essential services flowing as state and federal aid begins to make its way into the region," says Schroeder. "It's our expectation that philanthropic grants and government relief will provide a stronger foundation than we would have had otherwise for the long-term economic recovery work that lies ahead."
A list of donors to the Emergency Action Fund can be found on the Foundation's website at pittsburghfoundation.org/emergency-action-gifts. 
Original story appeared in the Forum Quarterly Summer 2020.