Hands-on philanthropyFinancial advisors gain valuable insight through immersive program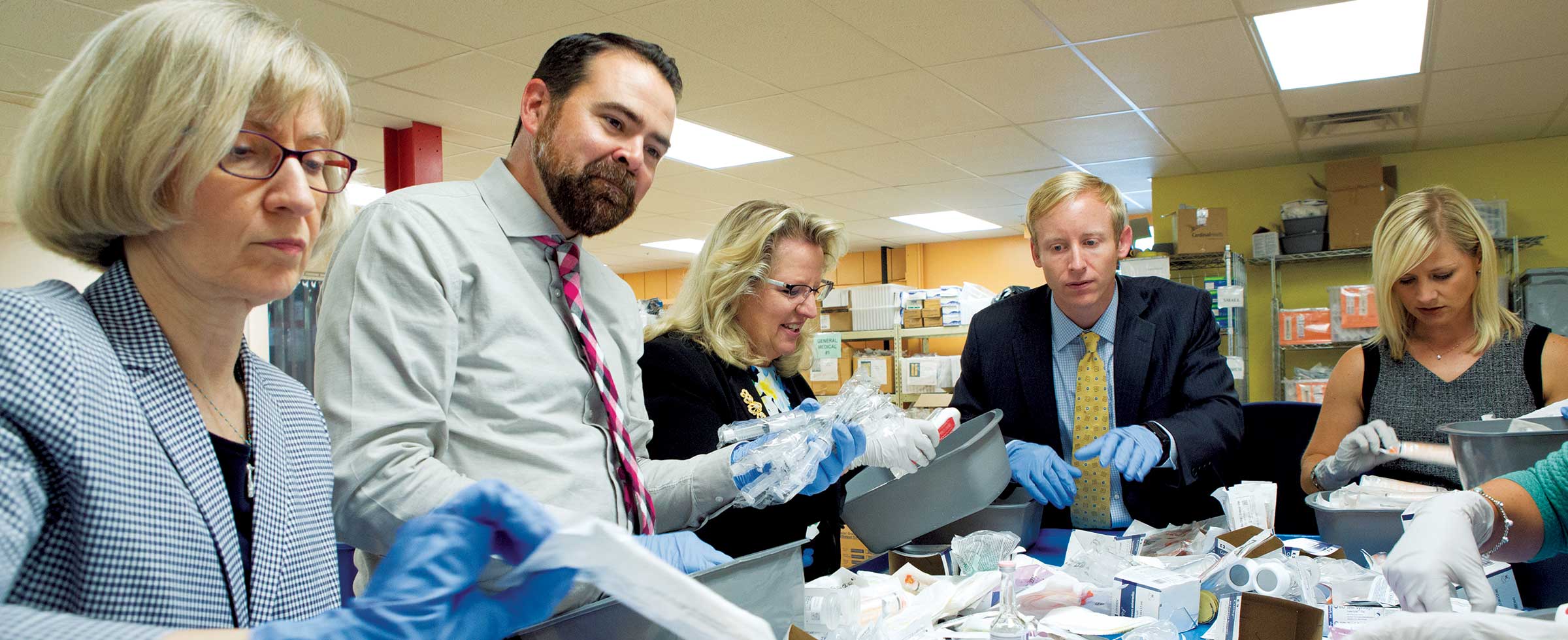 When class members of The Pittsburgh Foundation–sponsored Chartered Advisor in Philanthropy (CAP) program were introduced to their service site visit in September, they faced an arresting sight: boxes jammed with dozens of crutches and walkers sharing shelf space with wheelchair parts. But to the staff of Global Links, a Pittsburgh-based nonprofit with the mission of supporting health improvement initiatives in resource-poor areas, this is the standard inventory. Most of the patient-assistance equipment will stay local, but medical surplus may end up being shipped to countries in need such as Honduras, Bolivia or Nicaragua.
The organization relies on volunteers to sort and package these materials, and CAP class members answered the call. The course conducted at the end of each program year was developed by the American College of Financial Services in Philadelphia to help financial advisors deepen their relationships with clients, expand their professional capacity to advise them and set achievable philanthropic goals. The Foundation has been conducting the class for five years and is the only facilitator of the CAP certification in southwestern Pennsylvania.
For Reed Natali, a financial advisor at Shorebridge Wealth Management in Pittsburgh, the CAP experience has better prepared him to help clients discover their power to effect social change through their own personal philanthropy.
"I have had an interest in philanthropy since the beginning of my career, and have found that a significant percentage of my clients share that interest," he says. "Now, I can help them do more and be more successful in their giving."
Though Natali has been working in wealth management for 10 years, he appreciates how the CAP program explores new ways to connect with clients.
"The CAP program has expanded my understanding of what motivates individuals to give, and that helps me better explain to philanthropic clients how larger impacts can be achieved with modest charitable funding," he says.
Lindsay Aroesty, the Foundation's director of donor services and a graduate of this year's program, says the course is thorough and challenging. It delves into complex planned-giving strategies, family dynamics and management tactics for growing a charitable donor base.
"I've learned a lot about planned giving through CAP, including how to connect more closely to my donors," she says, "and how to provide giving opportunities that excite both my clients and my colleagues at the Foundation."
Original story appeared in Forum Quarterly - Fall 2017