Health care with local rootsNurses in Pittsburgh buck a consolidation move to preserve a long-running Southwestern Pennsylvania scholarship.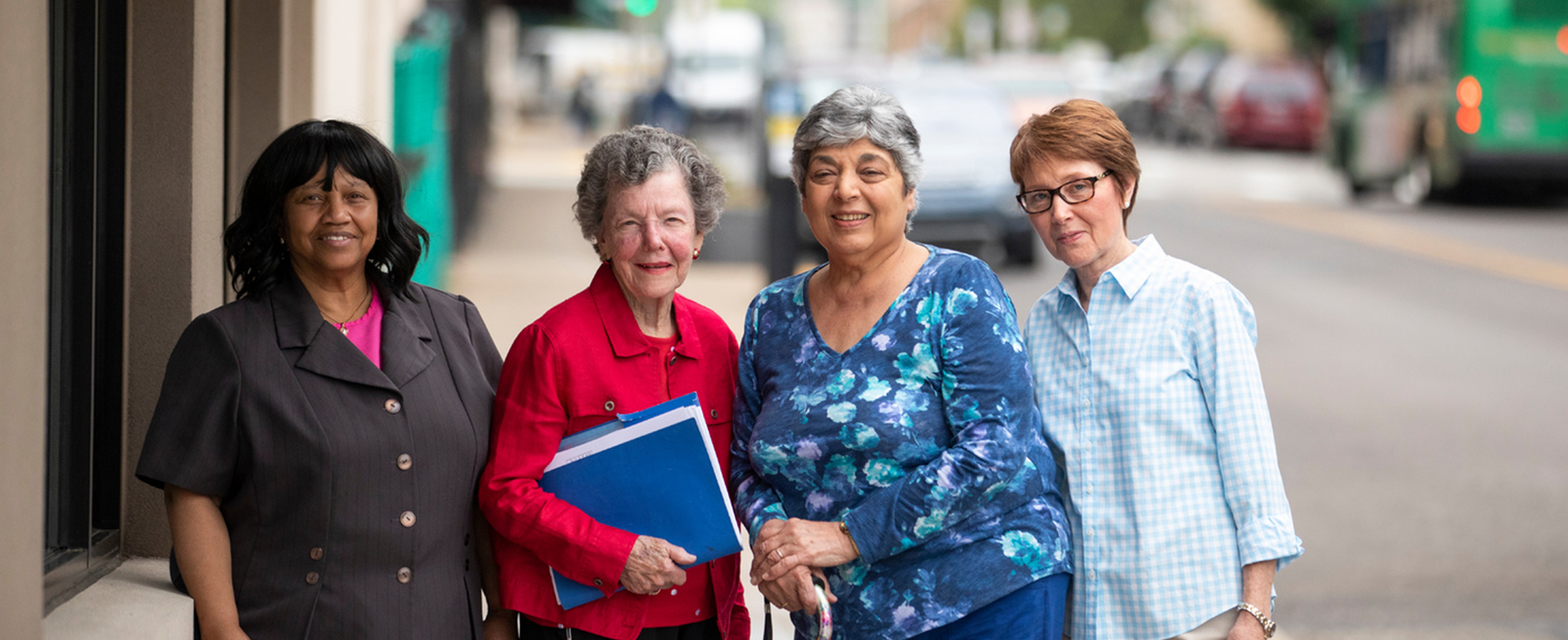 SOME BIG DECISIONS WERE MADE by members and elected leaders of the Pennsylvania State Nurses Association when they assembled for their annual meeting in October 2017. Among them was to end the 14-district system that had grouped members according to regions since 1917 and move to a digital networking model.
It seemed like an easy decision: only three districts were still active. But in one of those — the group covering southwestern Pennsylvania — five of its most involved members, women with a combined 200 years' experience in the nursing profession and all with advanced degrees, voted against the move.
The deep-seated reason: they feared the cherished regional identity of the profession — local nurses knowing one another and knowing the important health care issues for their area — would be lost. At the top of their priority list was preventing a regional scholarship program from being folded into one covering the entire state.
"District Six members got together in February of last year and decided that we wanted to keep the scholarship here in the Pittsburgh region," says R. Helen Ference, whose decades-long career includes attaining a doctorate in higher education. "We got legal advice and successfully formed the Professional Nurses of Southwestern Pennsylvania."
The nurses contacted the Development and Donor Services staff at The Pittsburgh Foundation and by July they had endowed and started the Professional Nurses of Southwestern Pennsylvania Scholarship Fund. The goal: to continue awarding scholarships in perpetuity. The award is not need-based. Criteria include enrollment in any level of a nursing program and completing an essay that reflects their passion and service to the nursing field. The first four winners were announced in May.
"To be recognized by such an accomplished group is truly humbling," says one of the winners, Devin Zydel, a registered nurse in Shadyside Hospital's Pulmonary Unit. He also expects to graduate next year from Carlow University's Nurse Practitioner Program.
"Nursing is so critical to care," he says. "Nobody spends as much time with patients as nurses; we see everything." A strong education, he says, is key to being a good nurse.
"A lot of people ask me why I don't go to medical school," says Zydel. "But I love nursing, I enjoy taking care of other people and I enjoy working alongside colleagues who are taking care of people. It's an exciting role; there's never a dull moment."
Ference says that while students like Zydel have more nursing programs to choose from, a shortage in the field has been plaguing the medical profession for the last several years.
"There's a great need but there aren't a lot of funds available for nurses," she says. "Nurses have never made a lot of money; scholarships can help so that nursing students graduate with less debt. The scholarship also helps raise awareness of the field."
Ference is one of five nurses on the scholarship committee. The others are Carol Ann Coles, who serves as Committee Chair; Mildred Jones, president; Kay Dieckmann,
and Betty Braxter.
Coles is a big believer in passing knowledge on to the next generation and ensuring that students have access to strong nursing programs, in addition to a passion for the profession.
"We felt that the winners' achievements in nursing and contributions to nursing and the community were outstanding," says Coles. Zydel, for instance, holds his full-time hospital job and also volunteers as a school nurse at Community Academy in Squirrel Hill. "He exemplifies the criteria of promoting the field and being passionate about nursing," she says.
Over the years, many nursing programs have been shortened. But that hasn't led to a skills gap.
"The programs are tremendously valuable — to ensure that students have the knowledge they need when they begin to work with patients," says Coles. "That means that there isn't time to experience bedside nursing in multiple departments of a hospital, so simulation techniques are often used, and nurses just starting out are up for the challenges and learning experience they bring."
The other three winners in the scholarship's first round are Carolyn King, who is pursuing a doctorate in Nursing Practice at Duquesne University; and two University of Pittsburgh students — Olivia Greer, who is in the undergraduate nursing program, and Karen Faulk, who is in her first term of an accelerated second-degree nursing program, a shortened track for students who have a degree in another field. Each received a $2,000 scholarship.
The women on the committee are excited about the future of the fund. When a member steps down, that person and the others will recommend a replacement. They believe this will ensure that all caretakers of the scholarship program will remain connected to its original purpose: to encourage southwestern Pennsylvania students to choose nursing as a career and remain in the region.
Ference says she wants the scholarship program to help local nurses be as proud of what they do as she is of her career. "Some people say 'I'm just a nurse,' but nurses are on the front lines of medical care. Nurses spend the most amount of time with a patient; they interpret doctors' orders and answer questions, plus they provide emotional support to patients and their families. Nursing is one of the most important positions in any medical setting."
Original story appeared in the Forum Quarterly Summer 2019.